2016-17 Annual Report
Every year volunteers from across the province work together to create the AOA annual report. It's a big pdf file of 60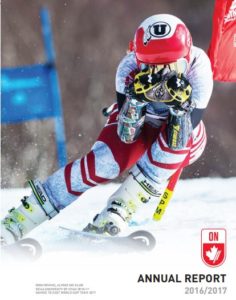 pages and is the only document that represents the entire sport, province-wide.
What I most enjoyed reading in this year's report were the Division Reports. Here are some highlights:
– A thriving Masters Series in TBay!!
– Twilight Training in TBay where the kids hit the slopes after school and train under the lights (so they miss less school)
– Northern Kids Spirit Camp in TBay
– Coach and "Coaches-To-Be" Camps in TBay
– NCO Ski Team consistently placing athletes on the Quebec and OST.
– Incredible volunteerism in NCD as seen at the U14 OCUP FINALS
– Five Level III Certified Officials in NCD last year!
– NOD working on FIS Homologation at Searchmont
– NOD attracting racers from all 4 AOA Divisions and Quebec
– NOD Marc Nielsen named Volunteer of the Year
– SOD introduces RACE FEST for the SOD Cup
– SOD Ski Team continues to grow with 24 racers in 2016-17
– SOD Coach Jenn Warren wins Alpine Canada Coach of the Year!
Also included in the report is news from our Officials Chair, Para Chair, SX Chair & Coach Facilitator, Sarah Edwards. You can also read the AOA Strategic Plan, Core Strategies, Financials plus interesting Membership statistics.
The report culminates a year of hard work from all AOA constituents. Special thanks to our Board of Directors including retiring member Kent Paisley and our Chair Peter-Paul Du Vernet, for yet another year of hard work and dedication to AOA. The new board will be voted in at the upcoming AGM on Sunday, Nov. 5th which I hope all of you plan to attend. Reports will be provided to each club at the AGM or please find the Annual Report online here.

Scott Barrett
Alpine Ontario Alpin
Executive Director