The Southern Ontario Division (SOD) Represents 31 ski clubs in the area from Belleville to London to Peterborough with the majority of skiers in the Collingwood area.
These racers and clubs make up over 70% of the Provincial Sport Organization of Alpine Ontario Alpin and as such offer its competitors expanded U12, U14, & U16 racing programs.
Southern Ontario Division has a long history in ski racing and was responsible for some of Canada's great legends including Brian Stemmle(Georgian Peaks), Karen Stemmle (Georgian Peaks), Todd Brooker(Toronto Ski Club), Liisa Savijarvi (Georgian Peaks), Laurie Graham(Osler Bluff), Steve Podborski (Craigleith). SOD has placed the following athletes on the CAST including Kelly VanderBeek (Chicopee), Larisa Yurkiw (Georgian Peaks), Tyler Nella (Georgian Peaks), Erin Mielzynski(Georgian Peaks), Meg and Kate Ryley (Craigleith), Scott Barrett (Osler Bluff), Nic Zoricic (Craigleith), Kelby Halbert (Toronto Ski Club),Madison Irwin (Craigleith) and Phil Brown (Craigleith). Four younger athletes  and were also named to the CAST Prospect Team in 2012; Morgan Megarry (Craigleith), Andrew Solomon (Alpine Ski Club), Natalie Knowles(Osler Bluff), and Roni Remme (NSA).
Southern Ontario Division maintains a unique relationship with Alpine Ontario Alpin due to its stature and size of membership. SOD does not maintain its own website but uses the AOA website to host division news, league standings, events and results.
The SOD Committee is comprised as follows:
Chair: Ron Warren (Craigleith)
Vice Chair/Race Quality: Paul Plotz (Alpine)
Officials: David Hopper (Craigleith)
Club Excellence: Jeff Jones (TSC)
Masters Programs: Derek Crawford (Alpine)
SOD Series Chair/Coach Education: Sarah Edwards (Milton Heights)
SOD Secretary/SOD Series: Carl Kellum (Chicopee)
SOD Team/Alumni/Brand: Shawn McConville (Devils Glen)
Former members that rotated off the Committee since its inception in 2009 were:
Nader Nekoui (Devils Elbow)
Scott Mikalachki (London Ski Club, replaced by Ron Warren)
Nancy Spotton (Beaver Valley, replaced by Taylor Simms-Brown)
Graeme Buckrell (Osler, replaced by Paul Plotz)
Mike Wilson (Devil's Glen, replaced by Scott Mikalachki)
Tom Hayes (Milton Heights, replaced by Nader Nekoui)
Luke Sauder (Osler, replaced by Jeff Jones)
John Grell (Milton Heights, replaced by David Hopper).
Anthony Boright (GP) was initially appointed to the SOD Committee in the communications portfolio, but a number of years ago that portfolio was transferred to the AOA Board, where Anthony continues to serve in that capacity. For a time, he was replaced in that portfolio by Michael Bertouche (CRA) who later recommended that the position be eliminated from the SOD Committee as redundant and overlapping with the AOA portfolio.
Save
Save
SOD Ski Team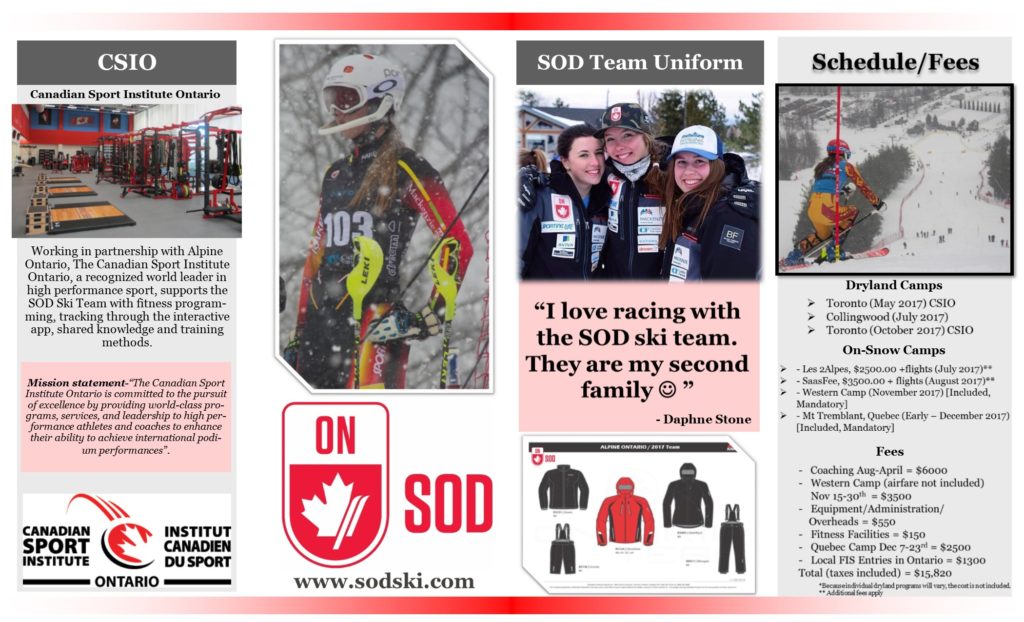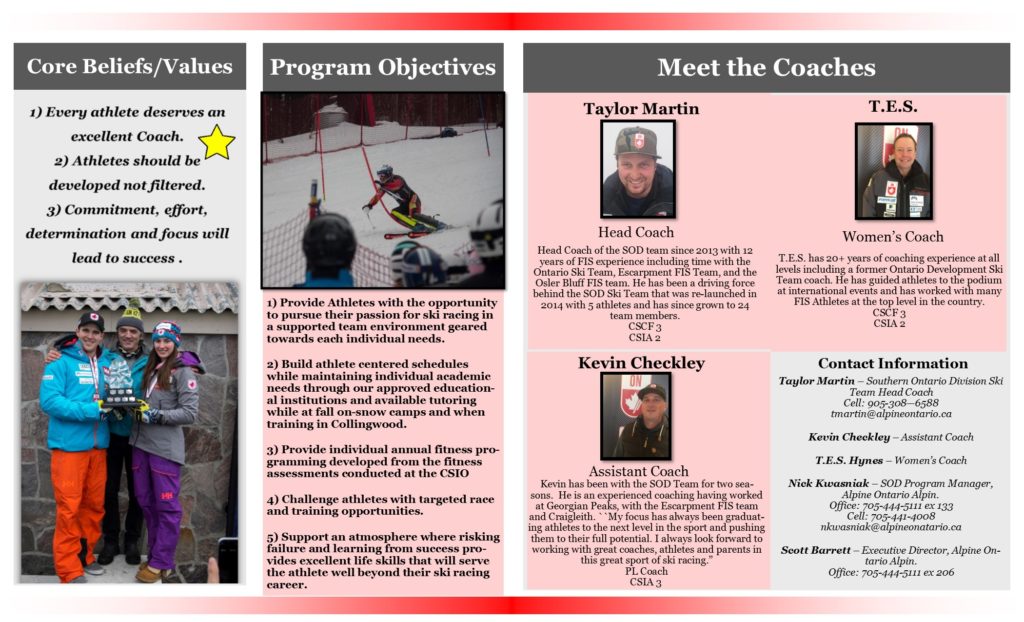 SOD Ski Team Website: COMING SOON! 
Huronia Alpine Development Team
Title
Create Date
Download
U19 SODCUP -Women – Feb 22
1 files 65 downloads

February 22, 2017
Download
U16 SODCUP -Men's Group 1 – Feb 22
1 files 87 downloads

February 22, 2017
Download
U16 SODCUP -Men's Group 2 – Feb 22
1 files 63 downloads

February 22, 2017
Download
U16 SODCUP -Women's Group 1 – Feb 22
1 files 73 downloads

February 22, 2017
Download
U16 SODCUP -Women's Group 2 – Feb 22
1 files 59 downloads

February 22, 2017
Download
U14 SODCUP -Women's Series 2 – Feb 22
1 files 70 downloads

February 22, 2017
Download
U14 SODCUP -Women's Series 3 – Feb 22
1 files 32 downloads

February 22, 2017
Download
U14 SODCUP -Women's Series 4 – Feb 22
1 files 70 downloads

February 22, 2017
Download
U14 SODCUP -Men's Series 2 – Feb 22
1 files 60 downloads

February 22, 2017
Download
U14 SODCUP -Men's Series 3 – Feb 22
1 files 36 downloads

February 22, 2017
Download
U14 SODCUP -Men's Series 4 – Feb 22
1 files 51 downloads

February 22, 2017
Download
U16 SODCUP -Men's Group 3 – Feb 14
1 files 42 downloads

February 14, 2017
Download
U14 SODCUP -Men's Series 1 – Feb 13
1 files 63 downloads

February 13, 2017
Download
U14 SODCUP -Women's Series 1 – Feb 13
1 files 59 downloads

February 13, 2017
Download
U16 SODCUP -Women's Group 3 – Feb 8
1 files 42 downloads

February 8, 2017
Download
U19 SODCUP -Men – Feb 8
1 files 53 downloads

February 2, 2017
Download