AOA Coaches Conference

Save the date for the November 3rd & 4th annual AOA Coaches Conference with headliner Amanda J. Visek, Ph.D., CMPC Associate Professor, The George Washington University | Milken Institute School of Public Health, Department of Exercise & Nutrition Sciences.
Amanda will be speaking to AOA coaches about her research on FUN MAPS. The FUN MAPS are the scientific blueprints for the fun integration theory, the first-ever fully conceptual framework for optimizing youth's positive sports experiences in childhood and through adolescence. Her work has been featured in USA Today, the Washington Post, the Huffington Post, CBS Radio, ABC News, NBC News, FOX News, and others, and has also been featured in Canada, the United Kingdom, Germany, Holland, Poland, and India.
Dr. Visek has been a keynote and invited speaker for the Aspen Institute Sport & Society, US Lacrosse, United Soccer Coaches, the American Academy of Pediatrics, the Joint Commission on Sports Medicine, America SCORES, the Institute for the Study of Youth Sport at Michigan State University, the Soccer Parenting Association, the Association for Applied Sport Psychology, & the Ontario Coaches Association. She has authored over 25 peer-reviewed papers, 7 book chapters, and given more than 118 refereed and invited talks.
Registration is now open – please click here to login and register.  $60 per day or $80 for both days.
All coaches are welcome!
---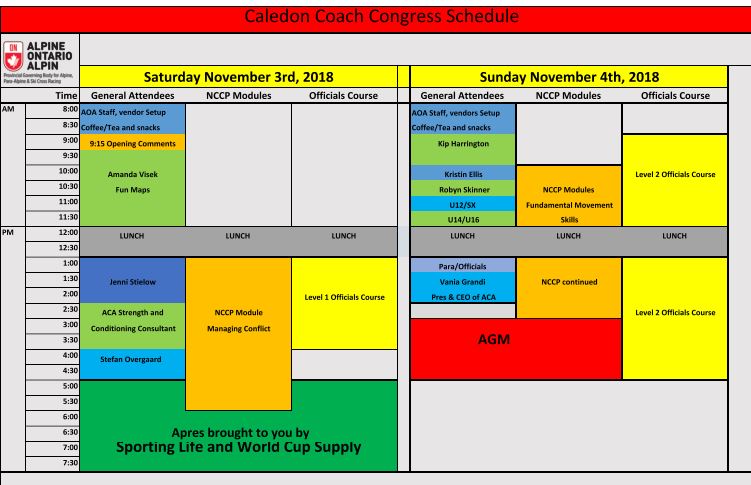 ---
Focus

How can we improve the ski race experience for all members of our community? What are the biggest challenges we see in our sport today?
AOA's focus for the 2018/19 Coaches Conference & AGM will aim to address the challenges in our sport and many sports across the Country. While we most certainly do not have all the solutions, we will aim to take a deeper dive into strategies on development, education, policies and communication that is designed to empower our participants and better equip them to solve the core issues in alpine skiing in Ontario. AOA has moved forward with many key initiatives since its spring Coaches Congress and through its new operational plan including the athletic committee tasks, the following six topics have been identified for this year's conference:
Athlete Retention
Most sports experience a large post-U16 decline in enrollment. Keynote speaker Dr. Amanda Visek Ph.D. will break down how to optimize youths experience in sport from childhood through adolescence using FUN MAPS – a scientific blueprint for the fun integration theory.
Parent Education
Parents are the number one influencer on kids and the sports they participate in. Parents need to support athletes early in their ski racing career to ensure a safe, healthy, and meaningful alpine racing experience. Kristin Ellis, AOA Communications Manager and parent of two multi sport athletes, will present the new AOA Parent Education Handbook.  This is an initiative that Kristin led from start to finish and she will speak to strategies that support an athlete's competitive spirit, foster positive life skills, maximize their personal potential and most importantly keep it fun!
Improving Fundamental Skills Across Every Age Group
Coaches at all levels have commented on the lack of fundamental skills seen in AOA athletes and in some cases, this is discovered late in an athlete's development path hindering success. AOA Athletic Consultants and OST Program Director, Kip Harrington will review training priorities for each age group, focus on video and proper demonstration of what the Athletic Committee is looking for from our coaches and athletes.
Increasing Fitness across every age group
Athlete safety and off-season preparation are critical for success and development. Fitness levels need to improve across all age groups to set AOA athletes up for success. Nate Morris is a graduate student working for Dr. Matt Jordan, Ph.D. in Medical Science and Alpine Canada Exercise Physiologist.  Nate is completing his Masters in the area of ACL injuries in alpine skiing and will review ACA protocols, discuss the importance of dryland and the health of our athletes. Stefan Overgaard of SXS Fitness will also be speaking to injury prevention and reviewing fitness priorities for all age groups.
Alpine Canada Alpin Update
Vania Grandi, CEO – Vania will speak about her background, the challenges she faced when starting the role as well the broader ski racing world and how ACA is responding to those challenges.  She will also discuss the opportunities for all of us to work together to make improvements while also touching on Respect in Sport and the importance of creating an environment for our athletes that is safe, healthy, and respectful.
Continuing Coach Education
Jenni Stielow, ACA Sr. Manager – Coach Education will be presenting the newest iteration of the ACA Long Term Athlete Development (LTAD) resource as well as tools and tips on the basics of teaching coaches how to teach.