AOA Congratulates PL Coaches!!
AOA Congratulations Eight Successful Coaches on Passing their Performance Level (PL) Course!
AOA Welcomes Four PL Evaluators to Ontario!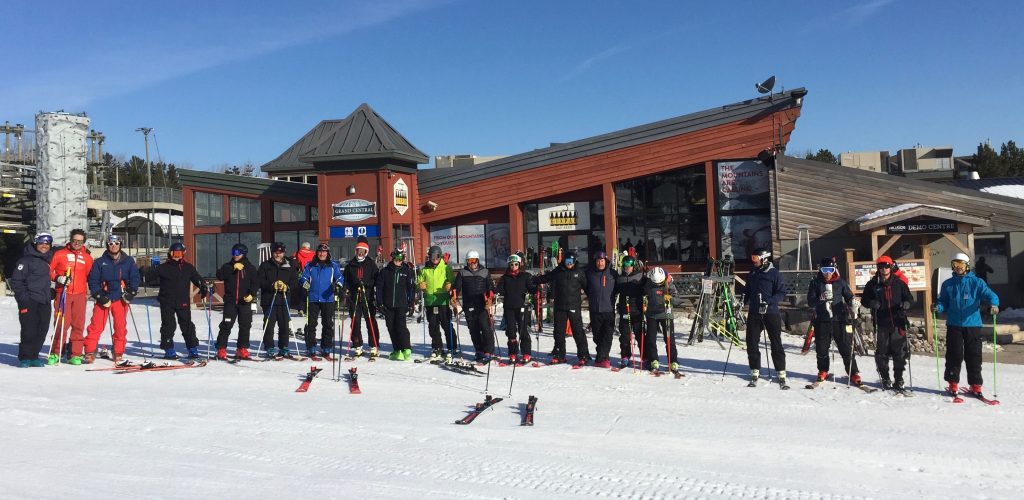 COLLINGWOOD, ON (April 11th, 2019) — Last week 17 candidates gathered over 5 days at the Craigleith Ski Club for a Performance Level (PL) course facilitated by AOA coaches Rick Cook, Dave Campbell, and Jacques Reid. This was the first PL course (formerly the CSCF Level 3) held in Ontario since 2017. It was also a new format whereby ski racers from the U16- U19 levels were brought in to work with the coaches over the 4 days on snow portion. The coaches were evaluated on their ability to analyze and correct the performance of the athletes as well as setting a conducive environment for learning.
This was also the first time that Alpine Ontario assumed the responsibility to run the PL course under the guidance of Alpine Canada's coach education program. In order to do so, the facilitators needed to do a 2-day update in Montreal with ACA's Jenni Stielow and Greg Frechette alongside other facilitators from Quebec.
Alpine Ontario took the leadership by sending four facilitators to Montreal with the goal that Ontario be able to do more PL courses in Ontario in the future. Dave Campbell, Rick Cook, Jacques Reid, and Jeff Jones are now qualified to facilitate PL courses. Craigleith Ski Club took the leadership to host this first PL course, going as far as opening up the hill exclusively on a Friday for the course (in April none the less). A big thanks to Craigleith's GM Jeff Courtemanche for being supportive of coach education at this time of year.
AOA would like to recognize these coaches for achieving  "Performance Level Trained status":
Chris Tepera, Craigleith Ski Club
Michael Wilkins, Osler Bluff Ski Club
John Eastmure, Craigleith Ski Club
Taylor Poast, Brimacombe Ski Club
Thomas Trusler, Osler Bluff Ski Club
Andrew Mercer, Brimacombe Ski Club
Victoria Fenninger, Fenninger Racing Club