34 Nations Racing in Val D'Isere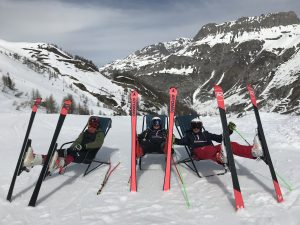 (APRIL 8TH, 2019) – It was a week to remember! This weekend two AOA coaches, Melody Courville (nee McCague) of Craigleith and Shawn Banfield from Camp Fortune, and six of our best U16 OCUP athletes – Tessa Foote/NSA, Emma Gosselin/Osler, first-year Andreea Nicollici/CFSC, Ben Neyland/NSA, Kyle Blandford/GPeaks, Duncan Waugh/BValley returned home from an  amazing week in Val D'isere, France.
They arrived in Val D'Isere to sunny skies and incredible freeskiing and spent the first two days getting to know the mountain. The second day the group free skied the SG track on a slope that offered a bit of everything with steeps, rolls, flats, fallaways and bends.  The track was in great shape and had been injected many times throughout the season. During the third and fourth day before the race, the athletes trained SL with Holland, Polland, and Finland.  This was a great experience and opportunity for the athletes to meet new people and to get a sense of what the competition was like.
In total 34 nations competed in the 39th annual La Scara event which attracts many of the top racers across Europe and the world. This race had some incredible depth with regards to the skill of the athletes including Val d'Isere's own Victor Muffat-Jeandet as the forerunner. It's not every day you get to ski the same track as a top WC skier!!   Team Ontario hit the top 20 twice – 16th in Super G for Waugh and 17th in SL for Blandford with Osler's Gosselin close behind with a 22nd in SL.  This was a  huge accomplishment for these athletes.
A huge thank you to Russell and Sarah Goodman – parents of CAST Alumni Anna Goodman of Mont Tremblant who annually travel to this area to cheer on the next generation of Canadians. Russell slipped the course before each of our athletes and helped where ever he could. Sarah was in the finish with the Canadian flag cheering everyone on as they came across the line.
In addition to training and racing in a world-class event, the group was able to visit the Rossignol Factory located in Grenoble France.  Thank you to Ontario Rossignol rep. Mario Guertin for organizing this wonderful opportunity.
Thank you also to the Goodman family for sharing their photos here.