Canada Wins Whistler Cup & Ontario Dominates U14s
Canada & Ontario Dominate at 2019 Whistler Cup!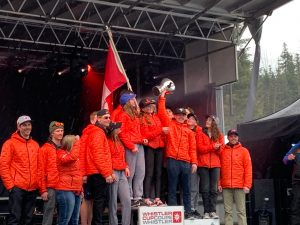 (April 15th, 2019) — For the first time since 2013 Team Canada's U16 team won the Whistler Cup! This is in part due to the outstanding results of Georgian Peaks racer, Aleksas Valadka who won bronze medals in both SuperG and GS and was crowned as the overall top Canadian male athlete winning the Dave Murray Trophy!!
Alongside Valadka only one female racer qualified at the Canada Winter Games to represent Ontario, Penny Robinson. Penny is from TBFAST ski club based in the Thunder Bay area and placed 20th in the SuperG, 11th in the GS and 7th in Slalom.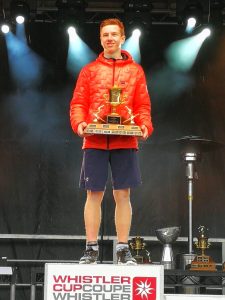 The Whistler Cup at the U16 level is Alpine Canada's pinnacle event. In order to qualify an athlete must first qualify for the National Championships (in this case the 2019 Canada Winter Games) where they must place in the top 6 overall. Over 20 nations compete in the Whistler Cup and at the U16 level, it is the only designated FIS Event.
For more on Team Canada's historic win visit this article published by the local Whistler paper.
---
At the U14 Festival Event, Ontario dominated. Not only did Craigleith Ski Club's Madison Donnelly win the ladies slalom she was also crowned as the top overall Canadian female winning the Nancy Greene Trophy! Donnelly was 11 in the GS. The overall U14 Festival cup was won by the United States, however, Ontario won both the men and ladies Team events and consistently placed athletes in the top 10. Congratulations to the following performances and the members of the winning teams!
Ladies GS:
5th Elli Clark, TSC
9th Emma Gatcliffe, GPeaks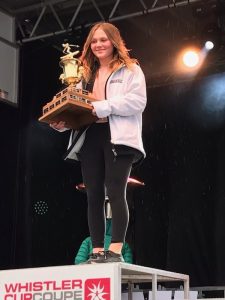 10th Lauren Wayland, Jozo Weider
Men's GS:
6th Duncan Armstrong, GPeaks
7th Jack Hunter, GPeaks
Ladies SL:
1st Madison Donnelly, Craigleith
4th Lauren Wayland, Jozo Weider
5th Elli Clark, TSC
7th Emma Gatcliffe, GPeaks
Men's SL:
5th Jack Hunter, GPeaks
6th Matia Veljovic, Craigleith
Please visit the Whistler Cup Facebook page here for Team Event results.
Please visit WhistlerCup.com for live timing links, results & more!