By AOA Communication Manager, Kristin Ellis – August 20th, 2019.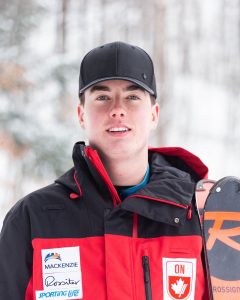 This interview is part of a series of Q&As with each member of the Ontario Ski Team. Britton is in his second year on the OST and 3rd year of FIS. He lives in Ottawa and is a member of the Camp Fortune Ski Club.
Q & A with OST Racer, Britton Quirk
Q: How is your summer so far?
A: It's been really busy. After our camp in Mammoth in May, I took my SATs in early June and travelled to Germany for the OST July camp. I've been training in Ottawa at the Centre for Strength and Athlete Development 4 days a week, adding a track workout once a week with the Ottawa Lions.
Q: You took an unusual route to reach the OST. Tell us a little bit about this?
A: My brother and I started racing in Québec, but after my 1st year FIS our family decided to make the switch to the NCO team. Coach Joey Lavigne and Coach Randa Teschner were awesome! I had the opportunity to hang out and ski with the OST during races in Lake Placid. I really enjoyed Coach Cam and the Team. When I came back from that series, I told Coach Joey that I wanted to switch to Ontario. He was very supportive, and Coaches Kip and Cam gave me a shot.
Q: Was this an easy transition?
A: Not really. In February 2018, I broke my hand in 7 places on a GS gate and my season was over. I missed over 20 FIS races and was not sure whether this just ruined my chance to make the Ontario Team. Thankfully, Coaches Cam and Kip saw my potential.
Q: Looking ahead what are your goals this season?
A: I'd like to compete at the Nor-Am level and to continue to strive for excellence. Ultimately, my goal is to continue to strive to become the best athlete and ski racer I can be.
Q: So you don't pick a series and say "Top 10" or "Podium" as other athletes might do?
A: I prefer a different approach to racing. I like to focus on playing full out because that's the only thing I can control.
Q: Are you happy with how last season went?
A: Towards the end I was. During the last 6 weeks, I hit the podium 4 times. I felt like I was hitting my stride. Mentally, I was stronger and simply having more fun. Earlier in the season, I felt this constant pressure to prove that I belonged. To prove to the coaches they had made the right decision. I didn't want to get cut. It all changed when Coaches Cam and Kip told me that they wanted me back for a 2nd year.
Q: So aside from skiing what else are you dreaming about?
A: Education is really important to me. My plan is to do my undergraduate in Finance and then go to Law School. I'm talking with NCAA coaches right now. My SATs went well.
Q: How well? . sorry, Britton, we know you graduated from high school earning the Governor Generals Award so I'm curious as to how you did on your SATs?
A: Ahh… ok… Yes, I did well… I scored in the 97th percentile in math and 95th percentile overall.
Q: Wow that's really great – congratulations.  So you have no doubt that the NCAA pathway is where you'll end up?
A: Yes, I'm 100% sure I'll be racing NCAA. I have so much more potential to grow as a racer. I want to continue to pursue racing at the highest level that I can, and see what happens. I believe the NCAA circuit is a perfect fit for me – high-level racing with high-level academics.
Q: Do you have any advice for skiers in grade 12 about managing school, getting great grades at the same time as competing at the FIS level?
A: The best advice I can give: play full out with everything you do. Train hard, study hard and ski hard. Be organized and communicate with your teachers and coaches.
Q: So you enjoyed year on the OST. It was a small team of just 3 of you, was this good or bad?
A: I loved our group. Sam and Aaron as teammates gave me intensity when I needed it, but they know how to chill as well.
Q: What about Cam McKenzie as a coach – what did you like about him?
A: He explains the tasks really well and helps us visualize it. He is also good at supporting us emotionally – at times we just need to be told not to worry. He has been and continues to be instrumental in my growth.
Q: And Kip?
A: People assume Kip is a super intense coach, but he's not. For sure he and Cam have expectations, but they are very supportive. Personally, Kip knows how to bring out the best in me.
Q: What is your biggest challenge?
A: Staying focused on the right things. I am learning to only focus on the things that I can control. I cannot always control the things around me, but I can control the things within me.
Q: What about the sport itself, what is the challenge here?
A: We train so hard and for so long to compete in a race that will last about 2 minutes. When things go well, all is good. When the race lasts 15 seconds… you start to question whether it's worth it. You don't get a second or third chance during the game like other sports.
Q: Is it worth it?
A: To me it is. I believe that ski racing has developed me into the person I am today. It has taught me to train hard, play full out, lay it on the line, and to go after my dreams.
Q: What about your own personal challenges?
A: One of my personal challenges is to remind myself to have fun while going after it.
Last words? "If it's not fun, it's not worth doing. Have fun."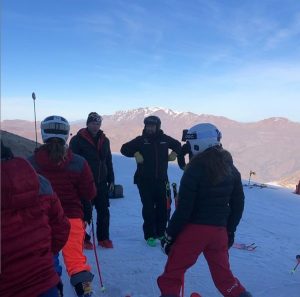 Hello Everyone!
I am really enjoying working with and getting to know these kids. They are great skiers, keen and learn fast. When you combine this with runs that are long, great terrain and minimal lift lines it is super fun.
Day one and two we free skied and worked on technique, along with checking out the mountain. Today we had a 40 gate Slalom/stubbie course with hard snow, from 7-11 am with free ski in the afternoon. Tomorrow we will have a panel slalom course in the morning and then switch to GS skis for free ski and technical work in the afternoon. The next day we plan to train GS.
In terms of our goals on snow here – when I first came back to Ontario I was struck that we have great skiers, but there are some core aspects of ski racing technique and tactics that need to improve, and there is education that comes along with that. By "we" I mean everyone. All of the racers. Apart from some simple fundamentals to get started, we are very focused on those core aspects at this camp and the kids are doing great. Everyone is improving and seem to understand what we are trying to achieve.
For the most part, the logistics, lodging and food have been smooth. The restaurant serves a lot of French fries (along with very good food choices), some kids need more guidance with ski tuning, etc. – but nothing major and the kids are taking it in stride.
The coaches are doing a terrific job and working hard as a team. A big thanks to Cam Powell from Sporting Life who is here taking care of any boot work that comes up. I think he has worked on 8-10 pairs of boots so far and there are likely more to come! Steph Currie (former Ontario Team and Current Dartmouth NCAA/Nor-Am racer) is leading the way and showing the racers how it's done on and off the hill.
Hasta Luego de Chile!
More to come soon.
Kip Harrington
by SODST Head Coach, Jacques Reid…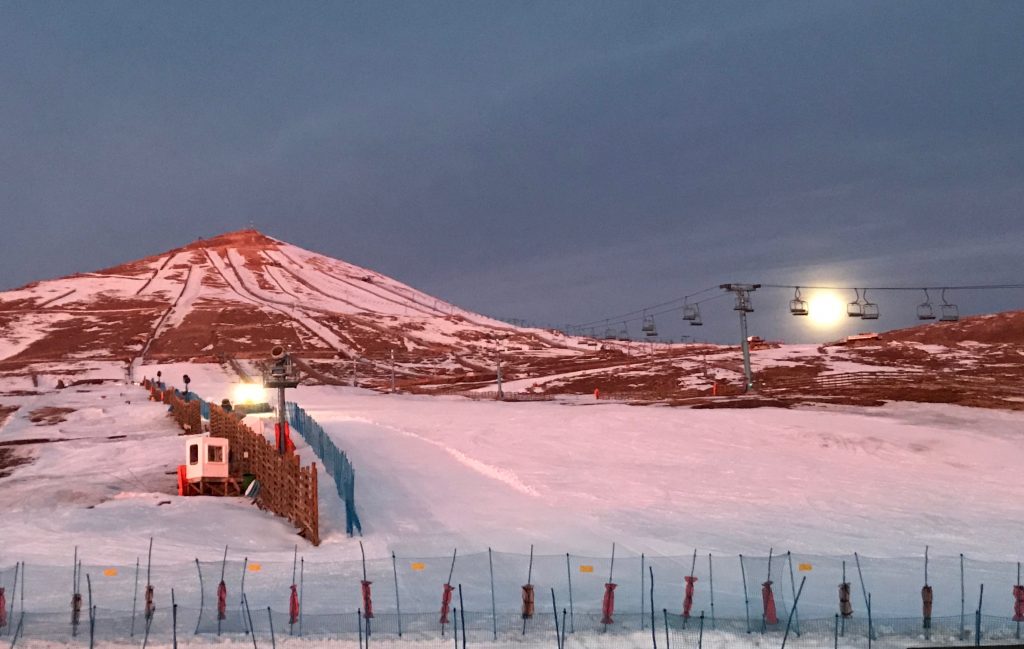 AUGUST 14th, 2019 (EL COLORADO, CHILE) –– Day 1 of our Chile camp is now officially in the books with the team on snow yesterday for the first time. After a very long travel day and a half, we finally arrived at the resort of El Colorado. Loading and unloading the equipment truck from the airport was a chore but that's how it goes for ski camp life with a group of at least 20 people. Taking skis to the ski room and then other items to the rooms was also an ordeal as our rooms are a bit spread out in the two towers of the "Monte Blanco" and on multiple floors with a tiny elevator servicing each of the towers.
The condos are nice but space is fairly tight within each unit. Learning to respect each other's space will be a key aspect for this group to have a successful camp. There is also lots of common space at the base of both towers where we do our meetings and such. A short walk from the Monteblanco is the ski resort base lodge where we are doing our 3 meals per day and where we get on the lift to access the training hills.
Today we focused on technical free skiing with an emphasis on achieving a good "Atheltic Ready Position" on our skis. Most of the day was devoted to doing drills on very moderate terrain where the athletes had a chance to find their touch on snow and pick up where they left off from last season. After lunch, we ventured further up the mountain for some more free skiing but less technical in nature.
At 2:30 pm we called it a day and gave the athletes a chance to relax a bit before a 3:30 run and dynamic stretching session.  From there the Kinesiology students met with Melissa (Kin. teacher from Vanier High School/Collingwood) at 4:30 while others got started on their ski tuning. 6:00 pm came fast and our 2nd dinner at El Colorado treated us to a magnificent moonrise over the mountain!
The food has been ample and given the athletes some good options on what to eat. While not your typical North American food, it is quite tasty and does require a bit of getting used to.
7:30 was our daily team meeting where we recapped the day and previewed tomorrow. A bit more ski tuning and getting ready for bed was the next step. 9 PM lights out is our curfew for now as breakfast in the morning will be at 6:30 and we will be on snow by 7:30.
Tomorrow, we will set an SL drill course that we will train in from 8:30 till 11 AM. An early lunch followed by an afternoon of freeskiing will complete the day.
Stay tuned to more photos and updates @sodskiteam on Instagram while we continue to build this new team both on and off-snow.
Cheers! ~ Jacques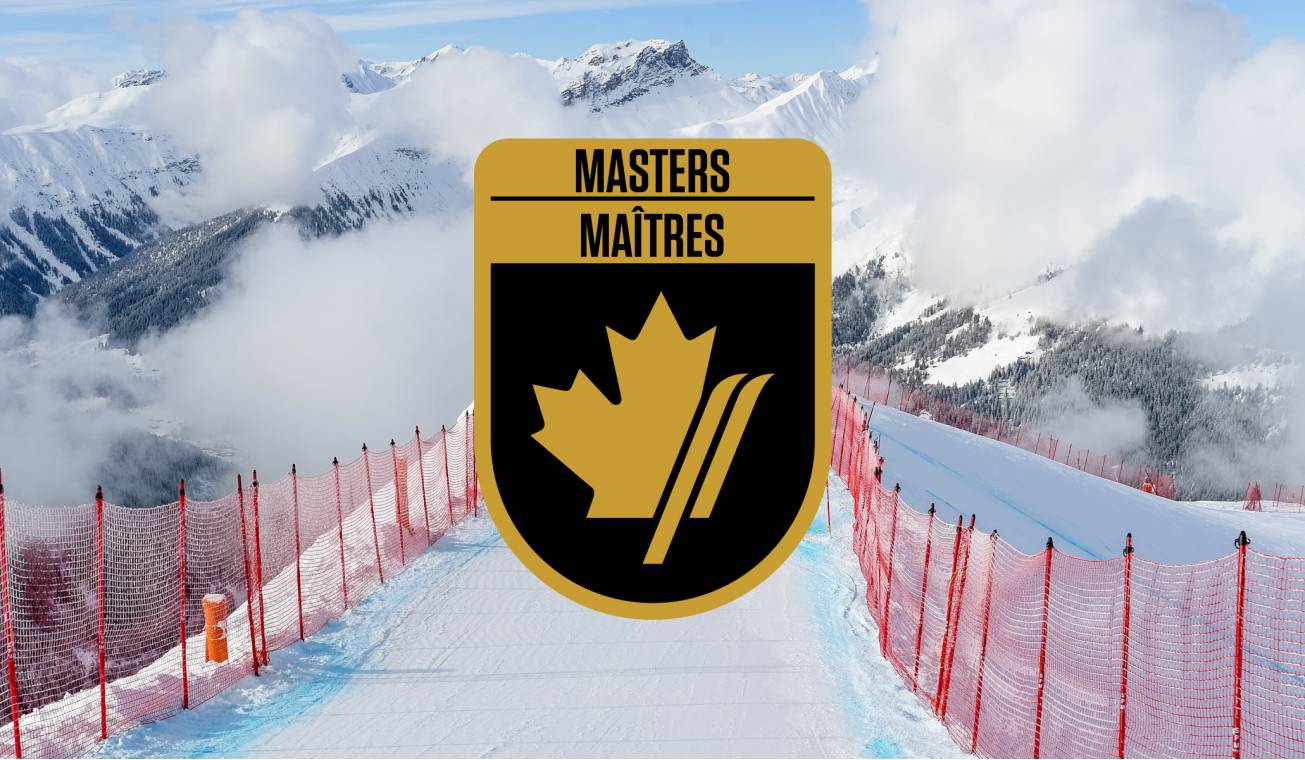 August 15th, 2019 (CALGARY, AB) — It is a pleasure to announce the 2020 Canadian Masters' Alpine Team (CMAT).
The criteria for qualifying for CMAT are:
• Minimum of 5 starts in any races scheduled on the 2018/19 Masters' National Calendar for which World Cup points are awarded – see World Cup Points.
• Within the minimum five starts above, there must be starts in a minimum of two different regions listed on the Masters' national calendar, for the current season. Regions: AB, BC-Coast, BC-Interior, Maritimes, MB, ON and QC.
• Must have a Master's National or FIS card (weekend competitor cards do not qualify).
• Must be a Canadian citizen.
Winners are those with the highest total score of the racer's 7 best results (minimum 5); 2 from each gender and age category i.e. 1 from the East and 1 from the West. In the event of a tie, both racers are selected.
• Canadian Masters that participate in FIS races can also qualify for CMAT by participating in at least five FIS Masters' races in a single season. Racers that have met these criteria must notify the President of the Masters' Committee, by email, no later than April 15, by way of showing their names on at least five lists of results for the current season.
These criteria are designed to promote:
• Participation, both within and outside of each racer's home region.
• Performance once these criteria have been met.
Racers who strive to obtain a spot on the CMAT do so for their own individual and personal reasons. However, each member of 2020 CMAT is to be commended on their participation and results, having met the criteria and excelling.
The following Masters met the criteria and had the top points within their age categories
Gender, Age Category, Name, Province (# years on CMAT)
F75-79 WIEGELE Bonnie AB (8)
F70-74 EDGAR Patty AB (7)
F70-74 HOUDE Denyse ON (9)
F65-69 FERA Joy BC (10)
F60-64 COLLINS Irene AB (5)
F60-64 FURSEY Wendy ON (7)
F55-59 HARRISON Wendy BC (5)
F55-59 SUNDBERG Hannele ON (8)
F50-54 WOHLBERG Cynthia AB (3)
F45-49 ELISSEEV Ekaterina AB (1)
F40-44 MAMO Kareen QC (5)
F35-39 RENTON Danielle AB (1)
F35-39 ALLAIRE Martine QC (1)
F30-34 SILK Tracy AB (2)
F18-29 WOMACK Sandra AB (1)
M75-79 IBLE Keith AB (5)
M75-79 HOUDE Michael ON (9)
M75-79 GODFREY Mark ON (1)
M70-74 GŁODKIEWICZ Adam AB (4)
M70-74 BÉGIN Pierre QC (8)
M65-69 SULE William AB (2)
M65-69 HANNA Terrence ON (3)
M65-69 ROBBINS Mike* ON (2)
M60-64 BEAUREGARD Philip BC (1)
M60-64 RENAUD Vincent QC (6)
M55-59 HARLEY Richard BC (3)
M55-59 RICARD Stephane QC (3)
M50-54 GEE Darren AB (5)
M50-54 SOUTHWOOD Mike ON (2)
M45-49 SMITH Dean AB (4)
M45-49 SHAWYER Scott ON (2)
M40-44 MCCLINTOCK Justin BC-I (2)
M40-44 WALKER David ON (4)
M35-39 BARTON Jason AB (9)
M30-34 WOLFE GORDON Adam AB (2)
M30-34 KNOX Jay ON (1)
* Participated in a minimum of five FIS Masters' races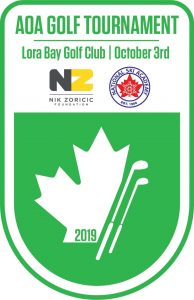 August 15th, 2019 (Collingwood, ON) –   The 2nd annual AOA Golf Tournament, co-hosted by the National Ski Academy and the Nik Zoricic Foundation (NZF), have set a date for Wednesday, October 3rd. The tournament will take place at the beautiful Lora Bay Golf Club in Thornbury, ON just west of Collingwood and steps from the Niagara Escarpment and The Georgian Peaks Clubs. The tournament was originally slated for June 14th but due to the areas unusually wet spring course conditions pushed the date back.
Taking place on a Thursday, AOA is hoping several hundred members and supporters can fit in an afternoon of golf with a 1:30 pm tee-off time followed by a gourmet BBQ dinner. Proceeds raised on October 3rd will be jointly split between the three host organizations to support Ontario alpine ski racing and NZ safety programs.  The 2019 tournament represents the first time the three organizations have worked together.
Bill Reeves, AOA Executive Director comments. "Let's be honest in saying October is a way better time for a golf tournament! Not only have we dusted off our golf clubs and perfected our swings, but the weather is also typically better. We are thrilled to work alongside partners such as the Nik Zoricic Foundation and the National Ski Academy and really hope our members can start to get excited about the coming ski season by supporting AOA athletics on October 3rd."
Event tickets are on sale now with an early bird ticket price of $200 (save $50) before end of day Sept 3rd. All tickets include 18holes of golf, cart rental, a gourmet BBQ dinner, two drink tickets, access to the silent auction and Side Launch Brewery tasting.
AOA continues to look for hole sponsors and items to be included in the silent auction. Please contact Lisa Linhares, AOA Member Services Coordinator to get involved memberservices@alpineontario.ca or call 705-444-5111 x110.
See you on the links October 3rd! Get your tickets here>
 -end
By AOA Communication Manager, Kristin Ellis – August 12th, 2019.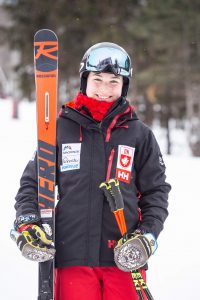 This interview is part of a series of Q&As with members of the Ontario Ski Team. Emma is currently in her 2nd year with the OST and raced on the SOD Ski Team for one year prior to this. She is from the Alpine Ski Club and lives in Ancaster.

AOA: A year ago we chatted at the gym about your plans on the OST. You were quite sure you'd just do one year on the team and would be heading to U of T this coming fall. So, what changed and why?
EMMA: Well I did apply to U of T and Laurier and was accepted to both schools but around January last winter I realized that I couldn't bear to stop skiing at this level just yet. It just didn't feel right to me, I just wanted a bit more time. I felt I needed to explore my options and give myself the chance to fully commit to skiing for a year without the stresses of school.
AOA: Now here we are a year later and you are on a gap year. How did this go over at home? I know you have a twin (Ben who raced on the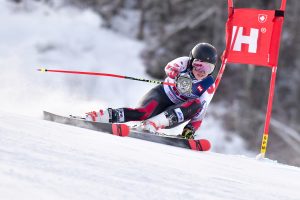 SOD Ski Team) who is off to McGill so I'm wondering how your parents felt about this?
EMMA: It took some convincing for sure! I explained to them that I wanted to dedicate myself to skiing for a year and see where it would take me. In the end, they supported me as they always have, and knowing that I'm working hard towards a goal also helped.
AOA: Did you defer or are you now looking to reapply?
EMMA: I did defer at Laurier for an Arts Program but this spring my new coach Cam Stephen talked to me a lot about skiing on the NCAA circuit. I had felt I could navigate a ski career while continuing my education here in Canada, but he has made me realize NCAA might be an option for me. So right now, I'm prepping for my SATS which I'll write early October.
AOA: So, no summer job?
EMMA: Well that was the plan, but instead I'm studying for my SATS by taking a prep course, focusing on my dryland and the team has also been on snow twice for far this spring/summer.
AOA: Looking back on last year are you happy with your season?
EMMA: Yes, it was a big growing year for me and I learned so much, but a definite highlight for me was that I finally won a race! I had really never stood on the top of the podium before. And then once I won once, I won a few times…it was really great to get the reassurance that I really can do it.
AOA: Why do you think this happened?
EMMA: It was a great team dynamic last year, we all pushed each other.
AOA: Was Katie (Twible..OST women's head coach last year) a big factor? That must have been hard to see her go.
EMMA: Yes, Katie was such an amazing coach and she helped me ski better and accomplish things I never had before. When Katie told me the news that she got an amazing opportunity with the US Ski Team, I was so happy for her, but I also cried. I guess I felt a bit of fear losing her…when you lose a great coach you think you have to start over and question if you want to do that but now that I look back I realize a new coach isn't a bad thing. We're all really enjoying working with Cam (Stephen) so really there was no reason for me to be worried.
AOA: What are your goals this year?
EMMA: NCAA is the end goal but hitting the top 30 in Nor-Ams in both SL and GS would be great. I'd also like to get back in the mix in SG. I also really want to keep working on my confidence so it's more a mindset than an actual result that I'm looking to get.
AOA: Is confidence an issue?
EMMA:  It would be my weakness for sure. I just need to know that I can do it. I can overthink things and that feeds into my nerves.
AOA: What would your strength be?
EMMA: Probably my drive and determined attitude towards skiing. But I also just really love this sport. Ski racing has a lot of ups and downs- if you're at a race series and three or even four of those race days were really difficult and not what you wanted, and you can still come out of it loving the sport –  that's really all that matters.
AOA: Katie used to rave about what a hard worker you are, and I've seen how focused you are in the CSIO gym. Is the CSIO program a big help to the Team?
EMMA: Yes absolutely, it has really ramped up the entire OST. We go in there and see Olympians and are surrounded by like-minded athletes who are representing Canada. It is so motivating for us. It makes me want to be better. It's great to see my CSIO results and know that I'm getting stronger, and what I do in the gym also helps me become more confident on snow too.
AOA: Who else is supporting you? I'm guessing your parents.
EMMA: Yes, they are super supportive. They are the same parents whether I win or I'm 4 seconds back, and I'm so grateful to have that in my life. And they let me take a gap year to ski so that's pretty amazing!
Learn more about the Ontario Ski Team here>
Canadians invited to take part in special events and community celebrations
Calgary, Alta. (July 18, 2019) – With only 100 days to go before the FIS alpine season-opening World Cup races in Soelden, Austria, Alpine Canada is unveiling its plans to celebrate 100 years of Canadian ski racing history through the 2019-20 season.
Canadian ski racing officially began under the umbrella of the Canadian Amateur Ski Association, which was incorporated on Dec. 20, 1920.  The 100th anniversary is an opportunity to celebrate the country's rich history and tradition of excellence in ski racing during both the 2019-20 and 2020-21 seasons.
"We wanted to create very special opportunities that allow the nation and the Canadian ski community to come together to recognize the past as well as honour our current generation of athletes who are representing the Maple Leaf in alpine, para-alpine, and ski cross competitions around the world," said Vania Grandi, Alpine Canada's CEO. "We're inviting all Canadians, and the international ski community to join us in these celebrations."
The 100th Anniversary celebrations will kick off in November with an opportunity for fans to meet this year's national team athletes in person at fundraising galas in Toronto (Nov. 6) and Montreal (Nov. 7), where some of the sport's most recognizable names will gather alongside the new crop of alpine, para-alpine, and ski cross athletes for an unforgettable evening that allows attendees to mingle with the best of the past and present of Canadian ski racing. Celebrating both high-performance and grassroots ski racing, the 2019 winners of the Audi Canadian Ski Racing Awards presented by Helly Hansen will be presented at the galas.
Canadian Alpine Ski Team alumnus and artist Patrick Biggs of Ottawa, Ont., is already hard at work to create a painting that will be auctioned at the November gala in Toronto. Pulling from his experience as a two-time Olympian and nine-year member of the national team, as well as his family's deep roots in the sport, high-quality reprints of Biggs' final piece will also be available for online purchase in limited quantities.
"I'm very honoured. Skiing has been such an important part of my life, and it runs deep through multiple generations of my family that have developed this love for skiing," said Biggs who traces his family's passion for the sport back to his grandparents. "I think skiing is so important and being able to celebrate that and contribute by bringing a spotlight on some of these incredible people who were part of shaping that history is really cool."
In Western Canada, exclusive VIP ski experiences are being developed to allow Canadians an opportunity to get an up-close and unique view of the World Cup race action at the Lake Louise Winterstart Audi FIS Alpine speed races, and at the Audi FIS Freestyle Ski Cross World Cup's Canadian stop at Nakiska. Three levels of packages – gold, silver, and bronze – are available for purchase and include lift tickets, course tours, and VIP viewing areas along with special access to team meet-and-greet events and the bib draw.
Commemorating both Canada's ski racing centennial and the 10th Anniversary of the last Olympic and Paralympic Games hosted on Canadian snow, Whistler, B.C., will play host to an intimate celebratory dinner with 2010 medallists such as Ashleigh McIvor and Lauren Woolstencroft. Full event packages for the exclusive weekend include accommodation at the Fairmont Whistler, lift tickets to the world-famous Whistler-Blackcomb ski resort, and special gift packages.
Packages will be developed for this season's combined alpine and ski cross Canadian championships in Panorama, B.C., in the spring of 2020. Canada's national team alpine and ski cross athletes will head to Beautiful British Columbia to close out the 2019-20 season and vie for national titles alongside the up-and-coming crop of provincial racers looking to make their mark on the nation's ski racing community, providing an excellent opportunity for fans to see this year's World Cup heroes in action and catch a glimpse at the nation's prospects in the sport.
All net proceeds from the two gala events, artwork sales, and all VIP packages will go towards supporting Canada's national team programs.
Apparel line developed to celebrate 100th
Canadians don't have to wait for the fall to get in on the 100th Anniversary celebrations. A special line of anniversary apparel is available now at Alpine Canada's online store. The retro collection's items give a nod to tradition without compromising on today's fashion and comfort, with new pieces set to be added throughout the next few months.
Similar nods to tradition – including a return of the yellow on the Alpine Canada emblem – will be spotted on national alpine, para-alpine, and ski cross athletes when they hit the start gate for the 2019-20 season.
"We expect the exclusive and limited retro collection will appeal to many ski enthusiasts across the country," said Steve Wallace, Alpine Canada's chief commercial officer, of the first wave of anniversary merchandise. "With today's unveiling of the 100th Anniversary logo, we encourage fans to keep an eye on our online shop for more apparel options throughout the season."
To learn more about the opportunities to take part in the 100th Anniversary events and support Canada's national team racers, please visit AlpineCanada.org/events. More information on how to contribute to the organization's quest to raise one million Aeroplan Miles can also be found on the site.
100th Anniversary Launch Video
Follow Alpine Canada on social media for the latest news and information on athletes and more:
Facebook, Twitter, Instagram, Youtube, AlpineCanada.org.
ABOUT ALPINE CANADA
Alpine Canada is the governing body for alpine, para-alpine and ski cross racing in Canada, as well as for Canadian ski coaches, providing education, certification, insurance and compliance with the coaching code of conduct. With the support of valued corporate partners and donors, along with the Government of Canada, Own the Podium, the Canadian Olympic Committee and the Coaching Association of Canada, Alpine Canada develops Olympic, Paralympic, World Championship and World Cup athletes to stimulate visibility, inspiration and growth in the ski community. In 2020, Alpine Canada will celebrate 100 years of rich tradition in competitive skiing in Canada.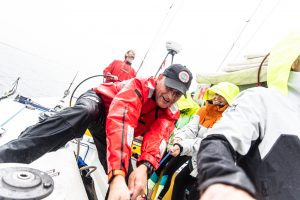 Thank you to Helly Hansen, Martha Hall Finlay (ACA Chair) and Geoffrey Belisle & Joannie Schatz (Craigleith members and race parents) for supporting Alpine Ontario athletics!
Helly Hansen joined the AOA team last season and, in addition to outfitting all our athletes in beautiful gear, the company donated to AOA two amazing Atlas Ocean Racing sailing adventures on the Volvo Ocean Racers 60. Martha Hall Finlay and Geoffrey Belisle purchased these adventures last winter at the AOA winter fundraiser.
The VO60s are incredible performance machines, former legends of round-the-world races, and among the strongest and safest yachts in the world. With a length of 60ft, a draft of 14ft, and a mast of 100ft, they need up to 16 crews to perform.  The actual boat that the AOA crews were on was the Esprit de Corps II which raced in the Whitbread Round the World Race 1997-98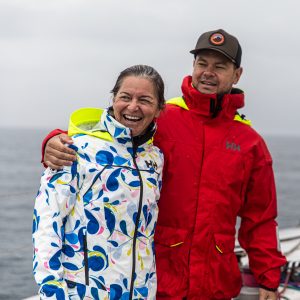 under its former name of Swedish Match. In this race it was the Brunel/Sunergy team that raced alongside 9 other Volvo Ocean 60's and endured significant hardship including losing the top running backstay, an inverted mast, hitting a whale and losing half of its rudder. Despite this the boat finished 8th in the race before it was docked and sat abandoned in Sweden for years.
In 2014 Gilles Barbot and Georges Leblanc purchased the boat and after a challenging crossing of the Atlantic, the boat is finally in Canada and renamed Esprit de Corps III, joining Atlas Ocean Racing's fleet.
The first AOA group to set sail was Martha's and incredibly they set out early last Thursday in what the weather network called "the rainiest day in July in half a decade!" Her crew put the Helly Hansen-foul- weather-samples to the test and managed to look happy while doing so!  Geoffrey's group set sail later that same day under the heat, humidity and sunshine of Toronto but with no wind. ☹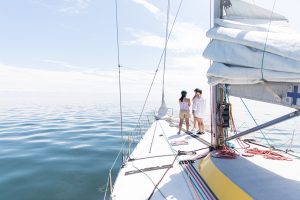 Atlas, as true professional sailors made the best of both situations and hosted everyone to an amazing experience on Lake Ontario. Thank you again to our hosts and guests for supporting AOA Athletics!
This week:
OST Indoor Ski Camp, Wittenburg, Germany
U16HPP Les Deux Alpes Camp, France
U12-14 Camp Heads to Mt. Hood
Kickstart Your Season!
Register before you ski!
Coach Funding
Job Board
Raceline is sent every 2-3 weeks in the off-season and weekly during the ski season. Subscribe here>
JULY 18TH, 2019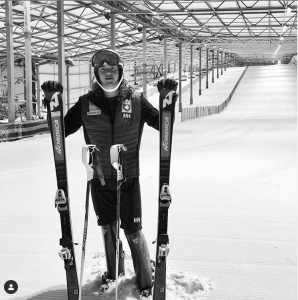 Sam Duff is currently ranked 1st in Canada in SL for his age and is the 4th overall Jr. in SL. He is entering his 3rd year on the Ontario Ski Team and is from Pembroke, ON and the Calabogie Ski Racing Club.
AOA caught up with Sam upon his return from Wittenburg, Germany to talk about indoor skiing.
AOA: Indoor skiing seems like an odd choice when skiers generally love being outside. What did you think of it?
SAM: Well it's very different of course. It is not the excitement of a big mountain like visiting Mammoth or Whistler but is perfect for specific drill development, which, in July, is what we are all working on.
The beauty of this facility is the course is right there…you get off the chairlift and you step immediately onto a course. This allows us to fit in a high volume. It is a short course (25seconds or so) but it is perfect for identifying what you need to be working on. The snow is injected so it's unforgiving, it is not easy to ski if you have a major weakness. It forces your technique to come out – you can't hide is I guess what I'm trying to say. Your bad technique comes out so you can then work on fixing it.
AOA: This is your 3rd year on the OST, why are you not off to College or University like many of your peers?
SAM: Well if I combined school with skiing, I'd have less time to focus on my skiing. Right now, I want to focus on the sport. I also love our coaches – Cam (McKenzie) and Kip are an amazing team, there's no other coaching staff I'd rather be with. They are the best coaches I've had in my life.
AOA: So, what are your goals this year?
SAM: Nor-Ams are my focus. I should be hitting the top 15 in SL events and in GS I'm looking to make some 2nd runs.
AOA: We see you on the river a ton in your social media posts @sammyduff1234 – how does Whitewater kayaking fit in these days?
SAM: It's still my main summer sport. Right now, I'm working with a Whitewater camp teaching kids but I'm also always out on the river practising. I hope to attend the Team Canada Time Trials for Worlds in 2021. I attended the 2017 World Championships in Argentina as a junior.
AOA: How do you manage to stay so competitive in two sports?
SAM: Kayaking is different than skiing in that I can keep up with my skills and unlike skiing doesn't mean I have to always be competing to make Team Canada. Skiing is harder to reach the top level since you have to travel a lot, and you travel all year round.
AOA: Do your kayaking friends compare with your ski friends? By that I mean are they similarly "committed"?
SAM: Yes, for sure, they are the same sort of people, I guess. Everyone is super active and committed to what they do – whether it's on snow or the water.
AOA: What's your biggest challenge as a ski racer?
SAM: Without a doubt, it's the commitment. It's a different sport than say hockey which is everywhere and easier to do all the time. We have hockey rinks in every single town here in Canada. Skiing means chasing the snow, which is amazing, but we miss out on all the normal stuff.
AOA: What is your biggest strength as a ski racer?
SAM: I guess it's my mindset. If I feel like I can do it, I dive right in and I do it.
LAST WORDS? For sure skiing takes a lot of time, practice and hard work but hey it's no fun being normal, right?