Please join us tonight for a night of cheer and celebration to recognize the leaders of our sport, on and off the slopes! CAST Alumni Mike Janyk along with AOA Executive Director Scott Barrett will be leading the presentations for the 10 Ontario Ski Racing Awards including Mackenzie Investments Athlete of the Year (male & female), Rossiter Para Athlete of the Year, Sporting Life Ski Cross Athlete of the Year, Helly Hansen Coach of the Year, Raymond James Club of the Year, Volunteer of the Year, Spirit Award, Best Event of the Year and Builder of the Year.
AOA will also have a silent auction (view items here) and AOA SWAG for sale. All proceeds support AOA athletics including the U16HPP, U19HPP and the Ontario Ski Team.
Date & Time: Thursday, April 18 from 6:30-10:00pm
Location: The Steam Whistle Roundhouse, 255 Bremmer Blvd., Toronto (downtown)
Tickets at the door: $75.00
Food & Drink: Open bar (wine & beer) with appetizers.
Canada & Ontario Dominate at 2019 Whistler Cup!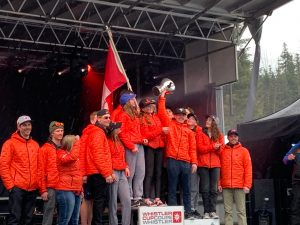 (April 15th, 2019) — For the first time since 2013 Team Canada's U16 team won the Whistler Cup! This is in part due to the outstanding results of Georgian Peaks racer, Aleksas Valadka who won bronze medals in both SuperG and GS and was crowned as the overall top Canadian male athlete winning the Dave Murray Trophy!!
Alongside Valadka only one female racer qualified at the Canada Winter Games to represent Ontario, Penny Robinson. Penny is from TBFAST ski club based in the Thunder Bay area and placed 20th in the SuperG, 11th in the GS and 7th in Slalom.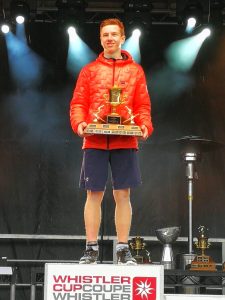 The Whistler Cup at the U16 level is Alpine Canada's pinnacle event. In order to qualify an athlete must first qualify for the National Championships (in this case the 2019 Canada Winter Games) where they must place in the top 6 overall. Over 20 nations compete in the Whistler Cup and at the U16 level, it is the only designated FIS Event.
For more on Team Canada's historic win visit this article published by the local Whistler paper.
---
At the U14 Festival Event, Ontario dominated. Not only did Craigleith Ski Club's Madison Donnelly win the ladies slalom she was also crowned as the top overall Canadian female winning the Nancy Greene Trophy! Donnelly was 11 in the GS. The overall U14 Festival cup was won by the United States, however, Ontario won both the men and ladies Team events and consistently placed athletes in the top 10. Congratulations to the following performances and the members of the winning teams!
Ladies GS:
5th Elli Clark, TSC
9th Emma Gatcliffe, GPeaks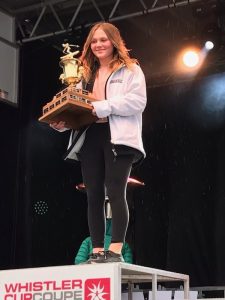 10th Lauren Wayland, Jozo Weider
Men's GS:
6th Duncan Armstrong, GPeaks
7th Jack Hunter, GPeaks
Ladies SL:
1st Madison Donnelly, Craigleith
4th Lauren Wayland, Jozo Weider
5th Elli Clark, TSC
7th Emma Gatcliffe, GPeaks
Men's SL:
5th Jack Hunter, GPeaks
6th Matia Veljovic, Craigleith
Please visit the Whistler Cup Facebook page here for Team Event results.
Please visit WhistlerCup.com for live timing links, results & more!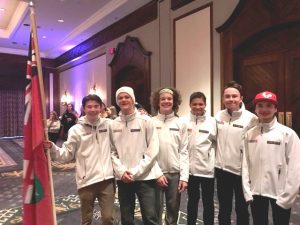 as posted on ACA…..
Calgary, Alta. (March 11, 2019) – Alpine Canada has named the 12 alpine racers selected to represent the nation at the 27th edition of the Whistler Cup, fielding two teams at the annual juvenile ski racing event at Whistler-Blackcomb April 11-14 in Whistler, B.C.
The six female and six male racers will make up two mixed teams and were selected based on Alpine Canada's previously published selection criteria:
Alexis Barabe (Ste-Agathe-des-Monts, Que./Club de ski Saint-Sauveur)
Aleksas Valadka (Oakville, Ont./Georgian Peaks Ski Club)
Arianne Forget (Saint Jérôme, Que./Club de competition Belle Neige-S1 Racing)
Britt Richardson (Canmore, Alta./Calgary Alpine Racing Club)
Cydnie Timmermann (Calgary/Banff Alpine Racers)
Hemming Sola (Summerland, B.C./Apex Ski Club)
Hugo Culver (Westmount, Que./Club de ski Tremblant)
Marie-Pier Brunet (Bromont, Que./ Club de competition Belle Neige-S1 Racing)
Makenna Lebsack (Calgary/Panorama Ski Team)
Mathis Lafond (Bois-des-Fillions, Que./EDLS-Chantecler)
Penny Robinson (Thunder Bay, Ont./Thunder Bay Franco Alpine Ski Team)
Ryley Fergusson (Edmonton/Sunshine Alpine Racers)
"These 12 racers distinguished themselves through their performances at the Canada Games last month, where they represented their provinces with pride," said Brien Perry, Director of Domestic Sport for Alpine Canada. "We are excited to now have them part of Team Canada where they can compete against their age group internationally at the Whistler Cup. More than a ski race, the Whistler Cup has become a true ski racing festival for the country's – and the world's – upcoming generation of top-performing ski racers."
Among the multi-medallists from Canada Games selected to the Whistler Cup team are Forget (gold in giant slalom and super-G), Lebsack (silver in super-G, bronze in giant slalom), Richardson (silver in giant slalom, bronze in super-G), and Valadka (bronze in slalom and giant slalom, silver in super-G).
As part of the event, the Whistler Cup is awarded to the top-performing nation in both the U14 and U16 age categories based on overall points earned during the week's race action. In addition, the Nancy Greene Award is presented for the top U14 and U16 performances by a Canadian female, and the Dave Murray award for the top performance by a Canadian male in the U14 and U16 age categories.
Ski fans and racers' family and friends are also welcome to attend the parade of nations and opening ceremonies on Thursday, April 11, and the awards and closing ceremonies on Sunday, April 14 at the main stage at Skiers' Plaza.
The race schedule includes men's and ladies' U16 super-G racing on April 11, followed by the technical events for both the U14 and U16s April 12-14. Please visit http://www.whistlercup.com/
AOA Congratulations Eight Successful Coaches on Passing their Performance Level (PL) Course!
AOA Welcomes Four PL Evaluators to Ontario!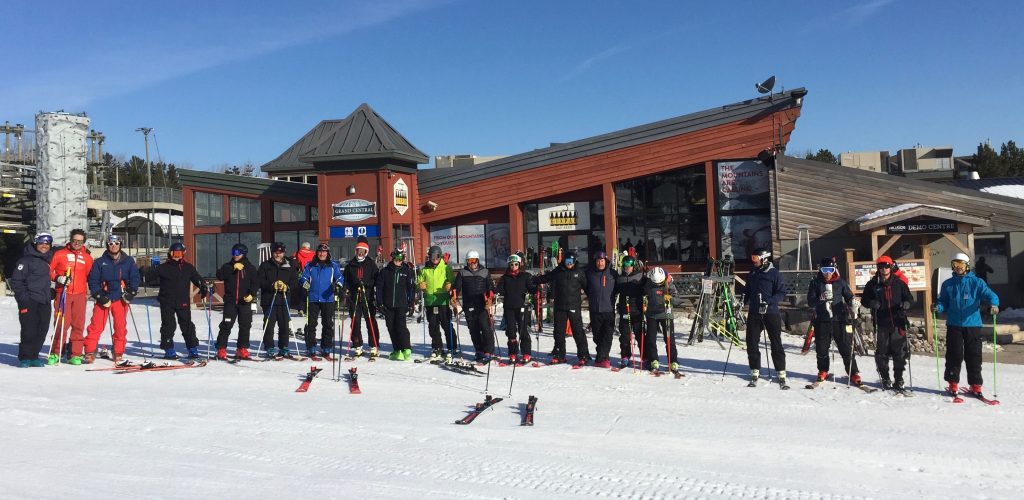 COLLINGWOOD, ON (April 11th, 2019) — Last week 17 candidates gathered over 5 days at the Craigleith Ski Club for a Performance Level (PL) course facilitated by AOA coaches Rick Cook, Dave Campbell, and Jacques Reid. This was the first PL course (formerly the CSCF Level 3) held in Ontario since 2017. It was also a new format whereby ski racers from the U16- U19 levels were brought in to work with the coaches over the 4 days on snow portion. The coaches were evaluated on their ability to analyze and correct the performance of the athletes as well as setting a conducive environment for learning.
This was also the first time that Alpine Ontario assumed the responsibility to run the PL course under the guidance of Alpine Canada's coach education program. In order to do so, the facilitators needed to do a 2-day update in Montreal with ACA's Jenni Stielow and Greg Frechette alongside other facilitators from Quebec.
Alpine Ontario took the leadership by sending four facilitators to Montreal with the goal that Ontario be able to do more PL courses in Ontario in the future. Dave Campbell, Rick Cook, Jacques Reid, and Jeff Jones are now qualified to facilitate PL courses. Craigleith Ski Club took the leadership to host this first PL course, going as far as opening up the hill exclusively on a Friday for the course (in April none the less). A big thanks to Craigleith's GM Jeff Courtemanche for being supportive of coach education at this time of year.
AOA would like to recognize these coaches for achieving  "Performance Level Trained status":
Chris Tepera, Craigleith Ski Club
Michael Wilkins, Osler Bluff Ski Club
John Eastmure, Craigleith Ski Club
Taylor Poast, Brimacombe Ski Club
Thomas Trusler, Osler Bluff Ski Club
Andrew Mercer, Brimacombe Ski Club
Victoria Fenninger, Fenninger Racing Club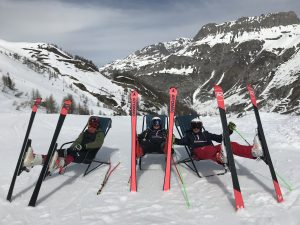 (APRIL 8TH, 2019) – It was a week to remember! This weekend two AOA coaches, Melody Courville (nee McCague) of Craigleith and Shawn Banfield from Camp Fortune, and six of our best U16 OCUP athletes – Tessa Foote/NSA, Emma Gosselin/Osler, first-year Andreea Nicollici/CFSC, Ben Neyland/NSA, Kyle Blandford/GPeaks, Duncan Waugh/BValley returned home from an  amazing week in Val D'isere, France.
They arrived in Val D'Isere to sunny skies and incredible freeskiing and spent the first two days getting to know the mountain. The second day the group free skied the SG track on a slope that offered a bit of everything with steeps, rolls, flats, fallaways and bends.  The track was in great shape and had been injected many times throughout the season. During the third and fourth day before the race, the athletes trained SL with Holland, Polland, and Finland.  This was a great experience and opportunity for the athletes to meet new people and to get a sense of what the competition was like.
In total 34 nations competed in the 39th annual La Scara event which attracts many of the top racers across Europe and the world. This race had some incredible depth with regards to the skill of the athletes including Val d'Isere's own Victor Muffat-Jeandet as the forerunner. It's not every day you get to ski the same track as a top WC skier!!   Team Ontario hit the top 20 twice – 16th in Super G for Waugh and 17th in SL for Blandford with Osler's Gosselin close behind with a 22nd in SL.  This was a  huge accomplishment for these athletes.
A huge thank you to Russell and Sarah Goodman – parents of CAST Alumni Anna Goodman of Mont Tremblant who annually travel to this area to cheer on the next generation of Canadians. Russell slipped the course before each of our athletes and helped where ever he could. Sarah was in the finish with the Canadian flag cheering everyone on as they came across the line.
In addition to training and racing in a world-class event, the group was able to visit the Rossignol Factory located in Grenoble France.  Thank you to Ontario Rossignol rep. Mario Guertin for organizing this wonderful opportunity.
Thank you also to the Goodman family for sharing their photos here.
Ministry of Tourism,   Culture and Sport

Minister

9th Floor, Hearst Block
900 Bay StreetToronto, ON  M7A 2E1
Tel:  416 326-9326

Ministère du Tourisme,
de la Culture et du Sport
Ministre

9e étage, édifice Hearst
900, rue Bay
Toronto (Ontario) M7A 2E1
Tél. :   416 326-9326
April 2, 2019
Dear Partners,
On September 26th, 2018, we achieved a milestone in Ontario. We commemorated the first annual Rowan's Law Day, proclaimed under Rowan's Law (Concussion Safety), 2018 ("Rowan's Law").
I am writing to you with information about the next steps on Rowan's Law as we seek your feedback on the draft regulation to support the implementation of the legislation.
We welcome and encourage your feedback on the proposed draft regulation through the consultation paper on Ontario's Regulatory Registry. I also encourage you to share the link broadly within your organization and with other sport partners, noting that feedback will be accepted until April 18, 2019.
To support implementation, we are working on developing evidence-based and accessible concussion awareness resources, sample code of conduct template as well as removal-from-sport/return-to-sport protocol templates. These resources will be made available for adaptation by sport organizations and other sector partners prior to the legislation and regulation coming into effect.
Rowan's Law will result in increased concussion safety in amateur competitive sport so that our amateur athletes can have fun and be safe. We look forward to working with all our partners to ensure a smooth and successful implementation.
For additional information, please visit the ministry's website.
Sincerely,
(original signed by)
Michael Tibollo
Minister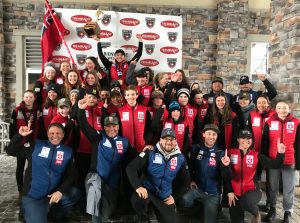 Submitted by U14 CanAm Head Coach Jacques Reid…."We all love to win but this 2019 CanAm event was about more than winning. In all of my duties as Head Coach, this event stands apart thanks to the coaches working as a united front, working seamlessly for the good of each athlete. I truly believe the athletes responded to this and acted like a true team that deserved to hold our Ontario flag high! Well done everyone!
Now for the results. The last time AOA won a gold medal at the U14 CanAms was 2016. I congratulate our two gold medal winners (pictured here): Elli Clark of Toronto Ski Club in the GS and Colton Bartholomew of Craigleith for his Slalom win. Colton also earned the honour of holding the historic Taschereau Cup up over his head as many legends have done before him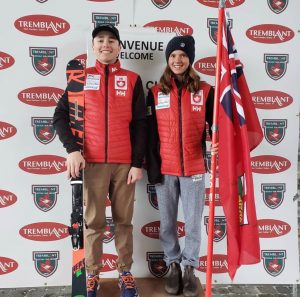 including, Erik Guay and Nancy Greene Raine. A shout out also to our top 10 finalists: Duncan Armstrong/GPeaks 5th in SG & 8th in SL – Natasha Olsen 8th in GS – Matthew Bassin/Craigleith 6th in GS. FULL RESULTS HERE>
I'd like to thank the team of coaches: Brian McGregor/TSC, Nicole Burgess/GP, Nick Bubella/ GP, Chris Tepera/Craigleith, Mike Schneider/Caledon, Brayden McEwen/Fortune and Yoshi Watanabe/Alpine. I know I speak for all of us when I say we're proud of all of these kids – keep doing what you are doing, work hard & have fun on the slopes! ~ Jski
Submitted by OPAST Head Coach, Gwen Binsfeld….The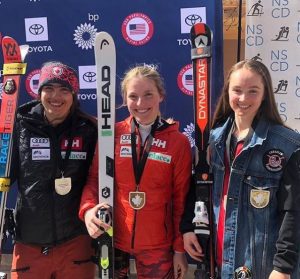 Canadian  & US Para-Alpine Nationals took place at Winterpark, Colorado this past week, with four entries from the Ontario Para-Alpine Ski Team. Results were impressive for Ontario considering  Alpine Canada's CPAST athletes competed alongside the provincial/state team members.
Congratulations to Sarah Gillies for earning four medals!!
US Giant Slalom: 
2nd –  Sarah Gillies
12th – Abbey VanDuzer
10th – Ben Harris (his first National appearance)
GS Nationals:
3rd – Sarah Gillies
9th –  Abbey VanDuzer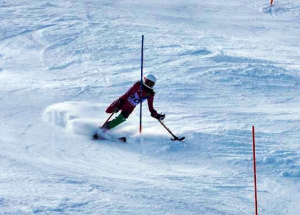 10th – Ben Harris
US Super G:
2nd – Sarah Gillies (this was her first outing in a para speed event where she outperformed CPAST members who had been to Paralympics!)
US Slalom: 
4th – Sarah Gillies
7th – Abbey VanDuzer
10th – Ben Harris
Canadian SL:
3rd – Sarah Gillies
9th – Rebecca Mideros
10th – Ben Harris
13th – Abbey VanDuzer
Team members Alexandra Marta, and sit skier, Brian Rowland are recovering from injuries and were not able to participate.
Congrats to all!
Submitted by the Calabogie Ski Racing Club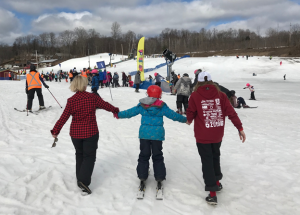 (CALABOGIE, ON) – April 3rd, 2019 — From March 28-31 the Calabogie Ski Racing Club (CSRC) hosted the inaugural U16 Eastern Finals. Over 100 athletes from Ontario, Quebec, Eastern Canada and the Eastern United States participated in three (almost four) days of racing including the first ever Ski Cross at a finals event.
Mother Nature arrived in full force with sun, rain and snow; the area received more than 10cm of snow on Sunday and the CSRC race crew worked tirelessly as they always do to prepare the track. Unfortunately, there was just too much snow and final race of the series was cancelled.
There were many highlights over the four days including the first ski cross event, a presentation from Olympian JP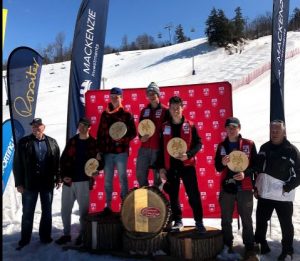 Roy about his skiing career and the traditional Calabogie 'tug of war' and smores stations at the banquet.
On Friday, 230+ students in grades 3-6 from local schools participated in a free, fun learn to ski day where they had the opportunity to try some ski race skills stations, interact with the athletes and watch the ski cross race. For most of the students, this was their first introduction to alpine skiing and for others, it was the opportunity to improve their skills. This day was made possible with support from the Province of Ontario, the Canadian Ski Council, and Calabogie Peaks Resort.
The Eastern U16s Finals would not have been possible without the support of our sponsors and all of the Calabogie Ski Racing Club parents, coaches, athletes, and alumni who installed B-net, prepared the course, filled the race day roles, fed volunteers, hosted our 230+ students and provided the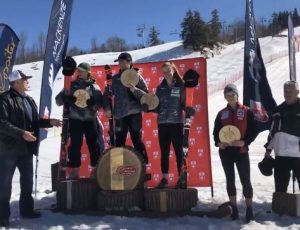 leadership on and off hill to ensure a safe and fun-filled four days of ski racing! Lastly, the Club and AOA would also like to thank Daryl Kramp, MPP Hastings-Lennox and Addington and Mayor of the Township of Greater Madawaska Brian Hunt who enjoyed the Ski Cross races and presented awards to the ski cross winners.
ONTARIO TEAM RACING HIGHLIGHTS: 
Women's Overall:
Urness Emma TREMB 1
Théberge Anne-Catherine STON 2
Lafreniere Kaila BELNE 3
ORegan Grace TREMB 4
Sewell Lily NATAC 5
Parent Maxim TREMB 6
Desrosiers Laurence STSAV 7
Dean Jessica BELNE 8
Byers Abbygail DEVGL 9
Finoro Nikki NATAC 10
Men's Overall:
Trudeau   Simon  BELNE 1 Turnbull   Ryan  CRAIG  2
Doman   Robert OSLER  3
Keller   Maximus  CRAIG 4
Reid   Ellis CRAIG  5
Weingust   Ben  CRAIG    6
Sommer   Shane MSRC    7
Charest   Pierick TREMB  8
Brisebois   Hugo ESCF      9
Keefe   Grant  WSRC    10

Women's SkiCross
Lafreniere Kaila BELNE 1
Urness Emma TREMB 2
Théberge Anne-Catherine STON 3
Parent Maxim TREMB 4
Thompson Kylie CRAIG 5
Byers Abbygail DEVGL 6
Sewell Lily NATAC 7
ORegan Grace TREMB 8
Men's SkiCross
Turnbull Ryan CRAIG 1
Sommer Shane MSRC 2
Keller Maximus CRAIG 3
Keefe Grant WSRC 4
Pilla Nicholas CRAIG 5
Donnelly Brian CRAIG 6
Granger Anthony VSC 7
Doman Robert OSLER 8
Men's GS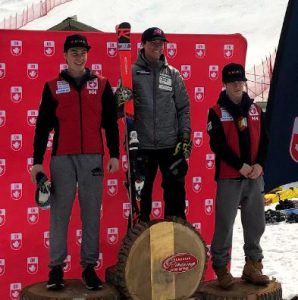 1 Trudeau, Simon QUE BELNE 49.42 (4) 51.76 (1) 1:41.18
2 Turnbull, Ryan ONT CRAIG 49.31 (2) 52.09 (5) 1:41.40
3 Weingust, Ben ONT CRAIG 49.17 (1) 52.30 (6) 1:41.47
4 Keller, Maximus ONT CRAIG 49.50 (5) 52.08 (4) 1:41.58
5 Brisebois, Hugo QUE ESCF 50.05 (16) 51.83 (2) 1:41.88
6 Villeneuve, Kaiden ONT SNCOS 49.97 (14) 52.01 (3) 1:41.98
7 Doman, Robert ONT OSLER 49.64 (8) 52.36 (7) 1:42.00
Ladies GS
1 Urness, Emma QUE TREMB 52.86 (1) 48.62 (6) 1:41.48
2 Théberge, Anne-Catherine QUE STON 53.39 (3) 48.29 (2) 1:41.68
3 ORegan, Grace QUE TREMB 53.88 (7) 48.40 (4) 1:42.28
4 Desrosiers, Laurence QUE STSAV 54.15 (9) 48.22 (1) 1:42.37
5 Parent, Maxim QUE TREMB 53.48 (4) 48.99 (11) 1:42.47
6 Byers, Abbygail ONT DEVGL 54.36 (13) 48.37 (3) 1:42.73
7 Houde, Kelly-Ann QUE BELNE 53.83 (6) 49.43 (18) 1:43.26
8 Rioux, Alexane QUE ORFOR 54.40 (14) 48.89 (10) 1:43.29
9 Kiss, Cadence ONT ALPIN 54.32 (12) 49.16 (12) 1:43.48
Men's Slalom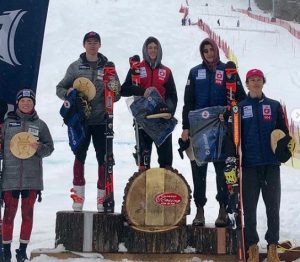 1 Reid, Ellis ONT CRAIG 38.35 (1) 36.68 (2) 1:15.03
2 Trudeau, Simon QUE BELNE 39.09 (4) 36.47 (1) 1:15.56
3 Doman, Robert ONT OSLER 38.71 (2) 36.94 (4) 1:15.65
4 Charest, Pierick QUE TREMB 39.59 (6) 36.87 (3) 1:16.46
5 Stryjnik, Tristan ONT CRAIG 39.16 (5) 37.71 (14) 1:16.87
6 Weingust, Ben ONT CRAIG 39.07 (3) 37.88 (19) 1:16.95
7 Hebert, Mykael QUE EDEL 40.40 (9) 37.35 (7) 1:17.75
8 Brackett, John ONT CRAIG 40.78 (17) 37.13 (5) 1:17.91
9 Donnelly, Brian ONT CRAIG 40.87 (20) 37.14 (6) 1:18.01
Ladies Slalom
1 Urness, Emma QUE TREMB 35.99 (1) 38.73 (1) 1:14.72
2 Théberge, Anne-Catherine QUE STON 37.09 (3) 39.23 (4) 1:16.32
3 Dean, Jessica QUE BELNE 37.82 (6) 38.88 (2) 1:16.70
4 Lafreniere, Kaila QUE BELNE 37.69 (4) 39.09 (3) 1:16.78
5 Arrouart, Kim QUE MSA 37.94 (7) 39.93 (5) 1:17.87
6 Sewell, Lily ONT NATAC 37.95 (8) 40.08 (6) 1:18.03
7 Mathieu, Flavie QUE STSAV 38.20 (10) 40.12 (7) 1:18.32
8 Finoro, Nikki ONT NATAC 38.25 (11) 40.13 (8) 1:18.38
Full results can be found online here>
CONGRATULATIONS TO OUR ONTARIO SKI RACING AWARD FINALISTS!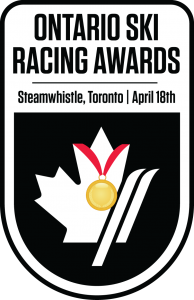 (April 1st, 2019) — Alpine Ontario received over 100 nominations for the 2019  Ontario Ski Racing Awards!! Thank you to everyone who participated and took the time to recognize the provinces most dedicated individuals of our sport! We would like to thank the Alpine Ontario Awards Committee, led by LSDA's Allan Mihalcin and his team of volunteers, for narrowing down the nominations to the finalists listed below.
To cast your vote click on the heading of each category or visit the Awards pages here. Only one email (per person) per category will be accepted but you may vote in more than one category. Voting will close on April 10th at 5 pm.
Please be sure to join us for the Awards presentations on April 18th at the Steam Whistle Brewery in Toronto. This will be a fun night and your opportunity to celebrate the 2018/19 ski season with us!  The evening will include a silent auction,  unlimited Steam Whistle and be hosted by CAST Alumni Mike Janykwho will be unveiling the winners!