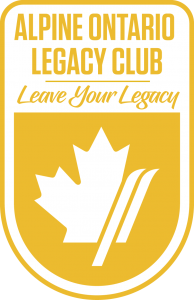 Wow! What a fantastic start to the 2019 race season here in Ontario! The Raymond James Ladies Nor Am Series still has everybody buzzing.  Georgian Peaks, Alpine and Osler gave the event a seamless transition from one discipline to the next and the phenomenal job they did gathering volunteers, prepping the runs and running the races has garnered praise throughout Ontario and the NOR-AM circuit.  The snow conditions could not have been better!
Next up on the horizon is the Audi FIS World Cup Ski Cross on January 25th and 26th at Blue Mountain!  The event will be followed by THE Après of the winter that is being co-hosted by Alpine Ontario and Alpine Canada.  The evening is in support of the AOA Legacy Club and ACA Podium Club.
You will get a chance to meet three of Canada's SX Gold Medalists Kelsey Serwa, Marielle Thompson and Brady Leman, plus their teammates Chris Del Bosco, Kevin MacDonald, India Sherret and Kevin Drury. As well as Ontario Ski Team members Ashley Campbell, Brianna MacDonald, Emma Williamson, Aaron Puskas, Britton Quirk, Sam Duff and OST and CAST alumni including Kelly Vanderbeek and Graydon Oldfield.
Vania Grandi, President and CEO of Alpine Canada and Scott Barrett, Executive Director of Alpine Ontario will kick off the event with some brief remarks about the benefits of being a Podium Club and/or Legacy Club member.  There will be a live auction emceed by CAST Alumni Graydon Oldfield where you can bid on a chance to sail with seven friends or colleagues on a Volvo Ocean Race Yacht with Atlas Ocean Racing and Helly Hansen.  The day of sailing leaves from the Royal Canadian Yacht Club in Toronto and is a truly amazing experience.  If a warm weather trip peaks your interest you bid on a chance for a one week condo rental by Vivi Resorts in Mexico. Donated by Vivo Resorts and CAST Alumni Cary Mullen.
All funds raised during the evening will go directly to athlete development programs and create a legacy for the next generation of athletes.
Après Details
Date and time: January 26th, 2019 at 7:00pm
Location: The home of Blake and Marina Farrow – Google Map Link
Ticket Cost: $150.00 ($100 tax receipt issued by Alpine Canada)
To purchase tickets attendees can go to www.alpineontario.ca and select the 'Shop' tab and select the Legacy Club Event or click here
We look forward to seeing you on January 26th!
Thank you for your support!
Bill Reeves
Manager, Partnerships and Events
Alpine Ontario Alpin
breeves@alpineontario.ca
RAYMOND JAMES SIGNS ON AS TITLE PARTNER OF FIS OCUP

(COLLINGWOOD, ON) — January 18, 2019 Raymond James this week joins the AOA partnership team as the official sponsor of the 2019 FIS OCUP Series. The series kicks off this weekend at the Craigleith Ski Club in the Southern Ontario Division and will include eight FIS events and a total of 18 race starts for the 242 athletes enrolled in this race category.
2019 SCHEDULE: 

FIS OCUP, Jan 19-20, Craigleith – Entry Level GS
FIS OCUP,  Feb 9-10, Devil's Glen – SL
FIS OCUP, Feb 11-12,  Georgian Peaks  – GS
FIS OCUP,  March 2-5, Camp Fortune   – SL
FIS OCUP,  March 9-10, Devil's Glen – SL
FIS OCUP, March 11-12,  Georgian Peaks  – GS
FIS OCUP, March 18-19, Loch Lomond, Thunder Bay  – SL
FIS OCUP, March 20-21, Mt Baldy, Thunder Bay – SL
The FIS OCUP series is designed for those athletes in the U19/21 race bracket who have moved on from the U16 OCUP race series. The series is flexible in design allowing for a wider range of athletes to participate – some are scaling back their race schedules to focus on school, coaching or other activities while others will add to this schedule to compete outside of Ontario and in some cases outside of Canada as they eye a spot on the Ontario Ski Team and beyond.
Raymond James Managing Director, Investment Banking Glenn Gatcliffe comments, "We are excited to be joining the AOA team as a corporate partner. Our recent partnership at the 2019 Ladies Technical NOR AM was a great experience for our company and we look forward to supporting the committed and hard work alpine skiers on the Ontario FIS circuit." 
Bill Reeves, Manager, Partnerships and Events at Alpine Ontario adds, "In welcoming Raymond James we are thrilled to announce our properties are almost fully sold with Mackenzie Investments at the U12, U14 level, Rossiter Boat Company at the U16 level and now Raymond James at the FIS level. We too enjoyed working with Raymond James during the recent Collingwood Ladies Technical NOR AM Cup and very much look forward to a healthy partnership in the months to come. Like everyone in sport we are grateful to the corporate world that gives back to its community through athletics."
The Raymond James AOA partnership will include a branding program of athletic race bibs, on-hill signage and online promotion. Joining Raymond James as a presenting sponsor for the FIS Series will be Sisley Honda.
-end-
About Raymond James
When Bob James founded Raymond James, he did so based on a belief that clients deserved more than help with investment decisions, they needed advice that considered their entire financial picture.
Today, that client-focused approach has extended to serve more than 3 million client accounts through 7,500 financial advisors in the United States, Canada and overseas. Further, the company has expanded through the years to serve corporations, institutions and municipalities through significant capital markets, banking and asset management services.
Raymond James is one of North America's leading independent full-service investment dealers with an extensive presence across Canada and the United States. Raymond James Ltd. is the Canadian subsidiary of Raymond James Financial, Inc. Established in 1962, our parent firm made its initial public offering in 1983 and is listed on the New York Stock Exchange using the ticker symbol RJF. www.raymondjames.ca
ACA, Blue Mountain Set to Welcome the World for Audi FIS SX World Cup
Calgary, Alta. (Jan. 10, 2019) – Blue Mountain Resort will welcome the Audi FIS Ski Cross World Cup's only Canadian stop, Jan. 23-26, and fans can now plan to cheer on Canada's national team athletes with the formal launch of event ticket sales.
The world's best ski cross racers – including this year's Canadian podium performers and breakthrough athletes such as Marielle Thompson, Brady Leman, Mikayla Martin, and Reece Howden – will descend upon Blue Mountain Resort Jan. 23-26, 2019, to take part in training, qualification runs, and the main event races en route to the 2019 FIS World Championships in Utah.
"We relish the opportunity to host a World Cup event on Canadian snow and showcase not only our National Ski Cross Team athletes, but also the exciting sport of ski cross," said Vania Grandi, president and CEO of Alpine Canada. "This is a chance to inspire Canadians to get active by being involved in snow sports. We applaud Blue Mountain Resort and the organizing committee of the Audi FIS Ski Cross World Cup supported by Mackenzie Investments for their commitment and dedication to creating a great event for participants and fans alike. We know fans will be out in full force to cheer on the athletes from Canada and around the world."
In addition to the on-snow activities, fans at Blue Mountain can support Canada's national team program by attending a special fundraising event on Saturday evening, as well as take part in an intimate, mountain-side viewing party of the CBC broadcast of the event at the conclusion of the races on Saturday afternoon.
Alpine Canada and event partners will also have world-class activations on site for attending fans, and Audi Canada is bringing back its Audi R8 final jump on the course to add to the excitement of the race heats.
VIP tickets to the Audi FIS Ski Cross World Cup supported by Mackenzie Investments can be purchased online for as little as $90 for youth, and $120 for adults. All tickets to Saturday's fundraising soiree, co-hosted by Alpine Ontario, are also available online for $150. All net proceeds of the fundraiser, featuring national ski cross team athletes and Olympians, will go back to supporting the national team program.
"We are thankful to our national team and event sponsors for their support, and to those who continue to promote and support our program through generous donations and by attending fundraising events like the one on January 26," said Grandi. "It has been a pleasure to work with Alpine Ontario and the Farrow Family of Collingwood on this special event, and we are looking forward to a wonderful evening to cap off a great weekend of racing."
This year's Canadian stop of the Audi FIS Ski Cross World Cup supported by Mackenzie Investments also coincides with the 2019 National Ski and Snowboard Day – an event developed to celebrate winter snow sport by offering Canadians the opportunity to purchase discounted tickets at more than 80 resorts across the country Jan. 26 and 27. The net ticket proceeds from #NSSD2019 will go towards supporting the nation's high-performance athletes in ski cross, alpine, para-alpine, freestyle, and snowboarding. Information on participating resorts and ticket purchases can be found at HitTheSlopes.ca.
For further information on, and media accreditation requests to, the Audi FIS Ski Cross World Cup at Blue Mountain Resort, please visit BlueMountainWorldCup.ca.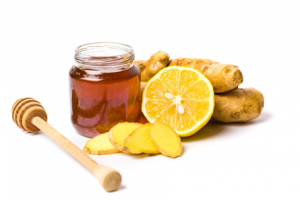 SXS FITNESS TIPS submitted by Stefan Overgaard. Visit SXS Fitness. 
Winter has settled in and unfortunately many people are now suffering from a cold or the flu. Here is a great soothing drink to coat your sore throat and help you rest better. There are many ways to combat a cold, but two of the best and easiest are staying well hydrated and sleeping! Brew up this lovely concoction and drink throughout the day (in between naps!) and try your best to sleep well at night😉
Lemon, Ginger and Honey Soother:
At home: Boil 1 litre of water in a pot, add 2 inches of fresh ginger sliced into circles (don't worry about peeling it). Reduce to low heat and simmer ginger with a lid on the pot for 10 minutes. Squeeze the juice of one lemon (I usually drop the lemon rind in the water after I've squeezed it in) into the pot. Ladle out enough liquid to fill a mug and add 1 tbsp of honey (for an added bonus use manuka honey which has great anti-microbial properties). Stir and enjoy but be careful as it will be VERY hot!
At school/work: Bring lemon slices, finely chopped ginger and honey to work. Add 1 tsp ginger, 1 lemon wedge and 1 tbsp honey to hot water and let sit for 5 minutes. Or pre-make at home and bring in a hot beverage travel mug.
Have as many cups as you'd like until symptoms clear. You can always adjust how much ginger, lemon or honey you use to your own taste preference!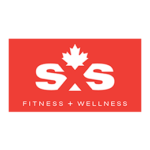 Submitted by Andrea Holland – ROC Chair, Camp Fortune NOR AM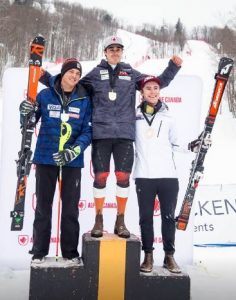 The 2019 Outaouais NOR AM Cup came to a close this past Monday.  Camp Fortune (the lone AOA club located in Quebec) hosted two days of SL racing on the infamous Canadian/Chute run, which was followed by the inaugural NOR AM Parallel SL race at nearby Mont Ste Marie, Quebec who also hosted two days of GS races.  Mother Nature brought some cold weather to the National Capital Region in the week leading up to the races which made for some excellent conditions.
The event marked the first for Camp Fortune Ski Club by way of hosting a NOR AM Cup and the entire club came together to make it a great success.  Both ski clubs had amazing support from their volunteers with over 65 club members and alumni helping each day at the Fortune races.  
One of the highlights of the week was the Parallel SL race which is quickly becoming a crowd favourite.  Another memorable moment was watching the Canadian and US National Team members and coaches roll safety netting with Camp Fortune U16 and U14 teams during course tear down!
The racing was spectacular to watch including some podium finishes from local Gatineau resident and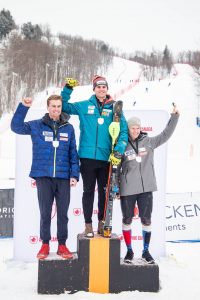 Canadian Development Team member Simon Fournier. Simon was an impressive 1st and 2nd in the SL races and capped the week with another medal in 2nd place overall in the Giant Slalom. Also standing on the junior podium was Osler Bluff ski club and Canadian Devolvement Team member Declan McCormack. These two young men certainly stepped up their game against a very tough NOR AM field. The younger racers representing Ontario on the many regional teams such as the NCO FIS Team, SOD Ski Team and even the Ontario Ski Team were likely equally wowed at the pace these men came flying down the hill. In total, we hosted athletes from eight different countries with a handful having already competed on the World Cup this year.
I would like to thank our media team for their amazing work in promoting the sport of ski racing last week!
Submitted by John Mealey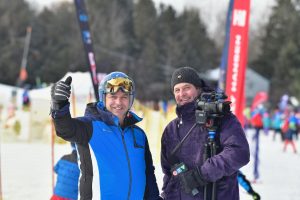 "What a week of high-performance racing at the Raymond James NOR AM Cup at Georgian Peaks, Alpine Ski Club and Osler Bluff Ski Club.  Many of these talented athletes will soon compete on the World Cup circuit.
In order to host the event, we had a top line budget target of $50,000. The largest single cost was the athlete prize purse of $15,000.  After event costs, the net income is being split between the participating clubs and AOA to provide funding to support our developing athletes.  Without the support of these amazing partners, the success of the event would not be possible.
The Peaks kicked it off with clear, calm skies and a track that was perfect; they set a high bar for the other clubs to follow in terms of event execution. On about the sixth gate, as racers hit the first turns on one of the most challenging pitch the racers will face in this season and it became clear that some were not prepared.  In further runs, the athletes adjusted, tamed the slope and rocked it!
At Alpine, the racers enjoyed the largest cash purse of the season with $11,000 being awarded to the top four.  The fans enjoyed the drama of a parallel slalom that came down to the wire.  The jump became a challenge as the athletes pushed their comfort zone in order to be competitive.  Comradery ruled the day as the athletes hugged it out after hard-fought battles. Thanks to Brad King and Jeff Cox, the fans and volunteers enjoyed a massive après race party that was an event highlight for many.
The stage was then set for the final two days of slalom racing at Osler.  The team at Osler came up big, proving just how gracious and accommodating their members truly are. The first race day coincided with the opening day of the club's racing programs, but Osler never missed a beat and put on two amazing slalom races, with a festive atmosphere to end it on.
Brian & Karen Stemmle (with help from Doug Kirby) kept the crowds rocking for the first three days with colourful commentary and insights.  The timing of the Collingwood Jet's just prior to the first racer was timed with perfection!  Eugene Trusler (the voice of Osler) assembled the biographies of all the athletes to add personality to the announcing at Osler like a pro. His tireless work did not go unnoticed by the competitors, some of whom personally reached out to him to say thanks.
Inside the ropes were controlled by Peter Dyson (WC FIS TD) and Doug Campbell (FIS TD Commissioner of Canada), along with the club ROC's who handled the races like the professional they are.  The AOA and ACA staff contributed in all aspects of the event execution and should be congratulated for a job well done.
What stands out the most from the series is the fact that these events were held across three clubs with a very high calibre of racing including international FIS complexities and yet there was not one single issue. The clubs involved truly worked as a "team" as part of a larger event. The Peaks, Alpine and Osler should be proud to be recognized by the International racing community as "elite level race clubs".
Now for the hard part. What are we going to de about the fact that team USA thoroughly kicked butt, claimed all the hardware and $15,000 in prize money?  Of course, there were some bright spots with developing athletes and it is noted our CAD athletes were mostly Juniors.  Our women's team is doing very well at the World Cup level currently and some of the athletes that would have been highly competitive are currently injured.  The fact remains that none of the prize money went to CAD athletes and we must do better. I hope our junior racers and coaches took a good look at the kind of offset the courses presented where real turns had to be made. This is a whole new game and I wonder how well our athletes are being prepared for this level?  In order to be competitive at this level, we need to elevate our collective game, both on the development side and also in terms of funding.   Serving USA notice now that taking our podium is not going to be an easy task next time the Nor-Am's come to Collingwood.  Game on!
On a personal note; it has truly been a privilege for our family to have been asked to Chair the event. It gave us a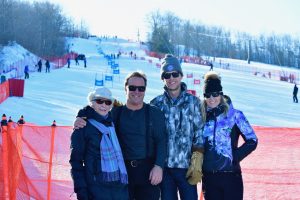 chance to honour Bob Kirby who was our family patriarch that passed away some six months ago.  This gave us the opportunity to reconnect with the many ski friends who share a common bond for the love of the sport.  The gift presented to our family on the final day was an amazing surprise and we will enjoy our trip to Vail next fall to witness the World Cup races and also take a run on Bobby's favourite run; Simba.
Love to all. John, Suzy (Kirby) and Jake Mealey. 
Helly Hansen Creates Performance Race Apparel Program for AOA
COLLINGWOOD, ON (January 2nd, 2019) — Helly Hansen today signed a two-year agreement with Alpine Ontario Alpin (AOA) to serve as the organization's official performance race apparel partner for athletes, coaches and support staff beginning this season. More than 125 AOA racers and representatives will benefit from wearing Helly Hansen race suits, outerwear, mid-layers and base layers, built with expertise and protection.
Oslo-based Helly Hansen is the world's most experienced performance apparel brand that has produced purpose-built apparel for professionals in the mountains and the water since 1877. As the official apparel sponsor for Alpine Canada Alpin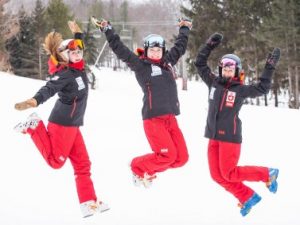 (ACA), and with three national race teams wearing Helly Hansen product at World Cup, Olympic and national events, AOA is partnering with the brand truly trusted by professionals.
"When it comes to enhancing the performance of our athletes, there is no comparison to the performance that Helly Hansen delivers," said Scott Barrett, Executive Director, AOA. "We look forward to working together to continue to build AOA's athletes on a provincial, national and global level."
The Helly Hansen AOA partnership will include apparel programs, co-marketing opportunities and event sponsorships beginning with the NOR AM Cup in Collingwood which commenced today at The Georgian Peaks Club and runs until January 6th.
"Skiing is at the core of Helly Hansen's DNA," said Damien Etchaubard, Marketing Manager, Helly Hansen Canada. "We're beyond pleased to work alongside an organization and team of athletes that represent the future generation of Canadian skiers."
-end-
About AOA
Alpine Ontario Alpin (AOA) is the provincial governing body for the sport of alpine ski racing in Ontario. Alpine Ontario's newly refined mission is to provide leadership and structure for high quality, sustainable and affordable programming and to communicate the competitive, recreational and lifestyle benefits of ski racing to the community. AOA represents four divisions, 44 member clubs and over 30,000 active athletes, coaches and officials (volunteers). AOA coordinates several successful programs across the province and continues to foster the development of "state of the art" ski-racing programs from the grassroots level to the elite level.
About Helly Hansen
Founded in Norway in 1877, Helly Hansen continues to develop professional-grade apparel that helps people stay and feel alive.  Through insights drawn from living and working in the world's harshest environments, the company has developed a long list of first-to-market innovations, including the first supple waterproof fabrics more than 140 years ago. Other breakthroughs include the first fleece fabrics in the 1960s, the first technical base layers in the 1970s, made with Lifa® Stay Dry Technology, and today's award-winning and patented H2Flow™ temperature regulating system.
Helly Hansen is a leader in technical sailing and performance ski apparel, as well as premium workwear. Its ski uniforms are worn and trusted by more than 55,000 professionals and can be found on Olympians, National Teams, and at more than 200 ski resorts and mountain guiding operations around the world.
Helly Hansen's outerwear, base layers, sportswear and footwear are sold in more than 40 countries and trusted by outdoor professionals and enthusiasts around the world. To learn more about Helly Hansen's latest collections, visit www.hellyhansen.com.
December 14th, 2018 — Ski Cross action arrives late January to Ontario and includes a ton of action for AOA members. Please mark January 26th on your calendar for the one and only Audi FIS Ski Cross World Cup at Blue Mountain Resort. Regardless if you are a spectator, athlete, coach and/or official we hope you can join us and cheer on Canada!
Please read on if you are a U16 OCUP Athlete, AOA coach, Official or fan of ski cross!
ATHLETES
The U16 OCUP Development Camp dates have moved to January 28-29th (the first OCUP draft schedule showed this event on January 30-31st).  Due to the date change and student exams, this SX Camp is no longer an eligibility requirement for Canada Winter Games qualification. AOA is implementing a registration deadline of January 6th for all U16 OCUP athletes to gauge interest and participation numbers.  Based on the numbers received at that time AOA may open registration for other age groups.  Also attending this SX  camp will be members of ACA's Next Gen  Development Team and Regional Teams and coaches to mentor and demonstrate skills to the AOA athletes.  This is a unique opportunity for Ontario to learn from the best on a World Cup track.  Commitment to the camp is 2 days (no 1 day option available) and the cost will be a lift ticket only – $44+HST.  To register, clubs/coaches please send numbers of athletes and coaches who will attend to rskinner@alpineontario.ca by January 6.  GS skis and a warm-up suit is mandatory to participate.  No speed suits or SL skis permitted.  Please note that all coaches on-hill Jan 28-29 must have the Intro. to SX On-Snow module to participate.  See below for fully funded available SX courses.
COACHES
For coaches who are keen to learn more and become ambassadors and champions of the fast-growing SX discipline AOA has the following coaching modules available this season.
Jan 23, 2019, Calabogie Peaks Resort
Jan 27, 2019, Blue Mountain*
Jan 28, 2019, Blue Mountain*
*Both Blue Mountain courses will be subsidized by AOA and World Event Snowsports.  Please register for all courses on www.canskicoach.org and AOA will refund your fee upon completion of the course.
By educating our coaches we can prepare Ontario athletes properly and safely for SX and who knows, maybe even produce the next Olympic Champion, collectively as a community! To do this, we need more coaches trained to understand the sport and encourage clubs to build terrain for training and progression!
OFFICIALS
Qualified officials are a driving force for helping to build and maintain safe SX tracks and operate SX races in an efficient and effective manner.  The officials SX pathway has been developed by Alpine Canada and include indoor and outdoor sessions in order to be fully certified.  The following SX officials session is available this season in Ontario:
Dec 30, 2019 ,SX Level 2 Craigleith Ski Club*
Jan 13 & 27, 2019 SX Course Builder Session* – click here for more.
Jan 27, 2019, SX Level 2 Blue Mountain*
Jan TBD, 2019 SX Level 1 Calabogie Peaks Resort
*Blue Mountain and Craigleith courses will be subsidized by AOA and World Event Snowsports.  Please register for all courses on www.alpineontario.ca.  Email rskinner@alpineontario.ca if interested in the Jan 13-27 Course Builder Session.
SPECTATORS
Other than planning to watch all of the action on-hill for the World Cup Jan 25-26 at Blue Mountain, there will be a public bib draw in Blue Mountain Village Jan 25, a CBC viewing party at the Blue Mountain Inn, January 26th and an AOA Fundraiser at the Farrow Residence on 10th street in Collingwood at 7pm on January 26th.  Please visit the AOA Event Calendar for all the details on these events to celebrate all things SX in Ontario.
For more on the general SX program in Ontario, please click here.
For more information:
Robyn Skinner
Competition Director
Alpine Ontario Alpin
rskinner@alpineontario.ca
(705) 444-5111 x128
AOA E-NEWSLETTER, December 13th, 2018 including:
The Art of Volunteering – Q&A with the Camp Fortune Ski Club
Last season ahead for Scott Barrett
Please support AOA & ACA at the January 26th event
Coaches Update this Friday, Saturday
Help for Parents, by Dr. Jim Taylor
COLLINGWOOD, ON (December 13th, 2018) — The 2018/19 season will be the sixth and final winter for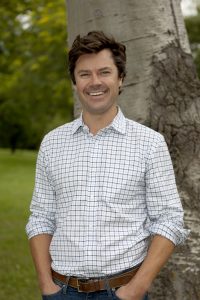 Scott Barrett, Alpine Ontario's Executive Director.  Scott joined AOA in 2013 and has led the organization through a significant transition period resulting in AOA re-establishing itself as a dynamic, high functioning governing body for the sport of para, alpine, and ski cross. After spending nearly his entire life in the sport, including competing for the Ontario Ski Team, University of Vermont, three years as a member of the Canadian Alpine Ski Team, and five years with AOA, Scott is stepping away from the sport to pursue other interests.
"I'm very proud of what we, as an organization, have accomplished together. In particular, I cannot thank the AOA staff and the Board of Directors enough for the remarkable job they have done for the sport. I am extremely grateful for the opportunity to have led an organization that has done so much for me over the years, "said Scott.
Mike McTaggart, AOA chairman added, "On behalf of the entire Board of AOA, past, and present, we want to thank Scott for his endless dedication to AOA.  Scott's energy and passion for the sport are on display every day, which is why he is respected coast-to-coast and throughout the sport. We are going to miss Scott; that said, we are all extremely proud of his accomplishments and look forward to seeing him excel at the next chapter of his career. Keep your tips up Scooter!"
The AOA Board of Directors will be convening a hiring committee and the position for Executive Director will be posted in early January, with the final transition commencing late spring.
-end-
Alpine Ontario Alpin (AOA) is the provincial governing body for the sport of alpine ski racing in Ontario. Alpine Ontario's newly refined mission is to provide leadership and structure for high quality, sustainable and affordable programming and to communicate the competitive, recreational and lifestyle benefits of ski racing to the community. AOA represents four divisions, 44 member clubs, and over 30,000 active athletes, coaches and officials (volunteers). AOA coordinates several successful programs across the province and continues to foster the development of "state of the art" ski-racing programs from the grassroots level to the elite level.
For more information contact:
Kristin Ellis
Communications Manager
Alpine Ontario Alpin (AOA)
705-444-5111 x132
communications@alpineontario.ca