By AOA Communication Manager, Kristin Ellis – August 12th, 2019.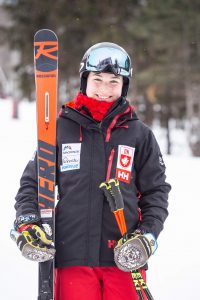 This interview is part of a series of Q&As with members of the Ontario Ski Team. Emma is currently in her 2nd year with the OST and raced on the SOD Ski Team for one year prior to this. She is from the Alpine Ski Club and lives in Ancaster.

AOA: A year ago we chatted at the gym about your plans on the OST. You were quite sure you'd just do one year on the team and would be heading to U of T this coming fall. So, what changed and why?
EMMA: Well I did apply to U of T and Laurier and was accepted to both schools but around January last winter I realized that I couldn't bear to stop skiing at this level just yet. It just didn't feel right to me, I just wanted a bit more time. I felt I needed to explore my options and give myself the chance to fully commit to skiing for a year without the stresses of school.
AOA: Now here we are a year later and you are on a gap year. How did this go over at home? I know you have a twin (Ben who raced on the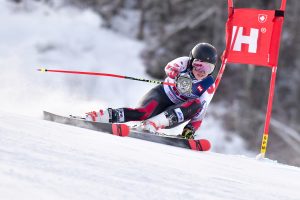 SOD Ski Team) who is off to McGill so I'm wondering how your parents felt about this?
EMMA: It took some convincing for sure! I explained to them that I wanted to dedicate myself to skiing for a year and see where it would take me. In the end, they supported me as they always have, and knowing that I'm working hard towards a goal also helped.
AOA: Did you defer or are you now looking to reapply?
EMMA: I did defer at Laurier for an Arts Program but this spring my new coach Cam Stephen talked to me a lot about skiing on the NCAA circuit. I had felt I could navigate a ski career while continuing my education here in Canada, but he has made me realize NCAA might be an option for me. So right now, I'm prepping for my SATS which I'll write early October.
AOA: So, no summer job?
EMMA: Well that was the plan, but instead I'm studying for my SATS by taking a prep course, focusing on my dryland and the team has also been on snow twice for far this spring/summer.
AOA: Looking back on last year are you happy with your season?
EMMA: Yes, it was a big growing year for me and I learned so much, but a definite highlight for me was that I finally won a race! I had really never stood on the top of the podium before. And then once I won once, I won a few times…it was really great to get the reassurance that I really can do it.
AOA: Why do you think this happened?
EMMA: It was a great team dynamic last year, we all pushed each other.
AOA: Was Katie (Twible..OST women's head coach last year) a big factor? That must have been hard to see her go.
EMMA: Yes, Katie was such an amazing coach and she helped me ski better and accomplish things I never had before. When Katie told me the news that she got an amazing opportunity with the US Ski Team, I was so happy for her, but I also cried. I guess I felt a bit of fear losing her…when you lose a great coach you think you have to start over and question if you want to do that but now that I look back I realize a new coach isn't a bad thing. We're all really enjoying working with Cam (Stephen) so really there was no reason for me to be worried.
AOA: What are your goals this year?
EMMA: NCAA is the end goal but hitting the top 30 in Nor-Ams in both SL and GS would be great. I'd also like to get back in the mix in SG. I also really want to keep working on my confidence so it's more a mindset than an actual result that I'm looking to get.
AOA: Is confidence an issue?
EMMA:  It would be my weakness for sure. I just need to know that I can do it. I can overthink things and that feeds into my nerves.
AOA: What would your strength be?
EMMA: Probably my drive and determined attitude towards skiing. But I also just really love this sport. Ski racing has a lot of ups and downs- if you're at a race series and three or even four of those race days were really difficult and not what you wanted, and you can still come out of it loving the sport –  that's really all that matters.
AOA: Katie used to rave about what a hard worker you are, and I've seen how focused you are in the CSIO gym. Is the CSIO program a big help to the Team?
EMMA: Yes absolutely, it has really ramped up the entire OST. We go in there and see Olympians and are surrounded by like-minded athletes who are representing Canada. It is so motivating for us. It makes me want to be better. It's great to see my CSIO results and know that I'm getting stronger, and what I do in the gym also helps me become more confident on snow too.
AOA: Who else is supporting you? I'm guessing your parents.
EMMA: Yes, they are super supportive. They are the same parents whether I win or I'm 4 seconds back, and I'm so grateful to have that in my life. And they let me take a gap year to ski so that's pretty amazing!
Learn more about the Ontario Ski Team here>
Canadians invited to take part in special events and community celebrations
Calgary, Alta. (July 18, 2019) – With only 100 days to go before the FIS alpine season-opening World Cup races in Soelden, Austria, Alpine Canada is unveiling its plans to celebrate 100 years of Canadian ski racing history through the 2019-20 season.
Canadian ski racing officially began under the umbrella of the Canadian Amateur Ski Association, which was incorporated on Dec. 20, 1920.  The 100th anniversary is an opportunity to celebrate the country's rich history and tradition of excellence in ski racing during both the 2019-20 and 2020-21 seasons.
"We wanted to create very special opportunities that allow the nation and the Canadian ski community to come together to recognize the past as well as honour our current generation of athletes who are representing the Maple Leaf in alpine, para-alpine, and ski cross competitions around the world," said Vania Grandi, Alpine Canada's CEO. "We're inviting all Canadians, and the international ski community to join us in these celebrations."
The 100th Anniversary celebrations will kick off in November with an opportunity for fans to meet this year's national team athletes in person at fundraising galas in Toronto (Nov. 6) and Montreal (Nov. 7), where some of the sport's most recognizable names will gather alongside the new crop of alpine, para-alpine, and ski cross athletes for an unforgettable evening that allows attendees to mingle with the best of the past and present of Canadian ski racing. Celebrating both high-performance and grassroots ski racing, the 2019 winners of the Audi Canadian Ski Racing Awards presented by Helly Hansen will be presented at the galas.
Canadian Alpine Ski Team alumnus and artist Patrick Biggs of Ottawa, Ont., is already hard at work to create a painting that will be auctioned at the November gala in Toronto. Pulling from his experience as a two-time Olympian and nine-year member of the national team, as well as his family's deep roots in the sport, high-quality reprints of Biggs' final piece will also be available for online purchase in limited quantities.
"I'm very honoured. Skiing has been such an important part of my life, and it runs deep through multiple generations of my family that have developed this love for skiing," said Biggs who traces his family's passion for the sport back to his grandparents. "I think skiing is so important and being able to celebrate that and contribute by bringing a spotlight on some of these incredible people who were part of shaping that history is really cool."
In Western Canada, exclusive VIP ski experiences are being developed to allow Canadians an opportunity to get an up-close and unique view of the World Cup race action at the Lake Louise Winterstart Audi FIS Alpine speed races, and at the Audi FIS Freestyle Ski Cross World Cup's Canadian stop at Nakiska. Three levels of packages – gold, silver, and bronze – are available for purchase and include lift tickets, course tours, and VIP viewing areas along with special access to team meet-and-greet events and the bib draw.
Commemorating both Canada's ski racing centennial and the 10th Anniversary of the last Olympic and Paralympic Games hosted on Canadian snow, Whistler, B.C., will play host to an intimate celebratory dinner with 2010 medallists such as Ashleigh McIvor and Lauren Woolstencroft. Full event packages for the exclusive weekend include accommodation at the Fairmont Whistler, lift tickets to the world-famous Whistler-Blackcomb ski resort, and special gift packages.
Packages will be developed for this season's combined alpine and ski cross Canadian championships in Panorama, B.C., in the spring of 2020. Canada's national team alpine and ski cross athletes will head to Beautiful British Columbia to close out the 2019-20 season and vie for national titles alongside the up-and-coming crop of provincial racers looking to make their mark on the nation's ski racing community, providing an excellent opportunity for fans to see this year's World Cup heroes in action and catch a glimpse at the nation's prospects in the sport.
All net proceeds from the two gala events, artwork sales, and all VIP packages will go towards supporting Canada's national team programs.
Apparel line developed to celebrate 100th
Canadians don't have to wait for the fall to get in on the 100th Anniversary celebrations. A special line of anniversary apparel is available now at Alpine Canada's online store. The retro collection's items give a nod to tradition without compromising on today's fashion and comfort, with new pieces set to be added throughout the next few months.
Similar nods to tradition – including a return of the yellow on the Alpine Canada emblem – will be spotted on national alpine, para-alpine, and ski cross athletes when they hit the start gate for the 2019-20 season.
"We expect the exclusive and limited retro collection will appeal to many ski enthusiasts across the country," said Steve Wallace, Alpine Canada's chief commercial officer, of the first wave of anniversary merchandise. "With today's unveiling of the 100th Anniversary logo, we encourage fans to keep an eye on our online shop for more apparel options throughout the season."
To learn more about the opportunities to take part in the 100th Anniversary events and support Canada's national team racers, please visit AlpineCanada.org/events. More information on how to contribute to the organization's quest to raise one million Aeroplan Miles can also be found on the site.
100th Anniversary Launch Video
Follow Alpine Canada on social media for the latest news and information on athletes and more:
Facebook, Twitter, Instagram, Youtube, AlpineCanada.org.
ABOUT ALPINE CANADA
Alpine Canada is the governing body for alpine, para-alpine and ski cross racing in Canada, as well as for Canadian ski coaches, providing education, certification, insurance and compliance with the coaching code of conduct. With the support of valued corporate partners and donors, along with the Government of Canada, Own the Podium, the Canadian Olympic Committee and the Coaching Association of Canada, Alpine Canada develops Olympic, Paralympic, World Championship and World Cup athletes to stimulate visibility, inspiration and growth in the ski community. In 2020, Alpine Canada will celebrate 100 years of rich tradition in competitive skiing in Canada.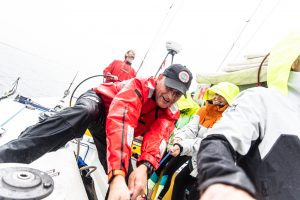 Thank you to Helly Hansen, Martha Hall Finlay (ACA Chair) and Geoffrey Belisle & Joannie Schatz (Craigleith members and race parents) for supporting Alpine Ontario athletics!
Helly Hansen joined the AOA team last season and, in addition to outfitting all our athletes in beautiful gear, the company donated to AOA two amazing Atlas Ocean Racing sailing adventures on the Volvo Ocean Racers 60. Martha Hall Finlay and Geoffrey Belisle purchased these adventures last winter at the AOA winter fundraiser.
The VO60s are incredible performance machines, former legends of round-the-world races, and among the strongest and safest yachts in the world. With a length of 60ft, a draft of 14ft, and a mast of 100ft, they need up to 16 crews to perform.  The actual boat that the AOA crews were on was the Esprit de Corps II which raced in the Whitbread Round the World Race 1997-98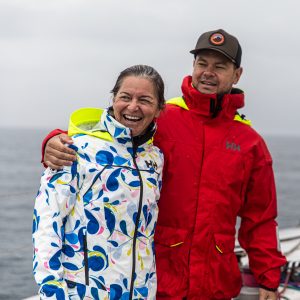 under its former name of Swedish Match. In this race it was the Brunel/Sunergy team that raced alongside 9 other Volvo Ocean 60's and endured significant hardship including losing the top running backstay, an inverted mast, hitting a whale and losing half of its rudder. Despite this the boat finished 8th in the race before it was docked and sat abandoned in Sweden for years.
In 2014 Gilles Barbot and Georges Leblanc purchased the boat and after a challenging crossing of the Atlantic, the boat is finally in Canada and renamed Esprit de Corps III, joining Atlas Ocean Racing's fleet.
The first AOA group to set sail was Martha's and incredibly they set out early last Thursday in what the weather network called "the rainiest day in July in half a decade!" Her crew put the Helly Hansen-foul- weather-samples to the test and managed to look happy while doing so!  Geoffrey's group set sail later that same day under the heat, humidity and sunshine of Toronto but with no wind. ☹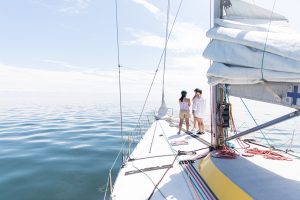 Atlas, as true professional sailors made the best of both situations and hosted everyone to an amazing experience on Lake Ontario. Thank you again to our hosts and guests for supporting AOA Athletics!
This week:
OST Indoor Ski Camp, Wittenburg, Germany
U16HPP Les Deux Alpes Camp, France
U12-14 Camp Heads to Mt. Hood
Kickstart Your Season!
Register before you ski!
Coach Funding
Job Board
Raceline is sent every 2-3 weeks in the off-season and weekly during the ski season. Subscribe here>
JULY 18TH, 2019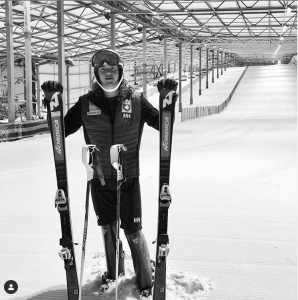 Sam Duff is currently ranked 1st in Canada in SL for his age and is the 4th overall Jr. in SL. He is entering his 3rd year on the Ontario Ski Team and is from Pembroke, ON and the Calabogie Ski Racing Club.
AOA caught up with Sam upon his return from Wittenburg, Germany to talk about indoor skiing.
AOA: Indoor skiing seems like an odd choice when skiers generally love being outside. What did you think of it?
SAM: Well it's very different of course. It is not the excitement of a big mountain like visiting Mammoth or Whistler but is perfect for specific drill development, which, in July, is what we are all working on.
The beauty of this facility is the course is right there…you get off the chairlift and you step immediately onto a course. This allows us to fit in a high volume. It is a short course (25seconds or so) but it is perfect for identifying what you need to be working on. The snow is injected so it's unforgiving, it is not easy to ski if you have a major weakness. It forces your technique to come out – you can't hide is I guess what I'm trying to say. Your bad technique comes out so you can then work on fixing it.
AOA: This is your 3rd year on the OST, why are you not off to College or University like many of your peers?
SAM: Well if I combined school with skiing, I'd have less time to focus on my skiing. Right now, I want to focus on the sport. I also love our coaches – Cam (McKenzie) and Kip are an amazing team, there's no other coaching staff I'd rather be with. They are the best coaches I've had in my life.
AOA: So, what are your goals this year?
SAM: Nor-Ams are my focus. I should be hitting the top 15 in SL events and in GS I'm looking to make some 2nd runs.
AOA: We see you on the river a ton in your social media posts @sammyduff1234 – how does Whitewater kayaking fit in these days?
SAM: It's still my main summer sport. Right now, I'm working with a Whitewater camp teaching kids but I'm also always out on the river practising. I hope to attend the Team Canada Time Trials for Worlds in 2021. I attended the 2017 World Championships in Argentina as a junior.
AOA: How do you manage to stay so competitive in two sports?
SAM: Kayaking is different than skiing in that I can keep up with my skills and unlike skiing doesn't mean I have to always be competing to make Team Canada. Skiing is harder to reach the top level since you have to travel a lot, and you travel all year round.
AOA: Do your kayaking friends compare with your ski friends? By that I mean are they similarly "committed"?
SAM: Yes, for sure, they are the same sort of people, I guess. Everyone is super active and committed to what they do – whether it's on snow or the water.
AOA: What's your biggest challenge as a ski racer?
SAM: Without a doubt, it's the commitment. It's a different sport than say hockey which is everywhere and easier to do all the time. We have hockey rinks in every single town here in Canada. Skiing means chasing the snow, which is amazing, but we miss out on all the normal stuff.
AOA: What is your biggest strength as a ski racer?
SAM: I guess it's my mindset. If I feel like I can do it, I dive right in and I do it.
LAST WORDS? For sure skiing takes a lot of time, practice and hard work but hey it's no fun being normal, right?
Mt St Louis Moonstone (MSLM), the Glacier Ski Club are Alpine Ontario are excited to host U10/U12/U14 athletes,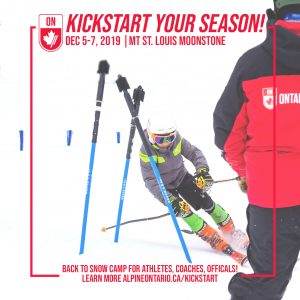 all coaches and all officials to a 3-day BACK TO SNOW CAMP!  Think of this as your opportunity to test out your new gear and dial in everything before you head to your first away camp. The camp will be lead by AOA's U12 Athletic Consultant Bennett Carter and Mitch McDermid, Head Coach Glacier Ski Club along with leaders from the Canadian Ski Instructor Alliance (CSIA) and Canadian Ski Coaches (CSC).
DETAILS & SCHEDULE: 
When: Dec 5-7, 2019
Where: Mt St Louis Moonstone
Who: U10-U14 athletes, all coaches and officials
What: Back to Snow Athlete * Coaching & Officials Camp!
DEC 5, COACH & OFFICIAL'S COURSES: Entry Level Coaching Course and Level 1-3 Officials courses will be offered as well
DEC 5 & 7, COACHES: 3-day on-snow coach education for all level of coaches – get all your licensing credits for the season, learn from the best in Ontario including CSIA Level 4 leaders and bring your athletes for a pre-season tune-up!
DEC 6 & 7, ATHLETES: U10-U14 athletes – test out your equipment, skills and ski fitness in the early season before your December camps.  On Friday you will participate in technical freeskiing with CSIA/CSC/AOA coaches and on Saturday you will run through gate environments.
Connect with coaches and athletes from across the province and get your hands on some new AOA schwag and prizing for top skills winners!
DEC 6 & 7, AOA ALUMNI:  We will be inviting some of AOA's legend alumni including Luke Sauder, Graydon Oldfield, Todd Brooker to evaluate and demonstrate skills, encourage the athletes and coaches and share their love for the sport.
DEC 5-7, TOP ONTARIO COACHES: AOA has secured some of Ontario and Canada's best coaches to evaluate and guide the athletes. Included so far are Pete Metzger, Brad Lashley, Ben Boriss, Peter Craik.
DEC 6 & 7, AOA PARTNER SUPPLIERS will be on site to support the skills & drills and to be on site for equipment support.
GS SKIS ONLY! 
BOTH DAYS ARE MANDATORY…Coaches & Athletes must commit to both the Friday and Saturday as Day 1 leads into Day 2. Sorry, we cannot accommodate 1-day participation.
WIN GREAT SWAG & PRIZES! Connect with coaches and athletes from across the province and get your hands on some new AOA SWAG and prizing for top skills winners!
Please stay tuned to AOA's social media and newsletter RACELINE for registration details coming soon.
Fifty-five Canadian ski racers to represent the red and white during ski racing's centennial season
Calgary, Alta. (June 19, 2019) – Alpine Canada has nominated 55 athletes to its national alpine, para-alpine, and ski cross teams for the 2019-20 season – a special year for the organization as it prepares to celebrate 100 years of ski racing in Canada.
The three national teams are coming off a 33-medal season, having captured 24 World Cup medals and nine World Championships podiums. The 2019-20 season will include test events for ski cross and men's alpine at the host venues of the 2022 Olympic Winter Games, as well as World Cup stops on Canadian snow at Lake Louise (alpine) and Nakiska (ski cross).
In addition, Alpine Canada and ski racers of all ages will join the Canadian ski racing community and its fans in celebrating the centennial of alpine, cross-county and Nordic ski racing. Ski racing started in Canada through the Canadian Amateur Ski Association, which was incorporated on Dec. 20, 1920.  The 100th anniversary is an opportunity to celebrate the country's rich history and tradition of excellence in ski racing.
"This is an exciting time for Alpine Canada as we head into the 100th Anniversary of ski racing with a strong group of athletes, coaches, and staff who are focused on peak performance as we look to the 2022 and 2026 Games," said Vania Grandi, president and CEO of Alpine Canada. "Our athletes, team coaches and staff are already hard at work both on and off the snow to prepare for the season ahead, while plans around the 100th Anniversary are well underway with two November events in Toronto and Montreal where our national team athletes will be officially introduced."
"I want to take this opportunity to not only recognize the hard work and dedication of these national team nominees and all of the aspiring ski racers in Canada," said Grandi. "I also want to thank our partners, donors, alumni, and the tremendous community of families, coaches and volunteers across the country for the many ways they contribute to our sport. We couldn't do it without you."
Athlete nominations to the team are based on meeting nomination criteria and/or at coaches' discretion and invited to participate in select camps and competitions. The Canadian Alpine Ski Team, Canadian Para-Alpine Ski Team, and Canadian Ski Cross Team nominations guidelines are available at AlpineCanada.org.
Twenty-five athletes nominated to Canadian Alpine Ski Team
Ali Nullmeyer (Toronto/Georgian Peaks Ski Club)
Amelia Smart (Invermere, B.C./Panorama Ski Club)
Benjamin Thomsen (Invermere, B.C./Windermere Ski Club)
Broderick Thompson (Whistler, B.C./Whistler Mountain Ski Club)
Brodie Seger (North Vancouver, B.C./Whistler Mountain Ski Club)
Cameron Alexander (North Vancouver, B.C./Whistler Mountain Ski Club)
Candace Crawford (Toronto/ Georgian Peaks Ski Club)
Declan McCormack (Toronto/Osler Bluff Ski Club)
Dustin Cook (Toronto/Club de ski Mont Ste-Marie)*
Erik Read (Canmore, Alta./Banff Alpine Racers)
Erin Mielzynski (Collingwood, Ont./Georgian Peaks Ski Club)
Jack (James) Crawford (Toronto/ Georgian Peaks Ski Club & Whistler Mountain Ski Club)
Jeffrey Read (Canmore, Alta./Banff Alpine Racers)
Keegan Sharp (Invermere, B.C./Panorama Ski Club)
Kyle Alexander (North Vancouver, B.C./Whistler Mountain Ski Club)
Laurence St-Germain (St. Ferréol-les-Neiges, Que./Club de ski Mont-Ste-Anne)
Manuel Osborne-Paradis (Vancouver/Whistler Mountain Ski Club)
Marie-Michèle Gagnon (Lac-Etchemin, Que./Mont Orignal)
Riley Seger (North Vancouver, B.C./Whistler Mountain Ski Club)
Roni Remme (Collingwood, Ont./Alpine Ski Club)
Sam Mulligan (Vancouver/Grouse Mountain Tyee Ski Club)
Simon Fournier (Montreal/Club de ski Mont-Tremblant)
Stefanie Fleckenstein (Whistler, B.C./Whistler Mountain Ski Club)
Trevor Philp (Calgary/Banff Alpine Racers)
Valérie Grenier (Mont-Tremblant, Que./Club de ski Mont-Tremblant)
Leading the Canadian Alpine Ski Team this season is athletic director Martin Rufener, along with the men's speed team head coach John Kucera, the men's technical head coach Dusan Grasic, and the women's team head coach, Manuel Gamper.
"I'm looking forward to the season as a whole – coming off my best season ever, and my healthiest season, I'm really excited to see what I can do building on last season's results," said Ben Thomsen following a summer conditioning session at Calgary's Winsport training centre. "There are a few things I've changed in my routine and approaches to really dial it in a lot – it's an exciting time to see where it will all go."
2019-20 Canadian Ski Cross Team nominations
Abby McEwen (Edmonton/Sundridge Ski Club)
Antoinette (Annie) Tansley (Calgary/Grouse Mountain Tyee Ski Club and Alberta Ski Cross)
Brady Leman (Calgary/Calgary Alpine Racing Club)
Brittany Phelan (Mont-Tremblant, Que./Club de ski Mont-Tremblant)
Carson Cook (Edmonton/Snow Valley Ski Club)
Chris Del Bosco (Vail, Col., and Montreal/Ski & Snowboard Club Vail)
Courtney Hoffos (Windermere, B.C./Windermere Ski Club)
Gavin Rowell (Prince George, B.C./Prince George Ski Club)
Hannah Schmidt (Ottawa/Camp Fortune)
India Sherret (Cranbrook, B.C./Kimberley Alpine Team)
Jared Schmidt (Ottawa/Club de ski Mont-Tremblant)*
Kevin Drury (Toronto/Georgian Peaks Ski Club)
Kris Mahler (Canmore, Alta./Craigleith Ski Club)
Marielle Thompson (Whistler, B.C./Whistler Mountain Ski Club)
Mikayla Martin (Squamish, B.C./Whistler Mountain Ski Club)
Ned Ireland (Lake Country, B.C./Big White Racers)
Reece Howden (Cultus Lake, B.C./Apex Ski Club)
Tiana Gairns (Prince George, B.C./Prince George Ski Club)
Zach Belczyk (Banff, Alta./Sunshine Ski Club and Alberta Ski Cross)
Zoe Chore (Cranbrook, B.C./Kimberley Alpine Ski Team)
The Canadian Ski Cross Team is supported by athletic director Dave Ellis, while Stanley Hayer returns as the World Cup team head coach, and Victor Dockal continues in his role as the C team head coach.
"It's an honour to be named to the national team," said 2019 FIS Freestyle Ski Cross World Champion and 2014 Olympic Champion, Marielle Thompson. "I'm looking forward to building on some solid skiing from this past season and keep working hard in the gym. I can't wait for winter and getting back to racing."
Two new NextGen athletes nominated to Canadian Para-Alpine Ski Team
Alana Ramsay (Calgary/CADS Alberta)
Alexis Guimond (Gatineau, Que./Club de ski Mont-Tremblant)
Brian Rowland (Merrickville, Ont./Calabogie Peaks)
Frédérique (Fred) Turgeon (Candiac, Que./Club de ski Bromont)
Kurt Oatway (Calgary/Regina Alpine Race Team – Saskatchewan Alpine)
Mac Marcoux (Sault Ste-Marie, Ont./Searchmont Ski Runners) and guide Tristan Rodgers (Ottawa/Club de ski Mont-Tremblant)
Mel Pemble (Victoria, B.C./B.C. Adaptive Snowsports)
Mollie Jepsen (West Vancouver, B.C./Whistler Mountain Ski Club)
Sarah Gillies (Orangeville, Ont./Mansfield Ski Club)
Matt Hallat remains at the helm of the successful Canadian Para-Alpine Ski Team as athletic director, working with World Cup head coach Jean-Sébastien Labrie. David White moves into the role of head coach for the NextGen racers for the 2019-20 season.
"I'm very excited to be part of the team this year," said Frédérique (Fred) Turgeon whose breakout season included her first World Cup podiums, three World Championships' medals, and the Crystal Globe as the points-leader in World Cup slalom for the ladies' standing category. "I'm looking forward to reaching new levels in my skiing this season. I've been working really hard at the gym and I'm really excited to start skiing more with my teammates."
Celebrate Alpine Canada's 100th Anniversary
Alpine Canada's 100th Anniversary celebrations will kick off in November with an opportunity for fans to meet this year's national team athletes in person at fundraising galas in Toronto (Nov. 6) and Montreal (Nov. 7). To learn more about the opportunities to take part in these events, please visit AlpineCanada.org/events.
More information on the 100th Anniversary celebrations will be announced this summer.
*Ontario residents representing Ski Quebec Alpine ski clubs. 
For more information:
Lisa Dornan | ALPINE CANADA ALPIN
Director, Communications and Brand | Directrice des communications et de la marque
T: 403.777.3219  M: 403.333.6366
E: ldornan@alpinecanada.org
A: Suite 302, 151 Canada Olympic Road SW | Calgary, AB | T3B 6B7
JUNE 17TH, 2019 –– Please see below a letter from the Ministry of Tourism, Culture and Sport regarding Rowan's Law. AOA will also be participating in upcoming webinars about the implementation of Rowan's Law to take effect on July 1st, 2019.
AOA members can also find the ACA Concussion Protocol document online here.
Ministry of Tourism, Culture and Sport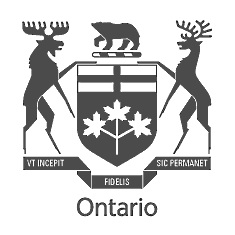 Dear Sport Partner:
Our Government for the People is making it safer for competitive amateur athletes, children and youth to play sport, through the launch of a multimedia marketing campaign to build awareness about concussions. Knowing how to recognize the signs and symptoms of a concussion, and what to do if a concussion happens – whether you're an athlete, a student, a parent, a coach, a team trainer, an official or an educator– saves lives.
As you know, Ontario is a world leader in concussion safety and was the first jurisdiction in
Canada to pass concussion safety legislation,  Rowan 's  Law  ( Concussion  Safety),  2018.
We are committed to implementing Rowan's Law by putting concussion safety information in the hands of people who need it most. Increasing awareness and changing conversations in sport,
at school and in our homes, will result in a transformative change to the way in which concussions are managed in amateur competitive sport and beyond.
The regulation under Rowan's Law is now filed, and certain sections of both the law and regulation will be in effect on July 1, 2019. Webinars will be made available through the Ministry's Sport, Recreation and Community Programs Division in the coming weeks, with an invitation about registration to be issued from them shortly. In addition, information about Rowan's Law is currently available on the government's new concussion website,
With everyone's help, including partners such as yourselves, we will work to implement Rowan's Law to create a world-class amateur competitive sport system which empowers athletes to play safely, so they can play longer.
I encourage you to keep updated on our progress through Facebook and Twitter, and share your support to improve concussion safety by tweeting #HitStopSit and #RowansLaw.
Sincerely,
Michael Tibollo
Minister
JUNE 6th, 2019
Greetings AOA Members,
I hope this email finds you well, we are writing to let you know that after much consideration and discussion AOA, the National Ski Academy and the Nik Zoricic Foundation have decided to reschedule the 2019 AOA Golf Tournament originally planned for June 14th at the Bonaire Golf Club.
All of the host organizations received excellent responses in pre-sale tickets, sponsorship, volunteer recruitment and support from the community as a whole, however, due to Mother Nature's slow start this spring the groups decided that the quality of play would not be up to the standards of our supporters.
But fear not – the tournament will be rescheduled!
We are going to give Mother Nature some time to wake up and are planning on hosting the 2nd Annual AOA golf tournament in late September when the busy summer season is behind us and we can kick off the 2019/20 ski season with a bang (or a shotgun start so to speak).
As always Alpine Ontario, the National Ski Academy and the Nik Zoricic Foundation appreciate your support.  If you have already purchased tickets or signed on as a sponsor – please let us know if you would like to receive a refund or simply have us hold on to your tickets for the rescheduled tournament date.
Thank you again for your support.  If you have any further questions please contact:
Lisa Linhares, AOA Member Services Coordinator, memberservices@alpineontario.ca  or 705-444-5111 ext. 110
and/or
Cindy Hayhurst, the National Ski Academy, chayhurts@nsa.on.ca or 705 444 1617.
Stay tuned early next week for the new date and location!
Kind Regards,

Bill
Bill Reeves
Executive Director
Alpine Ontario Alpin
breeves@alpineontario.ca
T:  (705) 444-5111
F:  (705) 444-5116
M: (416) 402-7919
A Look Back and Looking Forward…by departing AOA Executive Director Scott Barrett
About 18 months ago I was asked to speak at the annual NAIOP Ski Day that, every year, raises money for Alpine Ontario. Similar to guests of the past, my charge was to provide the audience with inspirational words focusing on my years spent on the Canadian Alpine Ski Team (the real team) and what the sport of ski racing ultimately provided me. This event had historically heard from alumni such as Brian Stemmle, Larisa Yurkiw, and even the legendary Todd Brooker. I would describe these greats as your classic "poster athletes". I realized I had a problem. I was never on the poster.
After the request came in, I would lay awake at night wondering what planet I would have to be on to get through a 30-minute speech in front of a few hundred individuals. Rather than pretending I was better than I was, I decided to embrace the raw truth. I would talk about my perceived failure while being a member of the National Ski Team. Quickly, I realized I would need a reprieve to get pen to paper! I jumped on a plane and flew to Cuba on a last minute 5-day honeymoon package to sit in the sun and pour over my emotional baggage and my inability to have gone from 40th in the world to the best… This was a first world problem and I was hell-bent on being able to articulate this catastrophe to the NAIOP onlookers!
In my ocean-front honeymoon suite (that caused a plethora of bewildered looks from neighbours on both sides of me) I wrote and wrote and then wrote some more. After arriving back to the crisp Ontario winter, upon the suggestion of my father, I began working with a presentation coach…. Poor guy, he had no idea therapy would become part of each coaching session. He was amazing as I stumbled through countless iterations of the speech. Slowly, the concept of actually being able to do this was taking shape. The day of the event, I was so nervous I contemplated faking I had whooping cough and escaping back to the comfortable Cuban lifestyle.
The speech was dubbed, "The 4 P's: Failing on the National Ski Team". I felt bad for the audience as I stammered through the 35-minute dissertation in which I walked them through my ski racing demise that I had come to understand, beneath the Cuban sun, could be boiled down to a simple 4P framework. At the pinnacle of my ski career, I lacked a goal-driven PLAN. I was no longer PASSIONATE about the sport. I did not surround myself with the right PEOPLE and thus my PERSISTENCE at the national level was absent. As my speech came to a close, and the final words left my lips, I was greeted with a generous ovation, followed by a most unexpected cathartic moment in which time virtually stood still and my perspective shifted. Suddenly, the disappointment and anguish I had been plagued with surrounding my athletic career were instead replaced with contentment and a deep appreciation for ski racing and the opportunities the sport had given me.
If you are still reading, I am impressed and thank you. After 6 years of being married to my job and getting up every morning delighted to have yet another chance to make ski racing better in Ontario, my 4P's revelation undid the sense of urgency and passion I had over the years while leading the organization. In truth, I had approached my job as an opportunity to make amends with myself in the sport given what I had previously only understood as failure and saw leading Alpine Ontario as a second chance to be successful in ski racing. Unbeknownst to me at the time, the self-reflective work I did and poured into writing the speech ultimately led to a deeper understanding of my experiences at the national level and appreciation for all that I had achieved in ski racing. As a result, the very foundation of what had driven me so passionately in my work at Alpine Ontario shifted. I decided to share this with you today because it was the basis for my decision to depart Alpine Ontario to pursue amateur sport from a slightly different vantage point which, if you are active on the socials you can follow along @scottbarrettt – though, do not expect too much too soon!
Most importantly, what sharing this story has taught me is Alpine Ontario is living proof the 4P's framework can work – not just in avoiding failure but in realizing success. While I am deeply saddened to depart, the organization has a great PLAN in place to develop world-class athletes who are surrounded by PEOPLE, including the Alpine Ontario staff, coaches, and Board of Directors, who are wildly PASSIONATE about the sport and are dedicated individuals who care and are PERSISTENT in their efforts to elevate the organization to the next level.
Thank you, Alpine Ontario, for the amazing opportunity to serve.
With gratitude,
Scott