(May 16th, 2019) –– SOD hosted its 2019 spring fitness testing last weekend and would like to thank you Platinum partner Sporting Life who provided prizes for age group winners plus $25 gift cards for each participant.  Also, thank you to John Peters, Alpine Indoor Ski and snowboard training centre (Canada's only indoor ski and snowboard training centre) www.alpineindoorski.com who provided one free training session at the centre to all the participants.
Thank you also to Stefan Overgaard, SXS Fitness and to our speakers Felix Umana PT, B.SC(KIN), MPT, CSCS Registered Physiotherapist – mitigating the risks of knee injuries and Dr Kaitlyn Szabo B.Sc, Kin., DC, CSCS who spoke on concussions. Lastly, thank you to the volunteer coaches and athletes for helping run the tests.
FULL TESTING RESULTS ARE ONLINE HERE>
Congrats to the age group winners in these two categories!
Box Jump
U12 Penelope Ho 64
U12 Liam Losty 63
U14 Elyse Saddington 69
U14 George Alexander Ing 73
U16 Gabby Wall 62
U16 Matthew Bassin 76
AIS Shuttle Run
U12 Lily Estoesta 8.0
U12 Liam Losty  10.9
U14 Aliya Adair   11.0
U14 George Alexander Ing  11.11
U16 Gabby Wall, Alpine /Sydney LePage 10.0
U16 Taiga Young 13.4
Long-term athlete development (LTAD) web site supports athletes, parents and coaches from grassroots to high-performance, and encourages sport for life.
Calgary, Alta. (May 15, 2019) – Alpine Canada has launched a new resource for current and prospective stakeholders within Canada's ski racing community from the grassroots level to high-performance and sport-for-life parents, coaches, athletes, volunteers, officials and administrators.
As part of the revisions to the organization's Long-Term Athlete Development Pathway, Alpine Canada has created a stand-alone LTAD web site that provides a one-stop resource for all aspects of athlete development – from recreational racers to those working towards national team goals.
"Alpine Canada's LTAD 3.0 provides all of our grassroots stakeholders a clear pathway for athlete development, supported by the latest in sport science," said Jenni Stielow, Senior Manager Coach Education and LTAD Project Lead. "The tool is aimed at everyone from parents, coaches, volunteers, officials and administrators at the club and provincial levels to prospective ski racing participants."
"The new ACA LTAD 3.0 takes into account the multiple pathways our athletes will follow during their career including the recreational and sport-for-life and the high-performance, national team streams," said Stielow. "We have leveraged input from experts in every field as well as real-life experiences of athletes and coaches from the national team to club and provincial ski racing."
The LTAD site is found at ltad.alpinecanada.org. The website includes distinct engagement points for athletes, parents and coaches while providing visually engaging resources for all key stakeholders. In addition to outlining on-snow guidelines for every stage of a ski racer's development, the site also offers essential off-snow training guidelines for every stage, and resources for balancing education and athletics, as well as nutrition and mental strategies.
"This isn't only about developing the next Erik Guay, Kelsey Serwa, or Lauren Woolstencroft. While the pathway to a national team berth is part of the LTAD, so is the pathway to recreational ski racing," said Vania Grandi, CEO Alpine Canada. "We want to develop life-long skiers who embrace a holistically healthy approach to the sport and become ambassadors for ski racing for the next generation of racers. The resources are there to support parents, athletes, and coaches every step of the way from those who want to become involved and need help finding a local ski club, to those who have aspirations of representing Canada in international ski racing."
Grandi also noted the new ACA LTAD 3.0 is not only an alpine ski racing resource. It includes specifications for ski cross and para-alpine racers throughout the development stages. "The new LTAD site was built to be inclusive of all three disciplines to create one Alpine Canada team and establish the foundation of the Alpine Canada Way."
The LTAD site will continue to evolve and be a long-term, ongoing resource for Canada's ski racing community moving forward. Visitors and stakeholders are encouraged to review the website and share their comments, suggestions, and questions via email to LTAD@alpinecanada.org.
ABOUT ALPINE CANADA
Alpine Canada is the governing body for alpine, para-alpine and ski cross racing in Canada, as well as for Canadian ski coaches, providing education, certification, insurance and compliance with the coaching code of conduct. With the support of valued corporate partners and donors, along with the Government of Canada, Own the Podium, the Canadian Olympic Committee and the Coaching Association of Canada, Alpine Canada develops Olympic, Paralympic, World Championship and World Cup athletes to stimulate visibility, inspiration and growth in the ski community. In 2020, Alpine Canada will celebrate 100 years of rich tradition in competitive skiing in Canada.
(May 9th, 2019) COLLINGWOOD, ON — Cam Stephen joins the Ontario Ski Team on June 1st, 2019 as the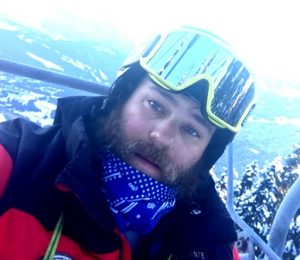 Women's Head Coach. Cam comes to Ontario with a very strong coaching resume, to say the least. He has worked on the FIS circuit for 12 years and has been coaching since 2000.
Cam led Alberta Alpine for several seasons as the Provincial Association's Athletic Director as well as a coach with the Alberta Women's Ski Team. He has experience as both a Head and Assistant FIS Coach and U16 Head Coach experience in both Alberta and British Columbia. He has spent considerable time as a dedicated dryland coach and spent three seasons in New Zealand coaching on the FIS & U16 circuits. He started his FIS coaching career as an intern with the National Ski Academy from 2003-4, and prior to that Coaching Nancy Greene Ski League and Mackenzie Ski League Teams at Snow Valley, Barrie. In addition to alpine coaching, Cam was in the Canadian Armed Forces and has his Bachelor of Physical Health and Education Honors from Laurentian University and his Masters of Education from the University of Victoria.
"Cam brings a broad range of experience and knowledge of the sport. He understands conditioning and ski racing and has proven himself with his impressive background. He will be a fantastic addition to our Team!"
Kip Harrington, AOA High-Performance Director
Cam grew up in a military family moving regularly and spending time in Petawawa, Europe, Ottawa, Toronto, Base Borden, and Barrie. He has been in Western Canada since 2005.
Credentials: Level III PL Coach (Performance Level), Level 3 Official, NCCP mentor, evaluator and course facilitator, Level I NCCP Olympic Weightlifting Coach, CPAFLA Fitness Consultant, SIRRUS Wilderness First Responder, Level 3 Wilderness Canoe Guide, Level 2 Canoe Guide Examiner.
(May 9th, 2019) — Alpine Ontario Alpin is currently accepting applications for two bursaries with a closing date
of Friday, May 31st. 
THE SKI CANADA MAGAZINE BURSARY is a long-standing $1,000 award for one or two athletes in these two age categories: U14 (2005/2006) & U16 (2003/2004).  Athletes that show promise of rising to the top ranks of ski racing in Canada and in need of financial assistance to help achieve their goals should apply.
Ski Canada Magazine is Canada's largest paid circulation ski magazine promoting alpine skiing and ski racing since 1972. All applications are forwarded to the Awards Committee for review and decisions. APPLY HERE>>
THE DAVE MURRAY SKI FOUNDATION is administrated by the PSO BC Alpine in honour of Crazy
Canuck, Dave Murray.  This bursary is for one athlete who has completed at least one year of FIS (2002 or older). The athlete will be awarded a bursary in the amount of $750.00. Applicants should be working towards becoming a member of the Canadian Alpine Ski Team. All applications are forwarded to the Awards and Scholarships Committee for review and decisions. APPLY HERE>>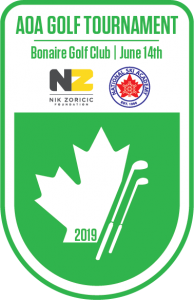 (Collingwood, ON) May 9th, 2019 –   On June 14th Alpine Ontario, the National Ski Academy and the Nik Zoricic Foundation (NZF) invite all AOA members, friends, family and corporate partners for a day of golf and fun at the Bonaire Golf Club. The 2019 tournament represents the first time the three organizations have worked together on a fundraiser in support of high-performance athletics and athlete safety.
Bill Reeves current Manager of Partnerships & Events and incoming Executive Director at Alpine Ontario comments. "Last year the tournament was a great success working with the Nik Zoricic Foundation and we're thrilled to welcome the NSA into the fold. In the past, all three organizations hosted their own tournaments which put pressure on our members – this way we can all go to the same event and have a stronger tournament."
A key part of the golf tournament will be the exciting conclusion to the 2019 Rossiter Raffle program that will include the classic Rossiter 17 Closed Deck Runabout Powerboat valued at over $48,894 (includes a 90HP Yamaha motor)  on-site at the clubhouse where the draw will take place. To date, just over 700 tickets have been sold which gives the golfers a very good chance at buying a last-minute ticket to win. These boats are Canadian made from their home base and production facility in Markdale, ON
 "The boat will be on site for golfers to enter the draw if they'd like" Said Rossiter Boat Company CEO & Owner Scott Hanson. "Of course, I'm very biased about how lovely this boat is! Our hope is for this program  to raise significant funds for a great cause including supporting athletes at the NSA and AOA and funds for Children's Mental Health Ontario (CMHO)." Get your tickets here>
-end
About the AOA Golf Tournament
The 2019 AOA Golf Tournament is to be hosted by the Bonaire Golf Club located 30 minutes north of Barrie in Coldwater, Ontario. AOA, the NZ Foundation and the National Ski Academy are all selling 35 foursomes with a fundraising goal of raising $40,000. These funds will be divided between AOA, the NSA & the NZF for athletic development purposes.  A single ticket is $225 or $250 with a Rossiter Raffle ticket; a foursome is $850 or $950 with 4 Rossiter tickets – one for each golfer. Purchase golf tickets here>>
Purchase Rossiter Raffle tickets here>

About the Nik Zoricic Foundation
The Nik Zoricic (NZ) Foundation strives to minimize constraints faced by skier athletes on their quest for success. It aims to minimize the risk of serious accidents and injury due to lack of safe training and unsafe conditions through safety equipment grants and net loan programs. To date over 18km of the yellow safety net has been funded with the Foundation through 22 grants to clubs in Ontario, Quebec, Alberta, and BC. Learn more at www.nzfoundation.ca

About the National Ski Academy
The National Ski Academy (NSA) is a non-profit registered charity established in 1986 to provide an environment for student-athletes to maximize individual potential through the pursuit of alpine ski racing excellence, academic achievement and personal growth. In 2010 the NSA became a Ministry of Education inspected private school, granting high school credits in Grades 9  to 12. Located in Collingwood, Ontario, Canada the NSA provides the facilities necessary for Canadian and international alpine athletes to pursue their ski racing dreams. Learn more at www.nsa.on.ca
For more information:
Bill Reeves
Manager Partnerships & Events
705-444-5111 x121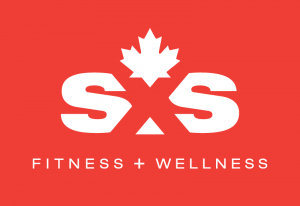 Submitted by Stefan Overgaard, Owner of SXS Fitness in Toronto

One of the biggest challenges we see with young athletes is the difficulty of sticking to a consistent fitness routine. Due to so many other commitments, there isn't always enough time to get to the gym.  If you really want to make noticeable fitness gains, you need to be training a minimum 2-3 times per week in the gym (in addition to participating in other sports).  For younger athletes, frequency specifically in the gym is less important and I would NOT sacrifice doing other sports in favour of more gym time.  However, as you approach second-year U16 and certainly FIS you must ramp up your commitment in getting to the gym. While I'll always recommend getting to a fully equipped training facility with professional supervision, that's not always realistic.
A secondary option would be setting up a home gym.  Sure, having a full squat rack with Olympic barbell and weights, treadmill, spin bike, benches, dumbbells, pulley system etc. is great, but many don't have the room or the budget for this.  An effective home gym can easily be done without much space and requires a minimum investment.  Any good fitness professional can build a very effective training program for a wide variety of fitness levels with these simple pieces of equipment: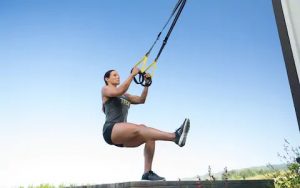 TRX Suspension Trainer
Stability Ball
Box
A few Kettlebells
A few Resistance Bands
These items can all that can easily fit in the trunk of a car as well, so a home gym can also be a portable gym.  The bottom line is when you can't make it into the gym, be sure to have other options available.  You can get a workout in with 30min or less, so there really isn't any excuse not to be able to get in some form of training.  This is especially important in the summer months when many are away at cottages, travelling, camp etc.  If you can't have a home/mobile gym available with a proper training program set up, try to get to an actual gym.  Not having the time, space or equipment should never be a reason not to train.  Remember you can have results or excuses; you can't have both!
**If you have specific questions about gym set up and programming please feel free to contact Stefan directly stefan@sxsfitness.ca
AOA chats with graduating OST racer Brianna Macdonald to learn more about her next steps after the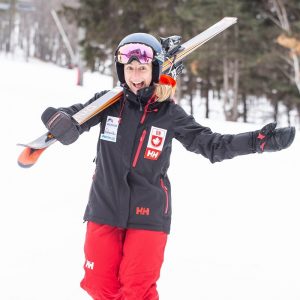 Ontario Ski Team. Bri was on the OST for three seasons but did not race during the 2017-18 season due to injury. She grew up at the Osler Bluff Ski Club and was recently voted the 2019 Mackenzie Investments Female Alpine Athlete of the Year.
Q1: Wow what a great season you had. What do you attribute this success to?
This year I had goals I wanted to achieve, and I spent all of my time and energy working towards accomplishing them. I became confident, I had an amazing support system, and I started to ski really well.
Q2: You are off to the University of New Hampshire to continue racing. What level of NCAA racing will this involve and what kind of financial support are you getting?
I will be racing the NCAA college circuit and studying Architecture and Art. I got an athletic scholarship for my four years there, and I'm so excited!
Q3: Is your end goal to come back to race for Canada one day?
I would absolutely love to come back to Canada after college and race.
Q4: Ontario is not a big mountain province. Do we suffer as a result of not having these big hills to grow up on? (compared to say Alberta, BC)
I don't think we suffer as a result of smaller hills. I actually think it's to our advantage especially for younger racers. The return time is much shorter, so we actually get much more volume than any of the west coast skiers on the big mountains.
Q5: You were injured over the 2017-18 season and had knee surgery. Tell us about this injury and how long you were off snow in total?
I never knew how hard it would be to come back from an injury until I experienced it first hand. I was off snow for nine months, which I was really happy about. It gave me more time to build my confidence in the gym. When I did return to snow, I spent a month free skiing to focus on my technique. And by the time I got back into gates, I was so confident in my knee and my skiing, that it didn't take long at all to get back into the swing of things.

Q6: Mentally this must have been very hard. How did you overcome this?
Having a setback when you're an athlete is challenging, both mentally and physically. But what I've come to realize is that overcoming my obstacle made me an all-around stronger athlete. Don't get me wrong it wasn't easy, there were ups and downs, but that's life! I wanted to work harder in the gym. I never took a day back on snow for granted. I just had this hunger to be back skiing, and doing what I love. There were days where I wouldn't be confident, or I would lose motivation, but I overcame that by the amazing support system that surrounded me. It was a game changer having a coach that was a top ski racer and faced setbacks as well. Having Katie by my side was beyond helpful. She understood exactly what I was going through mentally, physically and emotionally.

Q7: Who is your idol and why?
I have always been a Mikaela Shiffrin fan. I love the way she skis, and admire her work ethic.
Q8: I know you'll miss Katie (her coach). What made her such a special coach to your team?
Katie has coached me for the past two years. During that time I have come to realize what makes Katie such an amazing coach is her passion for the sport. She invests all of her time and energy into the girls she coaches because she just wants to see them be their best selves, on and off the ski hill. I think I can speak on behalf of the women's team by saying we'll all miss her and her positive look on life. She's genuinely humble, and when I learned about her ski racing career and the success she had, it was inspirational. Katie wasn't just my coach; she's my role model.
Q9: If you could say one thing to the kids reading this what would it be?
What doesn't kill you makes you stronger!
Q10: Now you are always smiling every time I see you. Is this always the case or are you, in fact, a normal teenager?
I would say I smile a lot more than the normal teenager 🙂
(Toronto, ON) April 29th, 2019 — This past weekend the new U19 High-Performance program (U19HPP) kicked off its 2019-20 off-season program at the CSIO in Toronto. Over two days 23 athletes from across the Province completed a variety of assessments, movement screening, anaerobic and aerobic testing, various field and strength tests plus some goal setting meetings and a one on one sit down with renowned sports psychologist Dana Sinclair.  The program mixes new FIS athletes with veteran Ontario Ski Team members and is a fantastic example of teamwork and collaboration between Alpine Ontario, Southern Ontario Ski Team, NCO FIS Team, National Ski Academy and the Canadian Sport Institute of Ontario (CSIO).
The U19HPP athletes were selected based on performances at the Canada Winter Games, the U16 Eastern Finals, the U16 France Project and FIS results from the 2018/19 season. These athletes represent many of the best racers in the AOA system and include athletes from LSDA, NCD, SOD and the National Ski Academy.
Kip Harrington, AOA's High-Performance Director commented, "This was one of the best weekends of testing I've seen in a long time. It was motivating to see the energy from all of the athletes – U19 HP and Ontario Ski Team, new and veterans. We worked hard to identify and recruit these 23 athletes. The U19HPP is designed to bring the best athletes together for training, and to provide world class conditioning programs, education and sports science support. It is also intended to work closely with their coaches to better align and support programs in our High-Performance Pathway."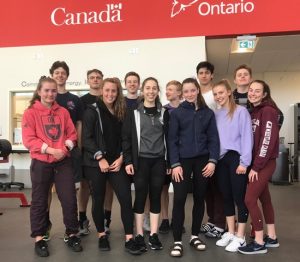 Included in the weekend testing were:
Members of the U19HPP: Front (L to R): Emma Gosselin/Osler, Nikki Finoro/NSA, Natalie Stewart/Craigleith, Kylie Thompson/Craigleith, Cadence Kiss/Alpine, Tessa Foote/NSA.
Back: Ellis Reid/Craigleith, Kyle Blandford/GPeaks, Aleksas Valadka/GPeaks, Duncan Waugh/Beaver Valley, Robert Doman/Osler, Ben Neylan/NSA
Member of OST Training Squad: L to R: Ashley Campbell/GPeaks, Katie Twible (coach), Kobe Villeneuve/NCO, Zach Temertzoglou/GPeaks, Emma Williamson/Alpine, Sam Duff/Calabogie, Jayden Metcalfe/NSA, Kip Harrington & Cam McKenzie (coaches). Not photographed Aaron Puskas/LSDA, Ben Smegal/Craigleith.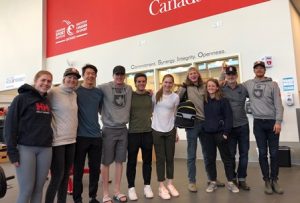 For more information:
Visit the U19HPP webpage here
Contact Kip Harrington, AOA High-Performance Director
kipharrington@alpineontario.ca
Alpine Ontario Alpin Announces New Executive Director
Bill Reeves of Collingwood, Ontario to Lead Organization
COLLINGWOOD, ON (April 25th, 2019) – Today the Alpine Ontario Alpin (AOA) Board of Directors is pleased to announce that Bill Reeves will be taking over as the  Alpine Ontario Executive Director effective June 1st. Bill is currently employed at AOA as the Manager of Partnerships and Events and has been with the organization for just over a year.
Bill is originally from Toronto but has made Collingwood his home for the last 12 years along with his wife Jane Patrick and their two young sons Jack and Eddie.  Over the years Bill has followed his passion for skiing to many different destinations but now he and his family happily call Devil's Glen Country Club their home club.  Bill's past employment as a ski instructor/coach and his experience working in management for speciality ski retailers, coupled with his role as a sales representative for top ski brands such as Fischer and Nordica have given him a very broad perspective of ski racing and the sport of skiing as a whole. Bill attended Humber College in the Ski Resort Operations and Management program, graduating in 1997 and is a Level III instructor and Level II coach.
Most recently Bill led the way as the Event Chair of the very successful 2018 U16 National Championships in Collingwood, Ontario and has led the recent charge in AOA's partnership and fundraising programs by creating more opportunity and value for corporate sponsors and donors alike.
 Reeves comments,  "I am very excited and extremely grateful for the opportunity to lead Alpine Ontario as the incoming Executive Director.  The organization has made great strides throughout the province in recent years both operationally and athletically and I am looking forward to working with the great coaches and staff at AOA as we look to continue providing the best opportunities and services for our athletes and membership!"
The search process took four months and included several key members of the AOA Board of Directors including Chair Mike McTaggart and Linsey Ferguson.  In addition, AOA member Barbara Lockhart assisted the search committee throughout the process assisting with screening and independent feedback.  Barbara has extensive experience working with PSOs and in professional searches. In total over 60 candidates applied for the position. A stakeholder interview process was completed including talks with key head coaches, division leaders, sponsors, donors, parents, former athletes and administrators.
"On behalf of the AOA board, I would like to thank all the stakeholders who participated in our outreach process and gave us feedback. While we will all miss Scott's passion and the amazing work he has done over the past six years we are excited to work with Bill and continue to develop the sponsorships and partners he has been bringing to the table this past year." Mike McTaggart, AOA Chair said.
In addition to leading the 40+ ski clubs in Ontario, Bill will oversee the office staff of seven employees, up to 10 coaches,  approximately 10 corporate partnerships and all relationships and reporting required by the Ontario Government as a Provincial Sport Organization. AOA has a very ambitious fundraising platform approaching $600,000 which is largely made up from corporate partnerships. These funds predominantly support the high-performance programs including the Ontario Ski Team, U19HPP and U16HPP.
In order to achieve a smooth transition, Bill will spend the month of May working alongside current Executive Director, Scott Barrett before his departure on June 1st.
-end-

About Alpine Ontario Alpin (AOA) AOA is the provincial governing body for the sport of alpine ski racing in Ontario. Alpine Ontario's newly refined mission is to provide leadership and structure for high quality, sustainable and affordable programming and to communicate the competitive, recreational and lifestyle benefits of ski racing to the community. AOA represents four divisions, 40 member clubs, and over 5,000 active athletes, coaches and officials (volunteers). AOA coordinates several successful programs across the province and continues to foster the development of "state of the art" ski-racing programs from the grassroots level to the elite level.
For more information:
Kristin Ellis
Communications Manager
Alpine Ontario Alpin
705-444-5111×132
communications@alpineontario.ca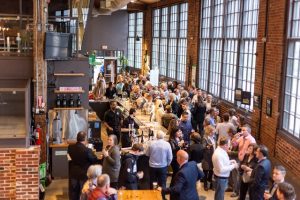 (COLLINGWOOD) April 24th, 2019 — Thank you to everyone who attended the 2nd annual Ontario Ski Racing Awards event at Steam Whistle last Thursday night! Approximately 150 AOA members gathered to recognize Ontario's finalists in the 10 award categories and enjoy a night downtown Toronto.
AOA would like to thank the following people for contributing to the event:
Allan Mihalcin, Wendy Bunston, Pete Dyson & Larisa Yurkiw – AOA Awards Committee members
Emcee Mike Janyk who flew in from Vancouver to host the evening
Aly Fuller – Director of Sponsorship and Community Engagements with Mackenzie Investments.
Scott Hanson – CEO & Owner Rossiter Boat Company
Jane Patrick – Ontario Territory Rep, Helly Hansen
Dave Bunston – CEO Windfall Mountain Homes
Derek Baker – Partner @ XMC
Brian Ivay – Calabogie Peaks Racing Club President
Heather Olszewski –  and other members of National Capital Division for travelling from Ottawa
AOA Athletes -Members of the U19HPP, SODST & OST for selling Rossiter Raffle tickets
Cindy Hayhurst  – helping the athletes sell Rossiter Raffle Tickets.
All the finalists and their families for attending the event!
The 2019 Award winners are: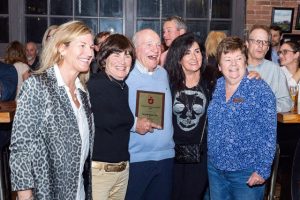 Mackenzie Investments Female athlete – Brianna Macdonald, Ontario Ski Team
Mackenzie Investments Male athlete – Aleksas Valadka, Georgian Peaks
Rossiter Boats Para athlete – Rebecca Mideros, Glacier Ski Club
Sporting Life Ski Cross athlete – Colton Eggert, Elite Alpine Ski Team
Helly Hansen Coach – Madison Irwin, Craigleith Ski Club
Raymond James Club – Beaver Valley Ski Club
Volunteer – Rusty Gee, Devil's Glen Country Club
Spirit – Dave Latimer "Lub", Craigleith Ski Club
Event – Muskoka Rodeo, Hidden Valley Ski Club
Builder – Brian Ivay, Calabogie Ski Racing Club
Thank you again to everyone who attended, to all our fans who placed a nomination and lastly to our voters! The 40 nominees in total received over 9,000 votes!!
Please find photos from the event posted on the AOA Facebook page here.
For more information:
Kristin Ellis
Communications Manager
Alpine Ontario Alpin
communications@alpineontario.ca
(705) 444-5111 x132