2016/17 Ontario Ski Team and New Men's Head Coach Announced
(May 19, 2016, Collingwood, Ontario):  Alpine Ontario Alpin is proud to introduce the 2016 – 2017 Ontario Ski Team (OST).  The OST is a high performance team representing the fastest group of alpine ski racers in Ontario, ages 16 and up, who are training year-round, in pursuit of earning a spot on the Canadian Alpine Ski Team.
The OST is a result-based team where athletes will be asked to perform to the best of their abilities at all times.  Alpine Ontario provides them with the best coaching support and programming available.  The men's team will be led by the newly appointed Men's Head Coach Cameron McKenzie and Assistant Coach Will Gyles.  The women's team will continue to be headed up by Mike Necesanek, assisted by Jill Fujino.
Meet the Team:
2016-2017 MEN'S ONTARIO SKI TEAM
Returning athletes:
Jared Burks, Devil's Glen Country Club
Jake Gougeon, The Georgian Peaks Club
Henry Luel, The Georgian Peaks Club
Corey McConville, Devil's Glen Country Club
Jack Norton (Injury Status), Osler Bluff Ski Club
New athletes:
Griffin Copp, National Ski Academy / Craigleith Ski Club
Zachary Mayne, National Ski Academy
Cameron Dymond, Osler Bluff Ski Club
Hunter Watson, Camp Fortune Ski Club
2016-2017 WOMEN'S ONTARIO SKI TEAM
Returning athletes:
Samantha Boughner, Osler Bluff Ski Club
Emily Field, Devil's Elbow Racing Club
Camryn Metzger, The Georgian Peaks Club
Emma Pownall (Injury Status), Devil's Elbow Racing Club
Camille Vibert (Injury Status), The Georgian Peaks Club
New athletes:
Sierra Cadieux, National Ski Academy
Steffi Ralph, Craigleith Ski Club
Lauren Stackhouse, Craigleith Ski Club
Maddy Sullivan (Injury Status), The Georgian Peaks Club
Cameron McKenzie and Mike Necesanek will continue to build on the successful program set out by Tommy Eckfeldt over the past four years. Cameron has nearly a decade of experience coaching at the club, regional and PSO level. Most recently, Cameron has served as Men's Assistant coach with the Ontario Ski Team for the past three seasons. Cameron's time with the OST has afforded him the opportunity to work at some of the highest levels of competition in North America as well as work with and learn from elite level coaches and athletes.
As he transitions into the role of Men's Head Coach, Cameron is looking forward to facing a new set of challenges and playing a key role in the development of the Ontario Ski Team and ski racing within Ontario as a whole. He is enthusiastic about getting back to work in the gym and on snow with a strong, young group of OST athletes.
"The 2016-2017 season looks to be another exciting one for the Ontario Ski Team.  Coming off a solid year with some great results including Paddy McConville's 9 FIS Wins and Henry Luel's U18 National Championship I am excited to see what this year's team can do," said Alpine Ontario Alpin Executive Director Scott Barrett.  "Although we're seeing several of our athletes move on to NCAA Universities, I'm looking forward to seeing a very talented young group develop and improve and believe that under the guidance of Cam, Mike, Jill and Will they are bound for success!"
Alpine Ontario Alpin has to say goodbye and good luck to the following athletes who are moving on to pursue education and / or ski racing at the NCAA level:
Carter Armstrong – St. Lawrence University
Stephanie Currie – Dartmouth College
Fabian Denis – Currently deciding which school to attend
Karl Kuus – Plymouth State
Patrick McConville – University of Vermont
Max McVey – McMaster University Business
Jake Rosen – Currently deciding which school to attend
Scott Ward – Queen's University Commerce
Emma Woodhouse – University of New Hampshire
"I joined the Ontario Ski Team in my third year FIS and have no regrets. I had an experience of a life time being able to ski and work with a group of athletes that are all trying to reach the same goal. The environment was amazing because everyone supported each other and wanted the best for each other," said OST alum Carter Armstrong.  "I also had a fantastic coaching staff that helped me refine my technique. Thanks to my experience on the Ontario team, I now feel confident skiing NCAA next year for St. Lawrence University."
"I have thoroughly enjoyed working with this season's OST.   I have known many of the retiring athletes for the past three or four years and will be sad to see them go," said AOA Executive Director Scott Barrett.  "I wish them all the luck in the world as they move on to ski NCAA or pursue higher education here in Canada."
About the Ontario Ski Team (OST)
The Ontario Ski Team represents the highest level of alpine ski racing in the province with athletes spending over 120 days on snow each year.  Commencing in May they travel to snow   in preparation for a 5-month competitive season that runs from late November through to the end of April. The Ontario Ski Team members work year round in an intensive conditioning program which combined with on-snow training and competition prepares them for the next step of competing at the National level.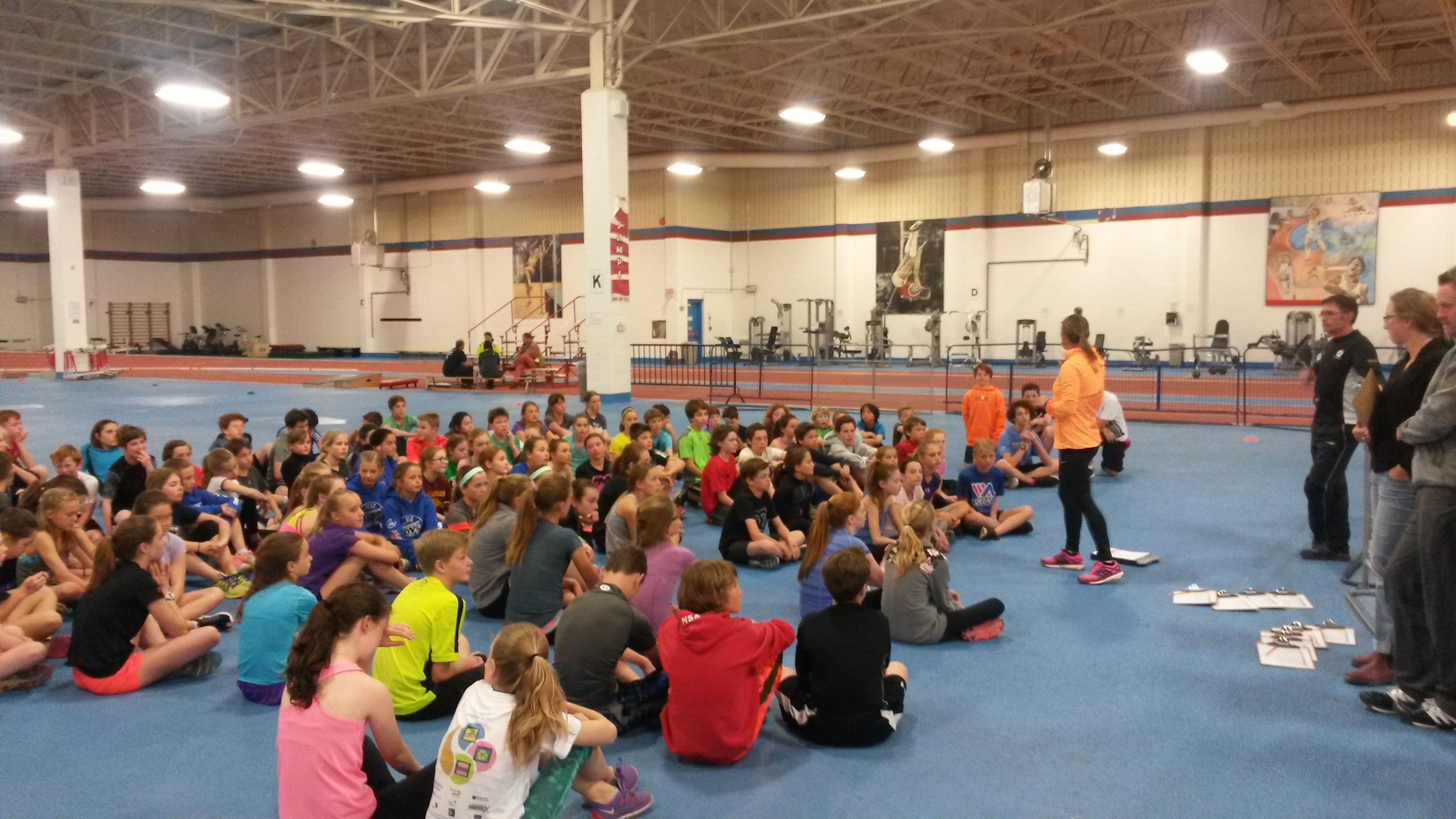 Thank you for attending the Spring 2016 AOA Fitness Testing on Sunday May 15th.  Results can be found by clicking here.
Please note that Fall Fitness Testing will take place at the Toronto Track and Field Centre, York University, Saturday October 1st, 2016.  Please add this date to your calendar for fall planning.  All athlete's planning on attending the 2017 U14 and U16 Provincial Championships will be required to submit a fitness test dated between Sept 1-Dec 31 by Dec 31, 2016.
Below are the descriptions of the tests that were performed:
Penta Jump– This repeated double leg horizontal jump requires a considerable amount of lower body coordination and  power.  This is directly related to explosive speed that you can generate through your hips during a turn.  To improve upon this test, a combination of strength and speed (plyometrics) exercises should be done.  Here are 3 examples: 1, 2,3.   (click the links to watch videos)
Standing Medicine Ball Throw – This test measures power and coordination generated from a bottom up fashion.  It requires you to load your legs and trunk and maintain stability before achieving any vigorous movement of the upper body to propel a medicine ball weighing approx. 4% of body weight.  To improve upon this test work on explosive type movements.  Click on the 2 examples here: 1, 2.
Vertical Jumps– The counter-movement vertical jump incorporates the Central Nervous System to coordinate the segments to create lower body power.  This is directly related to explosive speed that you can generate through your legs during a turn.  To improve upon this test, a combination of strength and speed/plyometric exercises should be done.  The single leg jump ratio should be as close to 1.0 as possible.  The further away from 1.0 your score is, the more discrepancy in coordination/ power between right and left legs.  If you have one leg significantly weaker you should continue with unilateral strength/ power work (click on these examples 1,2,3)  to balance this out and always start your sets with the weaker side.
Hex Rail – The hex rail measures agility or the ability to change directions quickly.  Primarily focused on the lower body and core muscles, the hex rail displays anaerobic power and shadows the quick multi-directional movements used in many sports. The hex rail is done 2-3x around (depending on age) in a clockwise direction followed by a brief rest then 2-3x counterclockwise.  To improve on speed and agility, work on quick feet drills like cone high knees, Lateral Shuffles and slalom runs.
Movement Screens – Movement Screen 1 is an Overhead squat movement with a dowel.  If technique was perfect a score of 3/3 was recorded.  If technique broke down slightly then a score of 2/3 was awarded. If there were major alignment issues (lack of ankle mobility or knee stability to ensure safe ski racing) then a score of less than 2 was awarded.  If there was pain during any part of the movement then a score of 0 was recorded.  If a score of less than 2 was received it is recommended that you follow up with a sports therapist (sports med doctors, athletic therapist, physiotherapist, exercise physiologist, etc.) to have an alignment check performed to rule out any further red flags and to start some correctives to ensure safety this upcoming ski season.
Movement Screen2 was a straight leg raise performed to assess posterior chain (calf, hamstring, back) range of motion.  If a score of below 2 was noted then the following corrective should be performed daily 10-20 times pain free.  If a score of 0 was given then follow up with a health professional is needed.
60/ 90–second Box Jump– This test measures the anaerobic endurance of the lower body muscles by recording the number of jumps on a 10-40cm box (age dependent) as the test progresses.  This is one of the major energy systems responsible for success in ski racing.  We are looking at overall number of touches over the 60/90 seconds (age dependent).  Track and field, Cross country running, mountain biking, fartlek and intervals will help build efficiency in this system.
Australian Institute Shuttle test (AIS) – The 'beep' test is an aerobic (endurance) test that measures the athletes' ability to take in and utilize oxygen and provides an indirect VO2 measurement.  A high VO2 allows the athlete to train and compete at higher intensities for longer periods of time as well as recover quicker between races and training days.  Mountain biking and cross country are two good ways to increase your V02.
The tests were selected based on the key physical parameters required to both perform and maintain safety throughout the ski season. These are all activities that can be easily reproduced for re-testing purposes and require very little equipment to do so.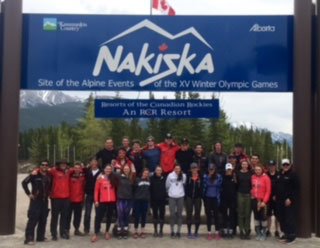 The Ontario Ski Team concluded its 2nd annual team selection camp this past Friday in Nakiska, Alberta. Fourteen new athletes joined the current OST roster for five days of intense on and off hill training.
The conditions in Nakiska were unseasonably warm with temperatures mid-way through the camp reaching a sweltering 24 degrees! Athletes and coaches hung their hats (and skis) in Canmore and enjoyed the 45 minute commute each morning into Nakiska which hosted the 1988 Winter Olympic Alpine events.
The week was hugely beneficial and an opportunity for the best men and women in the province to come together to get to know each other and of course our own OST staff. The athletes were tested throughout the week, both on their ability on the hill with full length slalom and giant slalom timing, and also off the hill with a battery of physical fitness tests that allowed athletes to see where they stood from a conditioning perspective.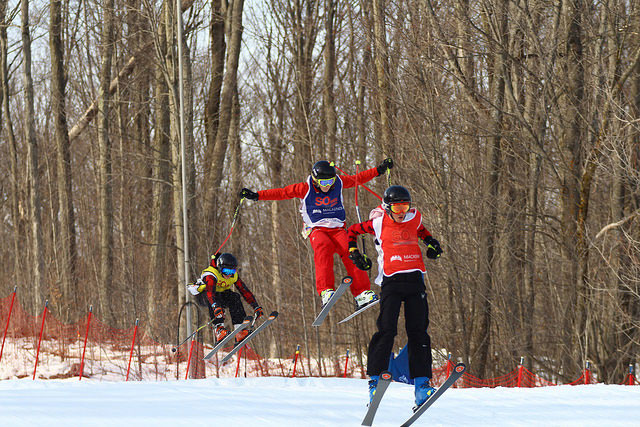 BY: Paul Plotz
Snowboard Ontario, led by Janet Richter and her team of officials and volunteers and coaches were integral in the success of this year's Ski Cross (SX) season! Because of all of their hard work SX saw six separate competitions hosted at four different venues during the 2015/16 ski season.
Sir Sams Jan 16, 2016 (Event #1)
Sir Sams Jan 17, 2016 (Event #2)
Craigleith Feb 6, 2016 (Event #3)
Horseshoe Valley Feb 21, 2016 (Event #4 & 5)
Beaver Valley Feb 28, 2016 (Event #6) and Provincial Championships
There were between 8 and 30 athletes participating at the various events. A little light compared to the Western provinces but with greater promotion and encouragement we can aim to keep pace with the Alberta and BC. Nonetheless the East was host to the Canadian Junior Championships and two FIS events – both held at Mont Ste Marie in Quebec.
It was fantastic to have the East host the Junior Nationals for the first time – we hope this will be the chosen event location moving forward. Previously the Junior Nationals were held at the same time and same venue as the Senior National Championships. Alpine Canada is recognizing that the East is developing the discipline and we hope to build and East vs. West and perhaps even a Can-Am series moving forward.
Ontario is working with Quebec and Nova Scotia to help develop this series. We are also working to bring back the World Cup Ski Cross events to Blue Mountain. The World Cup athletes and coaches loved the venue and the crowds that came out to watch. They still talk about it on the current circuit.
All results can be found here: http://ontariosnowboarders.ca/events/results-from-past-events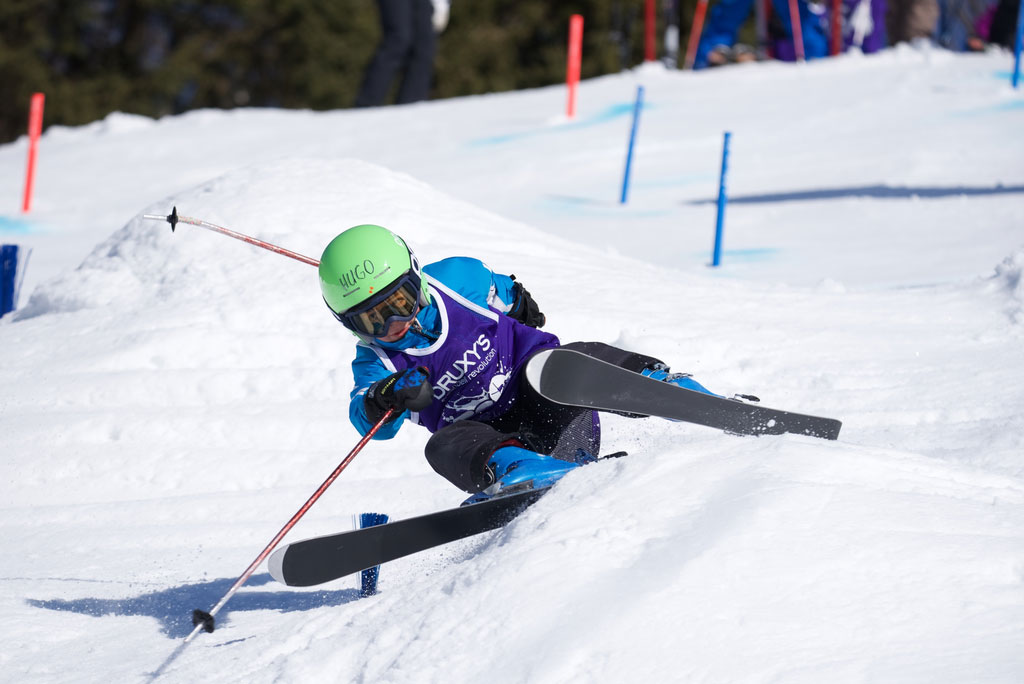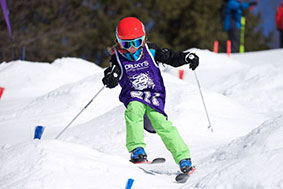 BY: Andi Ciotti
Thank you to all the clubs that hosted a Juniper Jams event this past season!
Brimacombe, Beaver Valley, Devil's Glen, The Heights of Horseshoe, Adanac and Muskoka Ski Cub
all battled extremely difficult conditions to create Juniper Jams courses that were fun, safe and challenging. Mother Nature did not make it easy to build these courses with moguls, jumps, boxes, etc, but every event was a success and they were all able to incorporate features that had combinations of freestyle and alpine racing elements.
Watching the kids start the day very tentatively and entering the features with caution, then end the day with great confidence was fantastic. They all gained increased skiing skills in both freestyle and alpine racing which, in the end, was the philosophy behind the Juniper Jams concept.
Over 500 U10 and U12 athletes took part in the events throughout the season including the Juniper Jams event at the Alpine Championships at Muskoka Ski Club. We were able to build an amazing course in Muskoka and the weather cooperated and made for a great day for all! What a great way to finish off the season!
A huge thank you to my assistant, Cory Deyell, for working so hard at all the events this past season and having such a positive influence on the children taking part in the Juniper Jams events.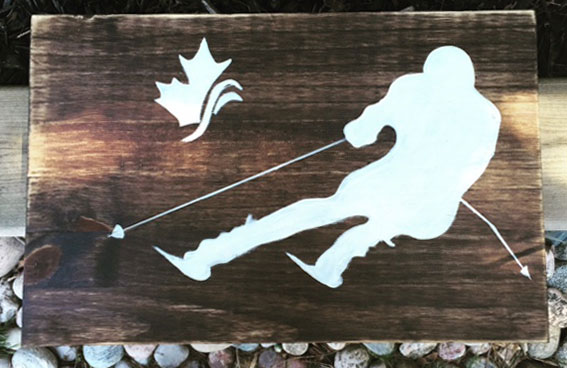 NOMINATE YOUR FAVOURITE COACH and / or VOLUNTEER
On May 14th, 2016 AOA will be awarding the annual AOA Awards to a chosen few.
Please consider nominating someone from your club for the following awards:
The Spirit of Sandy Proctor Award
AOA Chairperson's Award
AOA Athlete of the Year
AOA Volunteer of the Year
AOA Official of the Year
AOA Coach(es) of the Year
Descriptions of each award can be found by clicking here and scrolling down to AOA Awards. This beautiful design is by Leanne Mackle at R E S C U E and is worthy of a prominent spot in your home!
Please submit your nominations to Katy Williams at racing@alpineontario.ca by May 5th for consideration.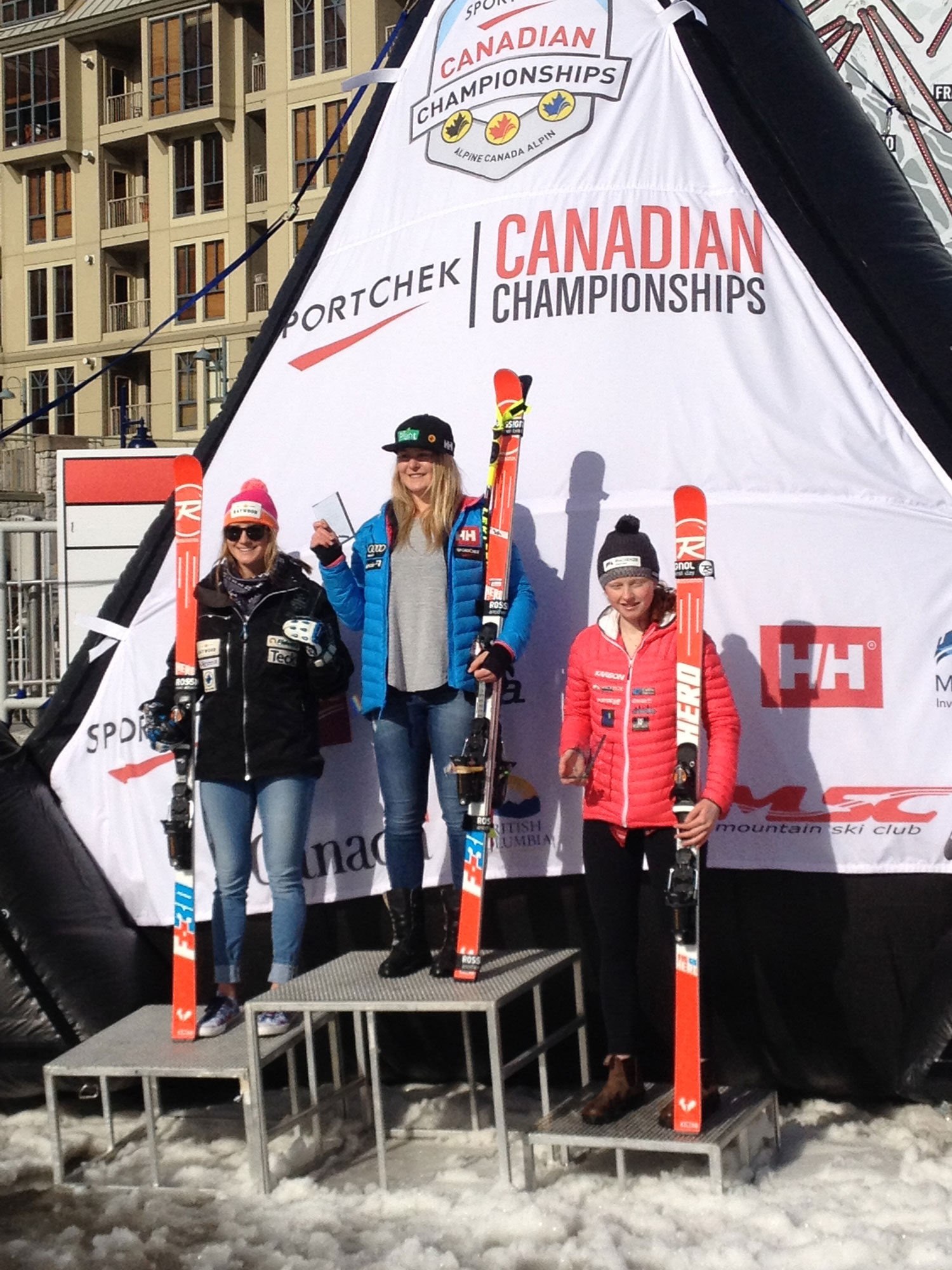 Ontario athlete sweep of the podium in the Women's National Champs Alpine Combined.
Candace Crawford

Ali Nullmeyer

Steph Currie
Great way to wrap up the season.
One change to the race notice below: the Captains meeting is scheduled for Thursday March 24, 2016 at 7pm at the Holiday Inn Express 1325 Seymour St North Bay Ontario. Not Friday as it says on the notice.
It's been an exciting five days of racing for U14s across the Province! Warm temperatures and sunshine made conditions difficult on Day 1. Then the weather took a turn as fog and rain rolled in for the next four days. Needless to say, conditions were never perfect but the race crews and volunteers at both Osler Bluff Ski Club and Alpine Ski Club worked wonders to ensure full coverage and fair race courses.
The first two days of racing saw Osler Bluff Ski Club host two Giant Slalom events. Unfortunately weather forced race organizers to switch the format of Day 3's races from a Super G to two sprint Giant Slaloms. Nonetheless, all of the competitors had a great time and wrapped up the five days of racing with two days of Slalom at Alpine Ski Club.
At the end of five days the ladies champion was clearly decided – Elizabeth Sullivan won both Giant Slalom races and both Slaloms and was crowned Ontario's 2016 Mackenzie Investments U14 Ladies Provincial Champion. On the men's side Griffen Hanson pulled out a victory in the GS but had a tough day on Day 1 of the Slalom races. He managed to climb back on the second day of the Slalom and earn the necessary points to secure the overall victory. Griffen Hanson is the 2016 Mackenzie Investments U14 Men's Provincial Champion.
"Even though the conditions weren't ideal I think Alpine Ontario and all the volunteers did a great job putting on the U14 Provincials," said U14 Men's Provincial Champion Griffen Hanson. "It was a lot of fun to ski against the top kids in the province."
"The weather wasn't great but it started sunny and ended sunny," said U14 Provincial Champion Elizabeth (Bessie) Sullivan. "The coaches and volunteers did a great job making sure the conditions and courses were safe and fair for everyone. I'm really looking forward to representing Ontario at Can-Ams in a couple of weeks!"
U14 Athletes are now preparing for U14 Can-Ams starting on March 25th in Sugarloaf, Maine.