Submitted by the Calabogie Ski Racing Club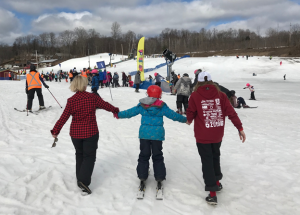 (CALABOGIE, ON) – April 3rd, 2019 — From March 28-31 the Calabogie Ski Racing Club (CSRC) hosted the inaugural U16 Eastern Finals. Over 100 athletes from Ontario, Quebec, Eastern Canada and the Eastern United States participated in three (almost four) days of racing including the first ever Ski Cross at a finals event.
Mother Nature arrived in full force with sun, rain and snow; the area received more than 10cm of snow on Sunday and the CSRC race crew worked tirelessly as they always do to prepare the track. Unfortunately, there was just too much snow and final race of the series was cancelled.
There were many highlights over the four days including the first ski cross event, a presentation from Olympian JP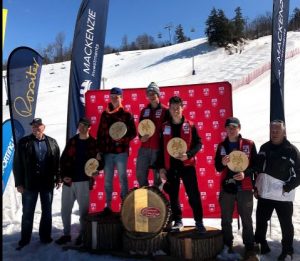 Roy about his skiing career and the traditional Calabogie 'tug of war' and smores stations at the banquet.
On Friday, 230+ students in grades 3-6 from local schools participated in a free, fun learn to ski day where they had the opportunity to try some ski race skills stations, interact with the athletes and watch the ski cross race. For most of the students, this was their first introduction to alpine skiing and for others, it was the opportunity to improve their skills. This day was made possible with support from the Province of Ontario, the Canadian Ski Council, and Calabogie Peaks Resort.
The Eastern U16s Finals would not have been possible without the support of our sponsors and all of the Calabogie Ski Racing Club parents, coaches, athletes, and alumni who installed B-net, prepared the course, filled the race day roles, fed volunteers, hosted our 230+ students and provided the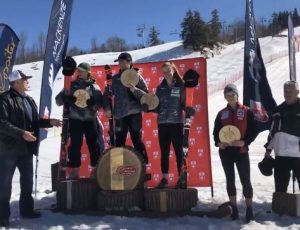 leadership on and off hill to ensure a safe and fun-filled four days of ski racing! Lastly, the Club and AOA would also like to thank Daryl Kramp, MPP Hastings-Lennox and Addington and Mayor of the Township of Greater Madawaska Brian Hunt who enjoyed the Ski Cross races and presented awards to the ski cross winners.
ONTARIO TEAM RACING HIGHLIGHTS: 
Women's Overall:
Urness Emma TREMB 1
Théberge Anne-Catherine STON 2
Lafreniere Kaila BELNE 3
ORegan Grace TREMB 4
Sewell Lily NATAC 5
Parent Maxim TREMB 6
Desrosiers Laurence STSAV 7
Dean Jessica BELNE 8
Byers Abbygail DEVGL 9
Finoro Nikki NATAC 10
Men's Overall:
Trudeau   Simon  BELNE 1 Turnbull   Ryan  CRAIG  2
Doman   Robert OSLER  3
Keller   Maximus  CRAIG 4
Reid   Ellis CRAIG  5
Weingust   Ben  CRAIG    6
Sommer   Shane MSRC    7
Charest   Pierick TREMB  8
Brisebois   Hugo ESCF      9
Keefe   Grant  WSRC    10

Women's SkiCross
Lafreniere Kaila BELNE 1
Urness Emma TREMB 2
Théberge Anne-Catherine STON 3
Parent Maxim TREMB 4
Thompson Kylie CRAIG 5
Byers Abbygail DEVGL 6
Sewell Lily NATAC 7
ORegan Grace TREMB 8
Men's SkiCross
Turnbull Ryan CRAIG 1
Sommer Shane MSRC 2
Keller Maximus CRAIG 3
Keefe Grant WSRC 4
Pilla Nicholas CRAIG 5
Donnelly Brian CRAIG 6
Granger Anthony VSC 7
Doman Robert OSLER 8
Men's GS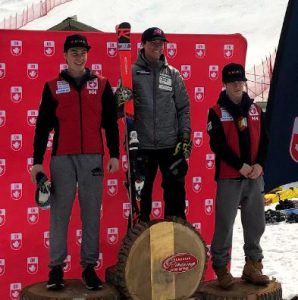 1 Trudeau, Simon QUE BELNE 49.42 (4) 51.76 (1) 1:41.18
2 Turnbull, Ryan ONT CRAIG 49.31 (2) 52.09 (5) 1:41.40
3 Weingust, Ben ONT CRAIG 49.17 (1) 52.30 (6) 1:41.47
4 Keller, Maximus ONT CRAIG 49.50 (5) 52.08 (4) 1:41.58
5 Brisebois, Hugo QUE ESCF 50.05 (16) 51.83 (2) 1:41.88
6 Villeneuve, Kaiden ONT SNCOS 49.97 (14) 52.01 (3) 1:41.98
7 Doman, Robert ONT OSLER 49.64 (8) 52.36 (7) 1:42.00
Ladies GS
1 Urness, Emma QUE TREMB 52.86 (1) 48.62 (6) 1:41.48
2 Théberge, Anne-Catherine QUE STON 53.39 (3) 48.29 (2) 1:41.68
3 ORegan, Grace QUE TREMB 53.88 (7) 48.40 (4) 1:42.28
4 Desrosiers, Laurence QUE STSAV 54.15 (9) 48.22 (1) 1:42.37
5 Parent, Maxim QUE TREMB 53.48 (4) 48.99 (11) 1:42.47
6 Byers, Abbygail ONT DEVGL 54.36 (13) 48.37 (3) 1:42.73
7 Houde, Kelly-Ann QUE BELNE 53.83 (6) 49.43 (18) 1:43.26
8 Rioux, Alexane QUE ORFOR 54.40 (14) 48.89 (10) 1:43.29
9 Kiss, Cadence ONT ALPIN 54.32 (12) 49.16 (12) 1:43.48
Men's Slalom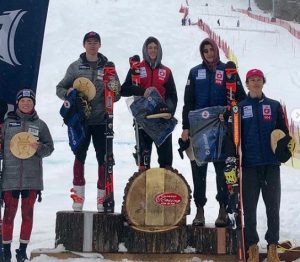 1 Reid, Ellis ONT CRAIG 38.35 (1) 36.68 (2) 1:15.03
2 Trudeau, Simon QUE BELNE 39.09 (4) 36.47 (1) 1:15.56
3 Doman, Robert ONT OSLER 38.71 (2) 36.94 (4) 1:15.65
4 Charest, Pierick QUE TREMB 39.59 (6) 36.87 (3) 1:16.46
5 Stryjnik, Tristan ONT CRAIG 39.16 (5) 37.71 (14) 1:16.87
6 Weingust, Ben ONT CRAIG 39.07 (3) 37.88 (19) 1:16.95
7 Hebert, Mykael QUE EDEL 40.40 (9) 37.35 (7) 1:17.75
8 Brackett, John ONT CRAIG 40.78 (17) 37.13 (5) 1:17.91
9 Donnelly, Brian ONT CRAIG 40.87 (20) 37.14 (6) 1:18.01
Ladies Slalom
1 Urness, Emma QUE TREMB 35.99 (1) 38.73 (1) 1:14.72
2 Théberge, Anne-Catherine QUE STON 37.09 (3) 39.23 (4) 1:16.32
3 Dean, Jessica QUE BELNE 37.82 (6) 38.88 (2) 1:16.70
4 Lafreniere, Kaila QUE BELNE 37.69 (4) 39.09 (3) 1:16.78
5 Arrouart, Kim QUE MSA 37.94 (7) 39.93 (5) 1:17.87
6 Sewell, Lily ONT NATAC 37.95 (8) 40.08 (6) 1:18.03
7 Mathieu, Flavie QUE STSAV 38.20 (10) 40.12 (7) 1:18.32
8 Finoro, Nikki ONT NATAC 38.25 (11) 40.13 (8) 1:18.38
Full results can be found online here>
CONGRATULATIONS TO OUR ONTARIO SKI RACING AWARD FINALISTS!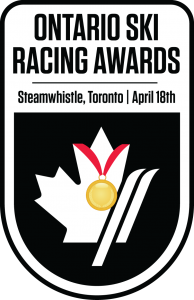 (April 1st, 2019) — Alpine Ontario received over 100 nominations for the 2019  Ontario Ski Racing Awards!! Thank you to everyone who participated and took the time to recognize the provinces most dedicated individuals of our sport! We would like to thank the Alpine Ontario Awards Committee, led by LSDA's Allan Mihalcin and his team of volunteers, for narrowing down the nominations to the finalists listed below.
To cast your vote click on the heading of each category or visit the Awards pages here. Only one email (per person) per category will be accepted but you may vote in more than one category. Voting will close on April 10th at 5 pm.
Please be sure to join us for the Awards presentations on April 18th at the Steam Whistle Brewery in Toronto. This will be a fun night and your opportunity to celebrate the 2018/19 ski season with us!  The evening will include a silent auction,  unlimited Steam Whistle and be hosted by CAST Alumni Mike Janykwho will be unveiling the winners!
(March 21st, 2019) — Congratulations to the following U16 OCUP athletes selected to represent Ontario March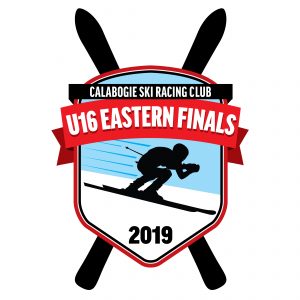 28th-31st in the U16 Eastern Finals at Calabogie Resort, ON. The Team will be jointly led by Craigleith Coach Mike Byrne and Georgian Peaks Coach Andy Holba.
WOMEN
BYERS, Abbygail – Devil's Glen
CROSSAN, Hillary – Alpine
DANBY, Ella – Alpine
DENOMME, Abigail –  National Ski Academy
EASTWOOD, Gabby –  Georgian Peaks – will not attend
FINORO, Nikki  – National Ski Academy
FRY, Kathryn – Devil's Glen
GRAHAM, Sarah –  Georgian Peaks
GILDAY, Ellen – Devil's Glen
HARVEY, Marisol –  Osler Bluff
HAMILTON, Gillian – Camp Fortune
HILLIER, Kyra – Osler Bluff
JENKINS, Melanie –  Georgian Peaks
KISS, Cadence – Alpine
MACDONALD, Georgia –  Osler Bluff
MACGREGOR, Frances – Norwesters/LSDA
MULCAHY, Pippa –  Craigleith
NOAKES, Alexis – Georgian Peaks
PODIVINSKY, Olivia – Georgian Peaks
SEWELL, Lily – National Ski Academy
SELLERY, Kate – Craigleith
STEWART, Natalie –  Craigleith
TAYLOR, Esmee – Craigleith
THOMPSON, Kylie –  Craigleith
ZEMLA, Zoe – Georgian Peaks
MEN
BAMBROUGH, David – Osler Bluff
BRACKETT, John – Craigleith
BURNES, Christopher – Craigleith – will not attend
DONNELLY, Brian – Craigleith
DAVIDSON, Jacob –  Georgian Peaks
DOMAN, Robert  – Osler Bluff
GATCLIFFE, James  – Georgian Peaks
HAYWARD, Thomas –  Craigleith
JAQUES, Andrew – Osler Bluff
JOHNSTON, Sage –  Craigleith
KISS, Tanner – Alpine
KELLER, Maximus –  Craigleith
KRESS, Colin  – Georgian Peaks
MCKINLAY, Jb  –  Alpine
MURPHY, Max  – Craigleith
NELLA, Aidan – Georgian Peaks
PILLA, Nicholas – Craigleith
REID, Ellis –  Craigleith
RODRIGUES, Andrew Devil's Glen
SILLS SCHVARCZ, Jamie Mansfield
STRYJNIK, Tristan Craigleith
TURNBULL, Ryan Craigleith
VILLENEUVE, Kaiden –  Camp Fortune
VLAAD, Liam  – Alpine
WEINGUST, Ben – Craigleith
COACHES:
Mike Byrne – Craigleith – LEAD
Andy Holba – Georgian Peaks – LEAD
Rob Crossan – Alpine
Brent Gazarek –  Craigleith
Doug Terry – Devils Glen
Kate Van Buren – Camp Fortune
Heather Metzger –  Georgian Peaks
Jurg Gfeller – National Ski Academy
Chris Wall – Osler Bluff
Visit the Race Notice here and the Event Press Release here>
For more information: 
Robyn Skinner
AOA Competition Director
rskinner@alpineontario.ca
705-444-5111 x 128
| DATE | EVENT |
| --- | --- |
| 3/23/2019 | Ladies' NC Super G |
| 3/23/2019 | Men's NC Alpine Combined |
| 3/24/2019 | Ladies' NC Alpine Combined |
| 3/24/2019 | Men's NC Super G |
| 3/24/2019 | Team Event |
| 3/25/2019 | Ladies' NC Giant Slalom |
| 3/25/2019 | Men's NC Slalom |
| 3/26/2019 | Ladies' FIS Giant Slalom |
| 3/26/2019 | Men's FIS Slalom |
| 3/27/2019 | Ladies' NC Slalom |
| 3/27/2019 | Men's NC Giant Slalom |
| 3/28/2019 | Ladies' FIS Slalom |
| 3/28/2019 | Men's FIS Giant Slalom |
(March 18th, 2019) — Congratulations to the following U14 OCUP athletes selected to represent Ontario March 28th-31st in the U14 Can-Am races at Mont Tremblant, QC. The Team will be led by AOA's U14 Athletic Lead and Craigleith Ski Club's Extended Program Head Coach Jacques Reid.
COACHES
Jacques Reid – Craigleith Ski Club
Nicole Burgess – Georgian Peaks
Nick Bubella – Georgian Peaks
Chris Tepera – Craigleith
Brian McGregor – Toronto Ski Club
Mike Schneider – Caledon Ski Club
Brayden McEwen -Camp Fortune Ski Club
Yoshi Watanabe – Alpine Ski Club
WOMEN
Elli CLARK, Toronto Ski Club
Keira CHOW, PASC
Magnolia CONACHER, Georgian Peaks
Madison DONNELLY, Craigleith
Jordan EASTWOOD,  Toronto Ski Club
Emma GATCLIFFE, Georgian Peaks Club
Sierra GIANNAKOS,  Camp Fortune
Jamie HEISZ, Mansfield
Megan  HERMAN, Camp Fortune
Nora KALINS, Toronto Ski Club
Megan MILLER, Craigleith
Antonia MURDOCH, Jozo Weider
Natasha OLSEN, Craigleith
Coco ROBERTSON, Georgian Peaks
Gabby WALL, Alpine Ski Club
Lauren WAYLAND, Jozo Weider
MEN
Duncan ARMSTRONG, Georgian Peaks
Filip ARMSTRONG, Toronto Ski Club
Colton BARTHOLOMEW, Craigleith
Matthew BASSIN, Craigleith
Thomas CARNAHAN, Calabogie
Colin DREANY,   North Bay
William FOSTER, Osler Bluff
Tamas HAZY, Camp Fortune
Kai HUANG, Caledon
Jack HUNTER,    Georgian Peaks
Riley JACOBS-GAMBLE, Georgian Peaks
Tristan LEIGHTELL, Georgian Peaks
Logan MOORE,  Craigleith
Maxwell SLOAN,  Craigleith
Matia VELJOVIC, Craigleith
For more information:
Robyn Skinner
AOA Competition Director
rskinner@alpineontario.ca 
ALPINE ONTARIO AND CALABOGIE SKI RACING CLUB SET TO HOST INTERNATIONAL U16 ALPINE SKIING EVENT MARCH 28-31
COLLINGWOOD, ON (March 15, 2019) — Alpine Ontario Alpin (AOA), in partnership with the National Capital Division (NCD), the Calabogie Ski Racing Club (CSRC), Calabogie Peaks Resort (CPR), the Township of Greater Madawaska and the County of Renfrew will be hosting the first annual U16 Eastern Finals in Calabogie, Ontario, March 28-31, 2019.
The event is also supported by the Province of Ontario which will allow the Calabogie Ski Racing Club to build volunteer capacity and expertise, develop its ski cross program, upgrade its infrastructure for legacy and para-alpine development, create more opportunities for Ontario athletes in the province at a reduced cost and positively impact the community demonstrating that ski racing is a valuable investment.
"Ontario's government for the people is pleased to support Alpine Ontario and our future medallists in their pursuit of excellence," said Michael Tibollo, Minister of Tourism, Culture and Sport. "Calabogie is an outstanding location known for its ski hills. Not only will skiers get a chance to sharpen their skills, but Greater Madawaska and the County of Renfrew will reap the economic benefits of hosting this alpine ski event. Congratulations to the communities and my best wishes to the competitors."
AOA's Competition Director Robyn Skinner worked closely with CSRC this past summer to secure the event and the provincial funding attached to it. Skinner explains "We are excited to be launching the inaugural U16 Eastern Finals in Ontario to give our athletes more opportunities to compete at a high level in the province, create more infrastructures and develop legacies in the National Capital Division region by showcasing the amazing athletes on the slopes."
Disciplines in the competition include; Slalom, Giant Slalom, Dual Slalom, and Ski Cross. The event will have a very North American feel to it with Ontario, Quebec, Nova Scotia, Newfoundland & Labrador, P.E.I., New Brunswick as well as many eastern US states competing. It is expected that 120 able-bodied athletes, ages 14 and 15 and some para-alpine athletes, along with 40 coaches and 80 officials/volunteers will participate.
As part of the event, on Friday March 29th 200+ students from grades 3-6 will be participating in a free, fun, learn-to-ski day at Calabogie Peaks Resort. With support from the Province of Ontario, the Canadian Ski Council and Calabogie Peaks Resort, students from local schools in Renfrew, Lanark County and Ottawa (Kanata) will get the opportunity to participate in ski race skills stations and interact with the athletes in addition to watching some elite ski racing. For some students this will be their first introduction to alpine skiing and for others the opportunity to improve their skills. The goal of the day is to expose more kids to sport and active outdoor living in Ontario, as well as inspire the next generation to pursue winter sport competition.
– end –
For more information:
Kristin Ellis
Communications Manager
Alpine Ontario Alpin
communications@alpineontario.ca
Office (705) 444-5111 x 132
Ontario Athlete Assistance Program: List of Ontario Card Nominations Announced!
(MARCH 15TH, 2019) COLLINGWOOD, ON — Alpine Ontario Alpin (AOA) is pleased to announce the list of athletes and alternates who have been nominated for Ontario Cards under the 2018-2019 Quest for Gold – Ontario Athlete Assistance Program (OAAP). The athletes nominated were selected using the sport specific selection criteria developed by AOA and applied by (the) Selection Committee.
Para full-cards:
REBECCA MIDEROS
ABBEY VANDUZER
BEN HARRIS
BRIAN ROWLAND
Alpine full-cards:
DECLAN MCCORMACK
HUNTER WATSON
JUSTIN ALKIER
CAMRYN METZGER
MADELINE SULLIVAN
BRIANNA MACDONALD
Alpine half-cards:
PATRICK MCCONVILLE
JOSEPH YOUNG
KARL KUUS
STEPHANIE CURRIE
CAROLINE BARTLETT
ZACHARY MAYNE
CAMILLE VIBERT
---
Alpine full-card alternates:
ZACHARY MAYNE
SAM DUFF
CAMILLE VIBERT
JESSICA POPADICH
Alpine half-card alternates:
SAM DUFF
CAMERON DYMOND
NICOLE CLARKE
EMMA WILLIAMSON
Please note that this list is now official after the draft posting of February 15th, 2019 which was subject to change pending the outcome of any appeals and/or any re-selection decisions made by the PSO/MSO Selection Committee or the Quest for Gold.
Appeals Process
As detailed on page 50 of the QFG Program Guidelines, the Appeals Process remains unchanged from 2017-18.  Before an athlete can file a Notice of Appeal, they must first contact their PSO (Competition Manager, Duncan Gibson-Maclean duncan@alpineontario.ca)  for reasons explaining why they were not nominated for an Ontario Card.  If the athlete is not satisfied with the PSO response, they may download & complete the Appeals form here: Notice of Appeal.
TWELVE RACERS SELECTED TO REPRESENT CANADA AT 2019 WHISTLER CUP
Canadian contingent qualified through alpine racing events at Canada Winter Games
Calgary, Alta. (March 11, 2019) – Alpine Canada has named the 12 alpine racers selected to represent the nation at the 27th edition of the Whistler Cup, fielding two teams at the annual juvenile ski racing event at Whistler-Blackcomb April 11-14 in Whistler, B.C.
The six female and six male racers will make up two mixed teams and were selected based on Alpine Canada's previously published selection criteria:
Alexis Barabe (Ste-Agathe-des-Monts, Que./Club de ski Saint-Sauveur)
Aleksas Valadka (Oakville, Ont./Georgian Peaks Ski Club)
Arianne Forget (Saint Jérôme, Que./Club de competition Belle Neige-S1 Racing)
Britt Richardson (Canmore, Alta./Calgary Alpine Racing Club)
Cyndie Timmerman (Calgary/Banff Alpine Racers)
Hemming Sola (Summerland, B.C./Apex Ski Club)
Hugo Culver (Westmount, Que./Club de ski Tremblant)
Marie-Pier Brunet (Bromont, Que./ Club de competition Belle Neige-S1 Racing)
Makenna Lebsack (Calgary/Panorama Ski Team)
Mathis Lafond (Bois-des-Fillions, Que./EDLS-Chantecler)
Penny Robinson (Thunder Bay, Ont./Thunder Bay Franco Alpine Ski Team)
Ryley Fergusson (Edmonton/Sunshine Alpine Racers)
"These 12 racers distinguished themselves through their performances at the Canada Games last month, where they represented their provinces with pride," said Brien Perry, Director of Domestic Sport for Alpine Canada. "We are excited to now have them part of Team Canada where they can compete against their age group internationally at the Whistler Cup. More than a ski race, the Whistler Cup has become a true ski racing festival for the country's – and the world's – upcoming generation of top-performing ski racers."
Among the multi-medallists from Canada Games selected to the Whistler Cup team are Forget (gold in giant slalom and super-G), Lebsack (silver in super-G, bronze in giant slalom), Richardson (silver in giant slalom, bronze in super-G), and Valadka (bronze in slalom and giant slalom, silver in super-G).
As part of the event, the Whistler Cup is awarded to the top-performing nation in both the U14 and U16 age categories based on overall points earned during the week's race action. In addition, the Nancy Greene Award is presented for the top U14 and U16 performances by a Canadian female, and the Dave Murray award for the top performance by a Canadian male in the U14 and U16 age categories.
Ski fans and racers' family and friends are also welcome to attend the parade of nations and opening ceremonies on Thursday, April 11, and the awards and closing ceremonies on Sunday, April 14 at the main stage at Skiers' Plaza.
The race schedule includes men's and ladies' U16 super-G racing on April 11, followed by the technical events for both the U14 and U16s April 12-14.
For more information:
Lisa Dornan | ALPINE CANADA ALPIN
Director, Communications and Brand | Directrice des communications et de la marque
T: 403.777.3219  M: 403.333.6366
E: ldornan@alpinecanada.org
A: Suite 302, 151 Canada Olympic Road SW | Calgary, AB | T3B 6B7
AOA has over 4,000 athletes in this sport and many members send us unique and inspiring stories.  The following story is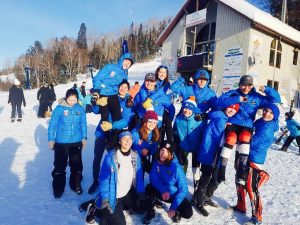 one of the most inspirational we've ever read. Thank you Rhonda Braun for sharing.
"When Alexis, our 16-year-old daughter first heard about the Mealey Classic she knew she wanted to go. Alexis was diagnosed with FSGS (Focal Segmental Glomerulosclerosis-Nephrotic Syndrome) in 2016 and undergoes treatment at the Winnipeg Children's Hospital. Due to a catheter insertion surgery, we had to cancel her pre-season Sun Peaks training camp and later were informed she was in kidney failure and needed to start dialysis before Christmas. Dialysis mean Alexis had to have a second surgery to reposition the catheter, this meant she missed the first race in Duluth as she was still too weak to attend. Today Alexis is on peritoneal dialysis which means she is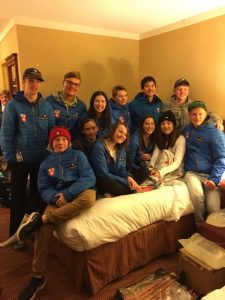 able to be at home for treatment, however, this means being confined to the machine for 10 hours every night until she gets a kidney transplant. Our whole family required training to administer dialysis at home and I am now off work to care for her full time.
At Alexis's insistence, we got approval from her Nephrologist to attend the Mealey Classic Race. This meant we had to arrange with Baxter, the dialysis supply company, to deliver her supplies directly to the Soo (as it would be too much to transport, along with her machine, Alexis and two teammates). Everything worked out in Sault Ste Marie and I was able to get her on the machine early each night to get up in time for the daily training. This however cut into socializing at night as they also had to wax and sharpen their skis after training every night.
Alexis wanted to be able to finish each run during the competition without DNF which she was able to do. Although she only had one other young lady in her age category, she was still able to get on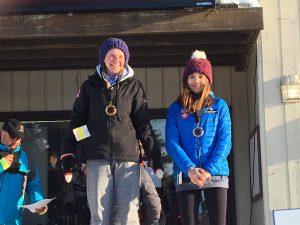 the podium with four medals, 3 silver and one gold. The process of peritoneal dialysis is the equivalent of your body running a marathon and it only brings her up to a 20% kidney function. Along with the diet restrictions, medications and side effects Alexis doesn't let it affect her ability to get to the hill.
One night at the Mealey a teammate brought her skis up to the room and then told his Mom how shocked he was to see what she has to go through. This led to others asking if they could come up for a picture which also was a great learning experience for everyone 🙂 I then learned that her teammates were being very sensitive and making sure they included her, for example, they didn't post anything on social media while in Sun Peaks and they all chipped in with their own money to ensure she also got a Sun Peaks hoodie!
Alexis plans on returning to the Mealey Cup next year, she may have a new kidney by then! We are very grateful Alexis is able to do what she loves and has such a great supportive team; amazing coaches, teammates and parents they are all the best. Thank you!!"
"DEEP THOUGHTS PART II: How Kids Become Great Skiers"…submitted by Kip Harrington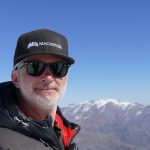 March 7, 2019 — Well, folks, I could be saying that spring is around the corner but, lucky for us ski people, it still seems to be mid-winter! It 's been almost two years since I returned to Ontario and I am pleased to see things moving forward nicely. Sure (a nod to the naysayers) we have work to do, but I see dedicated people at work, with the benefit of programs and initiatives paying off, and a clearer vision for Ontario ski racing starting to take shape. At the end of the day, I'm seeing kids skiing well, and having fun, which is what it's all about right? There have been so many great projects and events this season but what I want to focus on today is skill development; and how kids become great ski racers.
About 20 years ago I heard a talk by a sports psychologist who I have since come to admire, named David Cox. He was talking about how kids learn and develop in sport, and had a great story about little kids competing in tennis. The story goes something like this… "There were two 8-year-old boys playing a tennis match. Both were new to the sport and having trouble swinging the racket properly or even hitting the ball. One of the coaches told his player to choke up on the racket to make it easier (we will call him player 1), the other coach encouraged his player to swing the racket properly and do his best (this is player 2). Player one crushed player two. Player one was happy with that and liked winning, so he kept choking up on the racket in future games. It was working for him. Player two was a little down about losing that game but got over it and remained focused on proper technique. He eventually became a really good tennis player. Player one did not learn how to swing the racket properly and eventually ran into some problems…"
"What do these little tennis players have to do with ski racing in Ontario?" you might ask. I will tell you. I doubt that anyone is deliberately teaching wonky ski technique to kids to achieve short-term success. But I do think that we are in danger of becoming too focused on preparing for the next competition at the early stages, to the neglect of broader skill development. Setting aside time to invest in skill work is sometimes difficult, because it may not produce an increase in performance the next day, or week. But over time, it is absolutely critical, because if kids don't develop proper technique, they will develop wonky ways of getting the job done. And eventually, those things will stop working.
Ski racing does this thing where, level by level, the courses become longer and more complex, the terrain becomes more demanding, the speeds become higher, and the equipment becomes longer and stiffer to perform in those circumstances with grown athletes. The complexity is one of the things that make the sport so fun and interesting. Staying in it long enough to develop the skill to ski those awesome courses and hills is a reward all on its own. On the other hand, if there is a lack of skill development over time, eventually it will catch up with an athlete and there will be a train wreck of sorts. The train wreck usually takes the form of a kid that was doing great and loving ski racing at U14 or U16 but now seems to have difficulty finishing courses, or keeping up with peers they used to beat, and it is usually accompanied by a lot of frustration. The sport just isn't as fun anymore. Does any of that sound familiar?
The great news is that this can be avoided by taking time to work on a broader base of skills, all the way through a ski racer's development. It is a long-term strategy but skills accumulate and build momentum, and it usually doesn't take long for the benefits of focused practice to see a huge improvement. Kids learn fast if given the chance, and they find it rewarding. The new Alpine Canada LTAD (long term athlete development plan) recommends that racing programs should have a percentage of focus on freeskiing and skill work during training of the following: U10/12: 50-65%, U14/16: 40-50%, U19: 35%. That means, for example, that a U14 team should budget about 50% of their training time by day/week/month/year for free skiing, technical free skiing, drills and exercises, etc. versus gate training. The guidelines from Alpine Canada are consistent with other leading ski racing nations around the world.
A very valid point that I have heard about freeskiing in Ontario, is that the hills are shorter than Western Canada or Europe and that it's easier to keep kids engaged by skiing gates. That is true, but coaches can use environments like ski cross tracks, terrain parks, or set improvised modified courses with brushes or stubbies that keep it fun and interesting. There are so many ways for kids to learn and improve while they rip around a ski hill having fun with their buddies.
Admittedly, I hadn't worked with younger kids in a long time and I have noticed that initially, they are not overly excited about working on skills. But, I find that with some coaxing and explanation they are receptive. And once they see and feel improvements, they get in to it. Let's face it, being good at skiing feels great. It's one of the primary reasons we all do this. I also explain to kids that skill work is a constant in a ski racer's career – it is not something for a particular stage, like for kids, or that should come later. Skill work is something that should start young, and stay with a racer all the way to the World Cup.
When I first started working with World Cup racers I was surprised to find how much they have in common with young racers – in the sense that they always have a technical skill they are trying to improve or refine, (they also struggle with nerves, doubt, and frustration by the way). Skiers that can consistently win or podium at the World Cup have mastered the technique, but they still work at it constantly. Skiers that can occasionally podium or finish near the first group, are extremely skilled, but there is probably a bigger technical gap somewhere that still needs to be refined or developed. There is definitely a progression of skills, starting with broad fundamentals like stance/balance, timing and coordination and then later building into skills that are more specific to racing and generating speed. But those broad fundamentals are the foundation for a ski racer. It can be very attractive for coaches and kids to want to jump ahead to more advanced skills, but it is close to impossible without a very sound technical foundation. Another thing that struck me about the World Cup level is that there really are no fancy technical secrets that pop up, mostly just mastery of the same stuff kids start learning and developing when they are young. Now, you might say that most ski racers just want to have fun, and only a few will make it to the World Cup. That is true. But the great news is that the same skills that develop World Champions also develop great skiers for life.
Think of little Player 2 that learned to swing the racket well when he was a kid. At 55 he probably enjoys a great game of tennis. Player 1? Not sure, but nobody wants to see a 55-year-old man choking up on the racket. It probably wouldn't feel that great either. Now, imagine what the ski racing equivalent to choking up on the racket might look like for a kid or at 55 (you know, a technique that might be wonky but gets the job done at a U12 race, and then never quite goes away). In Ontario, we aren't going to develop ski racers that choke up on the racket. We want to develop racers that have the skills to go on to great things, or just enjoy being a great skier.
Those skills competitions that AOA is running at the U14 series – they are important. Various clubs and regions have been doing this for years. Quebec and the USSA take skill development and skills competitions seriously on a bigger scale, with fantastic results. Of course, racing is fun and obviously very important. Kids don't start out in a sport wanting to practice, they want to play the game. We just need to keep things in perspective. Practising and developing skills make a sport so much more fun and rewarding. Mixing skills and competition? Seems like a great idea to me.
Things to take away. Skills are cool. Skiing well feels great. Let's take the time to develop great skiers. If we do that, we will also develop great ski racers! ~ Kip
Kip Harrington,
OST Head Coach & Performance Director
kipharrington@alpineontario.ca