January 14th Racer Chaser Tickets Now on Sale!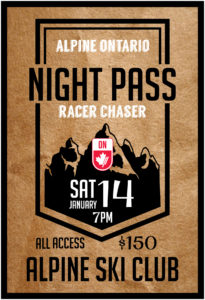 On January 14th, 2017, 7pm – 10pm, the entire ski community is invited to the new Alpine Ski Club for an evening that will kick off the 2017 ski season. Guests will be entertained by the Shane Cloutier Band, and able to enjoy fabulous fare from Men with Knives. And, last but not least, a live auction featuring one-of-a-kind experiences.
For Tickets
Tickets are $150 each. You can buy tickets directly through a member of the racer chaser committee, at the AOA office, or online by clicking here .
To Donate Auction Items
AOA is seeking silent and live auction items for the Racer Chaser on January 14th. Please contact communications@alpineontario.ca  if you have an item or service you would like to contribute to the evening.  All contributions can be mailed to Stacie Smith, Alpine Ontario Alpin, 39A Stewart Road, Collingwood, ON L9Y 4M7.