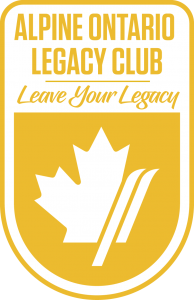 Did you know that Alpine Ontario budgets approximately $600,000 for fundraising each year to fulfill our commitments as a Provincial Sport Organization? In order to meet this budget Alpine Ontario is dedicated to fundraising initiatives that are in keeping with Alpine Ontario's vision to be recognized as a world-class organization and the provincial leader in Canada for alpine, para-alpine and ski cross racing.
One such fundraising initiative is the Legacy Club.  The Legacy Club allows individual donors to donate a sum of $5,500 with proceeds going directly to the following core areas.
The Ontario Ski Team
the U16 High-Performance Program
Club Excellence Program
Divisional Subsidies
Provincial Training Opportunities
These areas strike to the heart of Alpine Ontario's Core Values of Excellence, Passion, Competition, Fun, Safety, Sportsmanship, Fair Play, and Personal Development.
The following chart shows you exactly where the money is directed.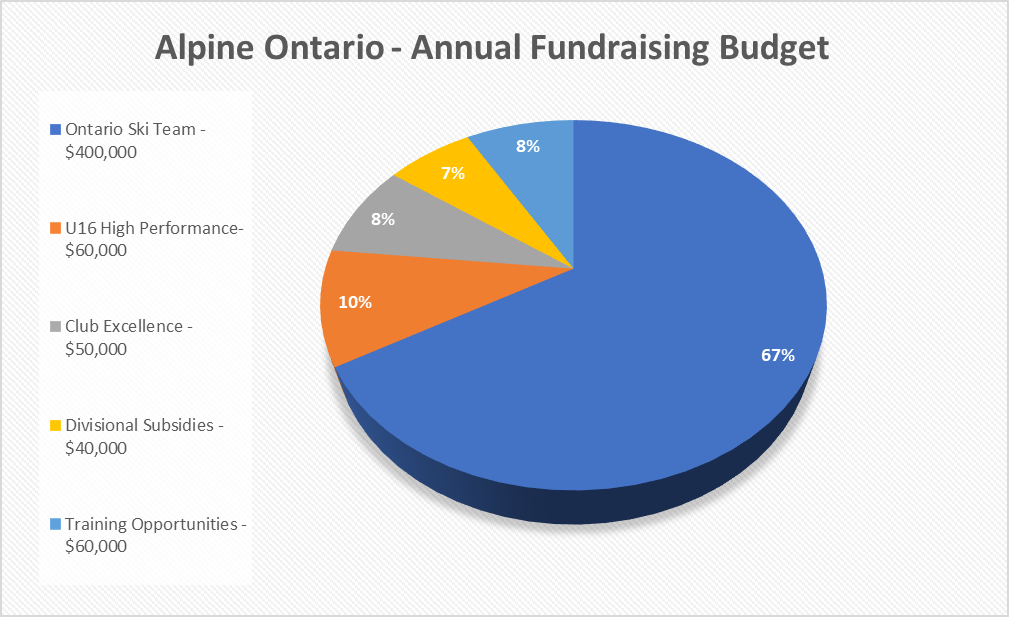 The Ontario Ski Team (OST) since its inception in 1977, the OST has been a leader in ski racing development in Ontario, Canada, and the world. Having athletes perform at a world-class level is a priority at the National level. The province of Ontario shares a similar value and believes that no matter the sport, we can produce the greatest athletes in Canada.  As the Provincial body for Para, Alpine and Ski Cross we are tasked to field and fund the brightest young stars and pave the way for their success both in the short and long run. Many graduates of the OST have continued to race and achieve international success on the Canada National Ski Team.  This past spring the hard work and training paid off for Declan McCormack from our very own OST and Osler Bluff Ski Club with his qualification to the Canadian National Development Team.
The U16 High-Performance Program (HPP) was initiated in 2016 through consultation with Alpine Canada, The Ministry of Tourism, Culture, and Sport, Alpine Ontario member clubs and other Provincial Sport Organizations in Ontario. The collaborative program is designed to work alongside club and regional programs throughout the province. The goal of the U16 HPP is encouraged athlete retention by bringing the best and most committed athletes together under common leadership, provide improved athletic advantages and reduce costs by taking advantage of local resources.  The 2017-18 ski season gave Alpine Ontario its first measurable outcomes from the program.  Mackenzie Wood from Georgian Peaks qualified for Team Canada at the Whistler Cup based on his results at the National Championships. Possibly the most encouraging measurable outcome of the U16 HPP is 80% of the graduating athletes have purchased FIS cards for the 2018-19 season that far outshines the national retention average of 26% at this age.
Club Excellence (CE) was originated in 2017 and identifies four main pillars of improvement within the sport of Alpine Skiing; Year one was focused on coach education development with Alpine Ontario becoming the best province in Canada with respect to graduating coaches from trained to certified at both the entry and development levels.  The project also raised over $35,000 for clubs in Ontario.  Year two will be geared towards Athlete Development with participating clubs given support and resources to excel at both building their base and retaining athletes at U14, U16, and U19.
Divisional Funding provides each of our four divisions: Southern Ontario, Northern Ontario, National Capital and Lake Superior with $10,000. These funds are used to help in the development and implementation of grassroots programs in each of the regions.
Targeted Provincial Training Opportunities consist of several training days across the province, aimed to provide well-funded opportunities for athletes to hone their skills on some of Ontario's most technical terrain. In some cases, athletes will have the opportunity to train and race alongside the Ontario Ski Team and learn from some of Alpine Ontario's brightest coaches.
---
What will you receive for your Legacy Club donation?
Legacy club members will receive privileged updates throughout the 2018-19 calendar year. These updates will include up to the minute information about partnerships, special events, and race results.  As well as the following VIP offerings Courtesy of Alpine Ontario:
Official Tax Receipt for donation
Legacy Club Recognition Plaque proudly displayed at Alpine Ontario's head office in Collingwood, Ontario.
Limited Edition Alpine Ontario Legacy Jacket
VIP Ticket to Alpine Canada's Podium Club kickoff October 4th, 2018
VIP ticket to Alpine Ontario Event at 2019 WC Ski Cross at Blue Mountain, January 25-26th, 2019
VIP Ticket to Ontario Ski Racing Awards, April 18th, 2019
---
Please contact Bill Reeves, Alpine Ontario Partnerships & Events Manager to learn more.
breeves@alpineontario.ca
705-444-5111 x 121