New Partnership with Bragg Gaming Group Inc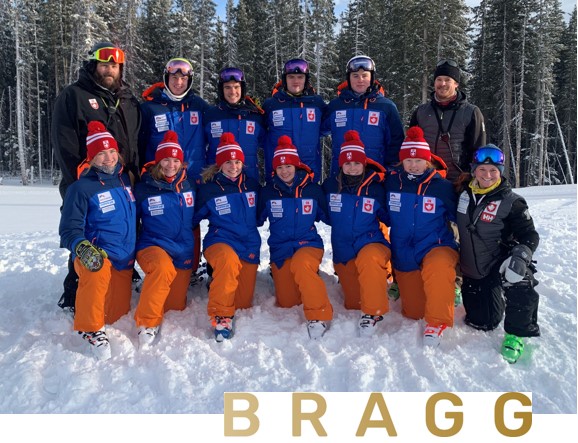 Collingwood, ON (March 12th, 2021) – Alpine Ontario is pleased to announce Bragg Gaming Group Inc. has joined our family of corporate partners as the official technology partner for Alpine Ontario.  Bragg Gaming has stepped forward to support the journey of the Ontario Women's Ski Team, providing financial support in a year that has been so adversely affected by the current pandemic.
"We're incredibly excited to welcome Bragg Gaming into this new partnership with Alpine Ontario," said AOA Executive Director, Bill Reeves.  "Our efforts to support female athletes in their pursuit of winning at the highest level is something that AOA is extremely proud of and we look forward to continuing that tradition with Bragg Gaming as a valued partner".
Covid-19 has had a material impact on our athletes' ability to train and compete at the highest of levels, both locally and domestically. To ensure our athletes remained competitive, the Ontario Ski Team required incremental funding to support their revised training and competition plans. The incredible support from Bragg Gaming demonstrates their commitment to supporting female athletes in high performance sport.
"The opportunity to support such amazingly dedicated female athletes is truly inspiring to all of us at Bragg Gaming," said the CEO of Bragg Gaming Group, Adam Arviv.  "We look forward to watching them pursue their goals and inspiring the next generation of female ski racers!"
Bragg Gaming will be on prominent display at all AOA OCUP races and will continue to work in collaboration with AOA on initiatives that inspire many more female athletes to continue the pursuit of their ski racing careers.
-END-
About Bragg Gaming Group Inc. (TSX:BRAG, OTC:BRGGF) is an innovative B2B online gaming solution provider.  Bragg offers a turnkey solution for retail, online and mobile iGaming platform, as well as advanced casino content aggregator, sportsbook, lottery, marketing, and operational services.
About Alpine Ontario (AOA)
AOA is the provincial governing body for the sport of alpine ski racing in Ontario. Alpine Ontario's newly refined mission is to provide leadership and structure for high quality, sustainable and affordable programming and to communicate the competitive, recreational and lifestyle benefits of ski racing to the community. AOA represents four divisions, 40 member clubs, and over 5,000 active athletes, coaches, and officials (volunteers). AOA coordinates several successful programs across the province and continues to foster the development of "state of the art" ski-racing programs from the grassroots level to the elite level.