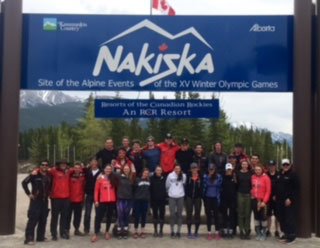 Ontario Ski Team Training Camp
The Ontario Ski Team concluded its 2nd annual team selection camp this past Friday in Nakiska, Alberta. Fourteen new athletes joined the current OST roster for five days of intense on and off hill training.
The conditions in Nakiska were unseasonably warm with temperatures mid-way through the camp reaching a sweltering 24 degrees! Athletes and coaches hung their hats (and skis) in Canmore and enjoyed the 45 minute commute each morning into Nakiska which hosted the 1988 Winter Olympic Alpine events.
The week was hugely beneficial and an opportunity for the best men and women in the province to come together to get to know each other and of course our own OST staff. The athletes were tested throughout the week, both on their ability on the hill with full length slalom and giant slalom timing, and also off the hill with a battery of physical fitness tests that allowed athletes to see where they stood from a conditioning perspective.