Q&A with OST's Kobe Villeneuve
By AOA Communication Manager, Kristin Ellis – October 2nd, 2019. 
This interview is part of a series of Q&As with each member of the Ontario Ski Team.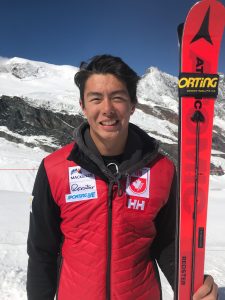 This week we talk with Kobe who is yet another Ottawa based moving to the OST. Kobe is entering his 3rd year of FIS after spending two years with the NCO FIS team under the eye of coach Joey Lavigne.
Q: Hi Kobe. Your last name seems very familiar. Is your whole family involved in ski racing?
A: Yes, my parents have always volunteered. They would be considered part of the main consistent group of parents who support all the Camp Fortune races. My dad was also on to the NCO Board of Directors when I joined that team. This past spring they ran the NCO golf tournament.
Q: And you also have a brother in FIS?
A: Yes, he's in his first year of FIS with the NCO Team.
Q: Have you finished high school?
A: Yes, I'm skiing full time this year while applying to Universities.
Q: When did you realize last season the OST was looking at you?
A: Last April my coach (Joey Lavigne) mentioned it. I didn't really think I was a contender but then I had such a good finish to my season. I had my four best results of the season in April during the Nakiska and Panorama FIS races.
Q: That's great – so many Ontario athletes did well in that series. Looking ahead to this year have you already applied to University?
A: Yes, I was accepted last year at both Queen's and McGill Commerce along with the Math/Commerce program at Waterloo/Laurier. I decided to defer at McGill as it demands the highest marks (around 95%) to get in. I felt I should grab this offer when it came in the spring just in case my average dropped. As it turns out I finished up with the same marks as I had when I applied so I can now relax knowing I'm accepted at McGill.
Q: It's quite amazing how so many of you on the OST balance very high marks and FIS. How many days of school did you miss in grade 12?
A: Probably about 100.
Q: Did you go to a sports school?
A: I went to John McCrae Secondary School in Barrhaven. While it is not specifically a sports school it has a group of teachers who manage the high-performance athletes. Almost ½ of the school are athletes so the teachers are really accommodating to us and very supportive. I've also done two courses online each year and a summer credit to balance skiing and my education.
Q: What about NCAA schools?
A: I haven't yet applied but will write my SATs this October.
Q: Are you involved in any other sports?
A: Yes I played a lot of hockey. I played at the AA level up to the age of 13. After that age, it becomes tricky to do with skiing. I also played a lot of rugby which is a great off sport for skiing as it is great for strength and explosive movement.
Q: What about a summer job, did you work this past summer?
A: I'm just about to get the Can Fit Pro PT certification and then I'll be starting on as a personal trainer in my gym.
Q: What gym is this?
A: The Fitness Lab, it's an official partner to the CSIO (Canadian Sport Institute of Ontario) which is the home base for the OST.
Q: And how often do you work out a week?
A: I'm probably close to 6times a week as I've really had to work on getting bigger this year. One of my main weakness last season coming off FIS was my size. I've been told I'm too light – I'm 6'1 and was racing FIS weighing 150lbs so I had trouble generating power and explosion. I'm now 173lbs so I've gained 20lbs this spring alone.
Q: That's amazing! Do you follow the CSIO plan?
A: Yes along with my personal trainer. He adapts it somewhat.
Q: What are your goals for this coming season? 
I'm eyeing the top 30 in SL and GS on the Nor-Am circuit and would love to see myself in the top 3 in Ontario FIS races, top 5 in the Quebec SuperSeries. Aside from skiing, it would be amazing to ski for a Div. 1 NCAA school while pursuing a degree in Commerce.
Q: So why skiing and not hockey? What do you love about this sport?
A: I guess it is the community. This is a sport where we basically live together for ½ of the year. The friendships we form seem to be tighter than some other sports. We don't get to choose who we are with either so that sort of builds interesting friendships and I find skiers to be positive people.
And what are your parting words of advice?
A: Don't let the small failures affect you. Find the camaraderie and the ability to forget the failures and move on.
~~
To read the other OST interviews or to learn more about this team please visit alpineontario.ca/ontario-ski-team