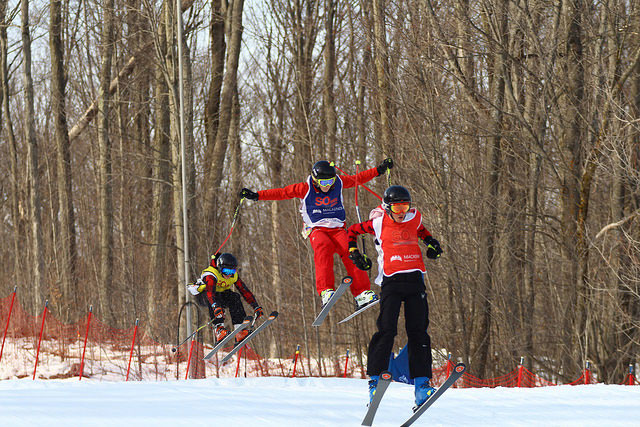 Ski Cross Wrap Up
BY: Paul Plotz
Snowboard Ontario, led by Janet Richter and her team of officials and volunteers and coaches were integral in the success of this year's Ski Cross (SX) season! Because of all of their hard work SX saw six separate competitions hosted at four different venues during the 2015/16 ski season.
Sir Sams Jan 16, 2016 (Event #1)
Sir Sams Jan 17, 2016 (Event #2)
Craigleith Feb 6, 2016 (Event #3)
Horseshoe Valley Feb 21, 2016 (Event #4 & 5)
Beaver Valley Feb 28, 2016 (Event #6) and Provincial Championships
There were between 8 and 30 athletes participating at the various events. A little light compared to the Western provinces but with greater promotion and encouragement we can aim to keep pace with the Alberta and BC. Nonetheless the East was host to the Canadian Junior Championships and two FIS events – both held at Mont Ste Marie in Quebec.
It was fantastic to have the East host the Junior Nationals for the first time – we hope this will be the chosen event location moving forward. Previously the Junior Nationals were held at the same time and same venue as the Senior National Championships. Alpine Canada is recognizing that the East is developing the discipline and we hope to build and East vs. West and perhaps even a Can-Am series moving forward.
Ontario is working with Quebec and Nova Scotia to help develop this series. We are also working to bring back the World Cup Ski Cross events to Blue Mountain. The World Cup athletes and coaches loved the venue and the crowds that came out to watch. They still talk about it on the current circuit.
All results can be found here: http://ontariosnowboarders.ca/events/results-from-past-events