SOD & AOA Athletic Meetings & Presentations
Submitted by AOA Competition Director, Robyn Skinner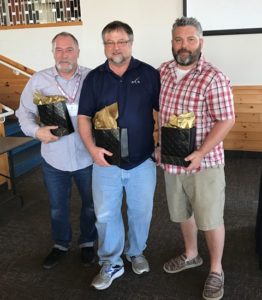 Spring is the time of year for renewed growth and energy – something that can be in short supply after a long winter in the ski industry!  Our members never cease to amaze me with a great turn out this past weekend at Caledon Ski Club with 50 attending the SOD Spring Meeting, and approximately 40 at Sunday's AOA Spring Athletic Meeting.
Tes Hynes and Suki Chapman led the weekend with the SOD Saturday meeting which included updates on all the age groups, SX and Officials followed by some very productive breakout sessions in the afternoon.  Thank you to the AOA athletic consultants: Bennett Carter U12 SX; Jacques Reid U14 and Graeme Buckrell U16 who presented and assisted at the respective stations. Thank you as well to the representatives from the SOD committee – Paul Poltz, SX and Dave Hopper, Officials.  In total 17 clubs were represented on Saturday. The day included a send-off and thank you to retiring SOD Committee members Ron Warren, Dave Hopper and Jeff Jones – all of whom are stepping down from their duties on the SOD Committee. Thank you!
On both days there were trends and great athletic discussions including:
Decrease the number of races with an emphasis on increased training to improve skills and fundamentals.  It has been noted that the Ontario Ski Team and Regional FIS teams are spending too much time on the basic skiing skills that should be engrained by the Train to Race stage (ages U14, U16).
'Terrain' (meaning SX terrain of berms and bumps) was infused in to some SOD U12 races this year with great success. The AOA SX Plan will be entering its 2nd year and plans to expand the use of SX terrain in to traditional alpine basic fundamentals across the province which could contribute to increasing the provincial finish rate. It was also noted that the provincial finish rate is a weakness in Ontario.
Ontario slalom results were discussed as a point of concern when looking at the past 5 years of results at the Can Ams and U16 Nationals competitions. It was noted that the top Canadian SX athletes winning Olympic medals were also the top SL skiers during their alpine careers.
Strengths were also celebrated including: strong results on the AOA regional U16 and U19 teams; the U14 Can Am team building process using 'value statements'; LSDA athlete selection to the OST training group – a first in 15+ years.
We have much to celebrate as a province and we are making some gains thanks to the leadership from Kip Harrington, OST Head Coach & Program Director, and the members of the Alpine Ontario Athletic Committee (AOAC).   Thank you especially to Dave Hunt, NOD Representative, Doug Robinson, LSDA Representative, Joey Lavigne, U19 Consultant and Jennifer Stielow, ACA Senior Manager/Coach Education for travelling from a far to attend these meetings.
Please find copies of both days presentations here.
Thank you,
Robyn Skinner
Competition Director
Alpine Ontario Alpin
rskinner@alpineontario.ca
(705) 444-5111 x128