Alpine Ontario Alpin (AOA) works closely with Alpine Canada Alpin (ACA) to ensure AOA coaches certifies as many coaches as possible and continues to train and encourage this group. Alpine Ontario is responsible for supporting ski coaches across Ontario in several ways including; hosting an annual coaches conference, hosting entry level courses, and visiting ski clubs throughout the Province.
Certification and Education
CSCF COURSES
AOA hosts over 30 CSCF Level 1 Coaching Clinics each winter under the leadership of Sarah Edwards, the AOA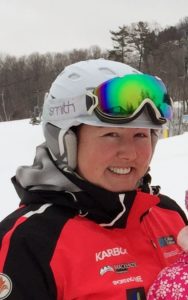 Entry Level and Development Level Coaching Course Coordinator. 
Sarah has been an alpine ski coach for 23 years. She has been the Entry Level and Development Level coaching course coordinator for Alpine Ontario for 10 years. She organizes and delivers entry level and development level courses for the PSO with a team of amazing facilitators. Her experience includes being a head coach for 11 seasons and currently is the lead coach for the U8/10/12 program at Mansfield Ski Club. She is a performance level certified ski coach, level 3 ski instructor and level 3 ski official and has worked with athletes and coaches of all abilities throughout Canada. Sarah has two young ski racers of her own ages 6 and 8 and is committed to educating kids and parents on the importance of physical literacy and keeping the fun factor in sport for life!
Please visit www.canskicoach.org to register for the following Entry Level Coaching Courses:
Mt St Louis – Dec 8-10
Devils Glen – Dec 8-10
Beaver Valley – Dec 16-18
Blue Mountain – Dec 16-18
Calabogie – Dec 22-24
Caledon – Dec 26-28
Craigleith – Dec 28-30
Mt St Louis – Jan 5-7
Hockley Valley – Jan 5-7
Holimont, NY – Jan 5-7
Caledon – March 3-5
Osler – March 9-11
Hockley Valley – March 9-11
Craigleith – March 10-12
Devils Glen – March 10-12
Georgian Peaks – March 14-16
Mt St Louis – March 16-18
Mansfield – March 23-25
ENTRY LEVEL (EL) COURSES
Coaches should become familiar with the related documents here, including the AIM2WIN Alpine Canada Long Term Athlete Development Plan; the NCCP website; CAC (Coaches Association of Canada), the CAO (Coaches Association of Ontario) and the Code of Ethics.
To register for a course please go to www.canskicoach.org or click here
Please note the CSCF mandates that coaches participating in the CSCF courses must wear helmets.