U16 HP Weekend Recap
As submitted by Graeme Buckrell, 
Head Coach Osler Bluff Ski Club & U16 Athletic Consultant on the AOA Athletic Committee. 
This past weekend AOA hosted the fall U16 High Performance program led by Heather Metzger and Graeme Buckrell.  The weekend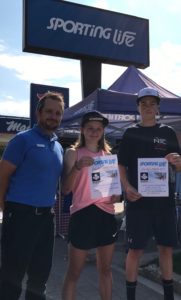 started off with an athlete parent meeting hosted by AOA Executive Director Scott Barrett and including details on how the U16 2017-18 season would unfold.  Following this parents were asked to say their goodbyes as athletes broke out of their comfort zone with some team building Karaoke.
On Saturday am the athletes were tested, focusing on jumping and landing as well as the Sporting Life "Sweet" Blue Mountain Grind Challenge. This event was a gruelling run up Blue mountain Grind trail highlighted but two outstanding athletes that completed the challenge in 13:04 for Emma Gosselin and 13:09 for Mack Wood.   It was a very fun impressive test and something we should be doing much more of in our area.
Saturday afternoon the athletes reviewed the fall fitness program designed by Dr. David Bentley from the CSIO (Canadian Sport Institute of Ontario).  Sarah Applegarth from Active Life Conditioning (Collingwood) and Stefan Overgaard from SXS Fitness (Toronto) took the athletes through the programming to give them clear instruction on how they can implement the program and modified any needs for injured or athletes.  The other athletes were able to chill in Georgian Bay to cool down while this was going on.  In the evening the athletes participated in a fun team-building event hosted by SoCo Mobile Pizza and make their own pizzas. The day was capped off with an incredible fire chat with Ontario Ski Team head coaches Katie Twible and Cam Mackenzie.
Sunday the athletes rode the 6 hour of Gibraltar mountain bike race track followed by Pilates and core strength from local expert Lisa Rennie.  All weekend Erin and Orin Smith from Totem Wellness were on site and helpful working with athletes with injuries and helping them keep on track. A big thank you as well to Kevin Gosselin of Osler Bluff Ski Club & Duncan Gibson- Maclean from AOA for helping with the kids and activities all weekend long – you are both well-liked by this group of high energy kids!
Lastly a special thanks to the Bambrough family for welcoming such a large group of athletes into their homes.  This was truly a very unique experience for these athletes and a wonderful team building experience.  Kevin and Helen were outstanding hosts who helped every step of the way.  If you ever need a legendary corporate retreat or private wedding, www.bluemountainheaven.com is the way to go.
The next gathering for the U16HP athletes is on November 4th at the upcoming AOA Fitness Testing. Parents are encouraged to attend the Sport Education Sessions also taking place at the same time as testing. The parent education sessions will be hosted by John O'Sullivan a world renown speaker, CEO & Founder of Changing the Game Project. Please find more information here.
Please visit the AOA Facebook page for video & photos from the weekend>>