U16 Nationals Team Ontario Announced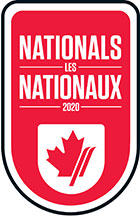 February 27, 2020 (Collingwood, ON) — Please join us in congratulating the following 28 athletes named to represent Ontario at the upcoming U16 National Championships. The competition will take place in Sun Peaks, BC March 9-14th.
WOMEN 
BYERS, Abbygail – NATIONAL SKI ACADEMY
CLARK, Elli –  TORONTO SKI CLUB
*FRY, Kathryn –  DEVIL'S GLEN
*HARVEY, Marisol –  NATIONAL SKI ACADEMY
*HILLIER, Kyra – OSLER
*MACDONALD, Georgia – OSLER
*MACGREGOR, Kate – GEORGIAN PEAKS
NICOLICI, Andreea – CAMP FORTUNE
NOAKES, Alexis – GEORGIAN PEAKS
OLSEN, Natasha – CRAIGLEITH
*PODIVINSKY, Olivia – GEORGIAN PEAKS
*ROBERTSON, Coco – GEORGIAN PEAKS
SEWELL, Lily –  NATIONAL SKI ACADEMY
WAYLAND, Lauren – TORONTO SKI CLUB
MEN 
*ARMSTRONG, Duncan – GEORGIAN PEAKS
*ARMSTRONG, Filip – TORONTO SKI CLUB
BARTHOLOMEW, Colton – CRAIGLEITH
BRACKETT, John – CRAIGLEITH
*BUCKRELL, Jayden – OSLER BLUFF
CAMPBELL BRUNKE, Wyatt – NATIONAL CAPITAL OUATOUAIS
*DAVIDSON, Jacob – GEORGIAN PEAKS
*HUNTER, Jack – GEORGIAN PEAKS
*KISS, Tanner – ALPINE
*MURPHY, Max – CRAIGLEITH
RODRIGUES, Andrew  – DEVIL'S GLEN
*STRYJNIK, Tristan – CRAIGLEITH
WEINGUST, Ben  – CRAIGLEITH
*YOUNG, Taiga – CRAIGLEITH
* indicates participation in the AOA U16 High-Performance program.
Leading the group of athletes and five coaches will be AOA's High-Performance Director Kip Harrington who also oversees the Ontario Ski Team and the U16 and U19 High-Performance Programs for Ontario.
U16 AOA Consultant Graeme Buckrell represents the U16 program for AOA and comments, "Congratulations to the athletes who qualified under some challenging conditions on the tough race hill in Loch Lomond, Thunder Bay.  Our sport is in a very good position when we have so many amazing U16 athletes that go well beyond the ones who qualified for the Nationals event.  Elimination series that come down to 4 days are always tough on athletes especially if they do not achieve their goals.  I have been around so many great athletes over the years who have missed qualifying for this event and it only fuelled their hunger to work harder and prepare for a career in FIS racing. Best of luck to the athletes representing Ontario."
In addition to the 28 athletes selected above AOA will be sending a total of 30 men and 30 women to the season-ending U16 Eastern Finals at Mont Tremblant on March 26-29th. Details on this event will be coming next week.
Details on the U16 National Championship can be found here u16nationals.ca
– end –
For more information: 
Robyn Skinner
AOA Competition Director
rskinner@alpineontario.ca
705-444-5111 x 128