PROGRAM DESCRIPTION  
This U16 High Performance Program (HPP) is an initiative that started in 2016 with consultations with Alpine Canada Alpin (ACA), The Ontario Ministry of Tourism, Culture, and Sport (MTCS) and the AOA member clubs. The program is collaborative in design, to work alongside club and region programs and in no way replaces the existing club programs, their club/region camps and/or training days. Athletes in the U16 Program remain with their existing teams and clubs.
The goal of the U16HPP is to bring the best of the best athletes at the U16 level (born 2003 and 2004) together under common leadership to give these athletes improved athletic advantages while reducing costs and taking advantage of local resources.
Please read this page in full before clicking on the APPLY button below.
PROGRAM TIMELINES**:
MARCH 1: Application process opens – see APPLY FOR PROGRAM link now open at the bottom of this page.
APRIL 2: Application process closes.
APRIL 9: Preliminary athlete selection
APRIL 21: Dryland fitness testing, York University, Toronto – Mandatory Participation for all those who apply for this program
MAY 1: Athlete selection announced to the families.
MAY 4: Athlete acceptance to AOA in writing with program deposit
MAY 11-13: Spring Dryland & Skills Camps, Kilcoo Camp – Mandatory Participation
JUNE CAMP*:  10-Day multi sport and on-snow Whistler camp – departure June 27 return July 6
JULY DRYLAND CAMP: 5-day skier specific program, based in Collingwood (optional, dates TBD)
AUGUST 12-28 CHILE CAMP*: 14 –Day on-snow Chile camp.
FALL WRAP UP RETREAT: Mandatory weekend retreat in the Collingwood area (date & location tbc).
FALL FITNESS TESTING: Mandatory attendance for all program members. Date & location TBD.

*Athletes must attend one of the two on snow camps to participate in the program. Ideally, AOA would like athlete's to participate in both camps.
**While AOA will do its best to stick to these dates the timeline is subject to change as camps and flights are booked. Please stay close to this web page as we build our the 2018 program. Thank you. 
Each athlete will also be provided with the following:
Individual ski-specific fitness program with monitoring
Access to a mentor with defined parameters for both the mentor and the athlete to follow
Prehab screening with Totem Wellness
SELECTION DETAILS
Will be based on athlete rankings at OCUP Mid Winters, OCUP FINALS, CANAM Finals and the April 21st fitness testing.  Minimum fitness standard must be achieved-see below for standard.  (10% hold back for coach discretion).  A maximum of 40 athletes will be accepted to the program.
FITNESS STANDARD MINIMUM
Women Beep Test-9, Box Jump-50 40cm box, Toes to Bar-4, Hex Rail-x3 both ways in under 30 sec.
Men Beep Test-9.5, Box Jump-55 40 cm box, Toes to Bar-4, Hex Railx3 both ways in under 30 sec.
APPROXIMATE COST  
Core program ($630) + A June Camp ($1800/$2000) & B August Camp ($4000) = $6430/$6630
Core + A June Camp = $2430/$2630
Core + B August Camp = $4630
Add July Dryland Camp – $350
All flights are in addition to these fees.
Athletes must attend camp A-Whistler or B-Chile.
Prices Subject to change.
U16 SELECTION COMMITTEE MEMBERS
Heather Metzger – U16 Head Coach, Georgian Peaks Club
Graeme Buckrell – Head Coach, Osler Bluff Ski Club
Kip Harrington, OST Program Director and Head Coach
Jacques Reid, U14/U16 Head Coach, Craigleith Ski Club
Robyn Skinner, AOA Competition Director
OUTCOMES
The main outcome of the U16 Program is for AOA to strengthen its position and performance at the U16 level at higher level competitions. To do so AOA recognizes it must create a more consistent, competent athlete which is a collaborative initiative between clubs, regions, and AOA.
AOA is seeking to develop high-performance athletes and well-rounded human beings. These athletes will be able to use skills that will help them to adapt to any environment, thus enabling them to focus on their personal performance in any given situation.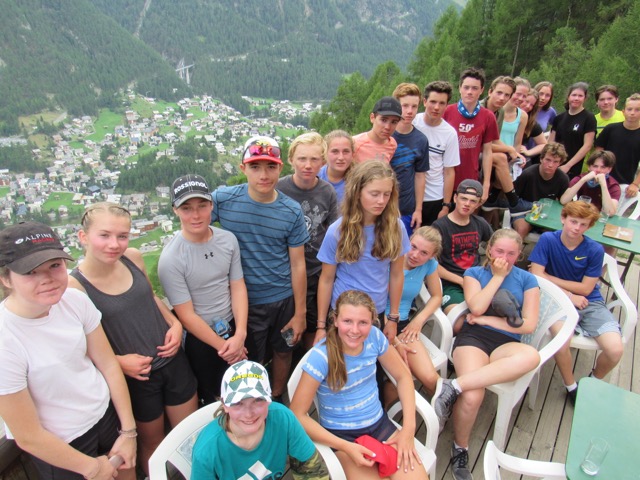 "The 2017 AOA U16 HP Zermatt camp was a game changer for our daughter. She connected with the coaches who identified explained and provided solutions in such a way that both engaged her and made her understand what she needed to do, and why it needed to be done that way. Ultimately the camp made it clear that at this stage of her skiing career, we need to ensure that she is receiving the highest caliber coaching to help her reach her full potential in this sport." — Parent.
"To my ski coaches: Thank you for everything that you provided us with on the Fall Dryland weekend in Collingwood. I had a lot of fun with all of the activities that we did and felt very productive and satisfied with my results, I especially liked the mountain biking! Once again thank you for everything:)" — Athlete.
"The program, and especially the trip to Zermatt, exceeded our expectations in so many ways. It was a tremendous opportunity to train and spend time beside World Cup racers from around the world (including the Canadian team!). Seeing the skill, effort and commitment that is required in this sport was eye opening for most. We felt so confident by the leadership provided at the camp, and the coaching was exceptional! Thank you to the entire AOA team. Although this is a new program, it seems to be moving ski racing in Ontario in the right direction and we certainly hope it will continue in the years to come." — Parent.