(COLLINGWOOD, ON) May 31ST, 2019 —Alpine Ontario Alpin is pleased to announce a three-year platinum partnership with Fasken, a full-service law firm with offices in Canada, the U.K., South Africa and China. Fasken was a key sponsor of the 2019 Ladies Nor Am Series that was held this past January in Collingwood, Ontario and was a resounding success with the American competitors and visitors. Fasken will be present over the next three years with branding, including racing bibs, flags and banners alongside the racecourse and at awards presentations. Approximately 130 jackets will be branded with the Fasken logo including all teams representing Ontario from the U14 to FIS level as well as all AOA staff uniforms. The AOA platinum partners are Fasken, Rossiter Boat Company, Sporting Life and Windfall Mountain Homes.
Martin Denyes, Regional Managing Partner for Fasken in Ontario, says "We are excited to be joining forces with Alpine Ontario and supporting athletics and the grassroots development of sport across Ontario. We wish AOA great success in the coming years." 
Bill Reeves, AOA Incoming Executive Director adds, "Fasken is a wonderful addition to our platinum level partners. It is especially rewarding to see this law firm join us after their involvement in the 2019 Ladies Nor Am Series. We are thrilled to have them on board for the next three years!" 
-end-
About Fasken
Fasken is a leading international law firm with more than 700 lawyers and 10 offices on four continents. Clients rely on us for practical, innovative and cost-effective legal services. We solve the most complex business and litigation challenges, providing exceptional value and putting clients at the centre of all we do. For additional information, please visit our website at fasken.com.
MAY 30TH, 2019 (COLLINGWOOD, ON) –– Today Alpine Ontario Alpin (AOA) and the Southern Ontario Division (SOD) are pleased to announce the members of the 2019-20 SOD Ski Team (ST). The SODST is entering a new era whereby skiers are required to meet both performance and commitment standards for team selections. The direction is in keeping with AOA's overall strategic plan (2016-2020) and the organizations newly formed High-Performance Plan being led by Kip Harrington, AOA's High-Performance Director and Robyn Skinner, AOA's Competition Director.  The 24 athletes named represent some of the very best graduating U16s and 2nd-year FIS athletes in Ontario and Canada!
SODST Head Coach Jacques Reid comments, "Jenn, Bebe and I are really excited to be working with such a talented group of athletes. We know many of them have big goals and aspirations and we will do everything it takes to support them. In the last few weeks, most of the athletes have started on their physical preparations to get ready for the 2019-20 ski season and we have 100% attendance for our first camp on snow in El Colorado, Chile in August which is amazing! Many families made significant sacrifices to make this happen and we appreciate their support."
Congratulations to the following athletes:
WOMEN'S TEAM
Sydney Basil –  Alpine Ski Club
Gabby Eastwood – Georgian Peaks Club
Emma Gosselin – Osler Bluff Ski Club
Cadence Kiss – Alpine Ski Club
Zoe Priest –  Mansfield Ski Club
Emma Reid – Toronto Ski Club
Natalie Stewart – Craigleith Ski Club
Esmee Taylor – Craigleith Ski Club
Kylie Thompson – Craigleith Ski Club
MEN'S TEAM
David Bambrough, Osler Bluff Ski Club
Kyle Blandford, Georgian Peaks Club
Robert Doman, Osler Bluff Ski Club
Brian Donnelly, Craigleith Ski Club
Griffen Hanson, Osler Bluff Ski Club
Thomas Hayward, Craigleith Ski Club
Liam Hickey, Craigleith Ski Club
Reid Kappele, Craigleith Ski Club
Colin Kress, Georgian Peaks Club
Laz Rifkin, Holiday Valley, USA
Ellis Reid, Craigleith Ski Club
Jamie Sills Schvarcz, Mansfield
Aleksas Valadka, Georgian Peaks Club
Aidan Walters, Mansfield Ski Club
Duncan Waugh, Beaver Valley Ski Club
Please learn more about the SOD Ski Team by visiting www.sodskiteam.ca
For more information:
Jacques Reid
SODST Head Coach
705-888-5544
jski@alpineontario.ca 
This is a unique one-of-a-kind event where you can receive training in the National Coaching Certification Program (NCCP) in a number of different sports and contexts under one roof!
The Super Clinic affords coaches—from high performance to grassroots—with an opportunity to gain sport-specific technical abilities, plus leadership and decision-making skills, opening doors to new opportunities in both coaching and life.
Coaches of athletes with a disability should take note of the June 7th 5:00 pm – 7:00 pm TRANSFORMATION WORKSHOP. Register here www.caochesontario.ca/durham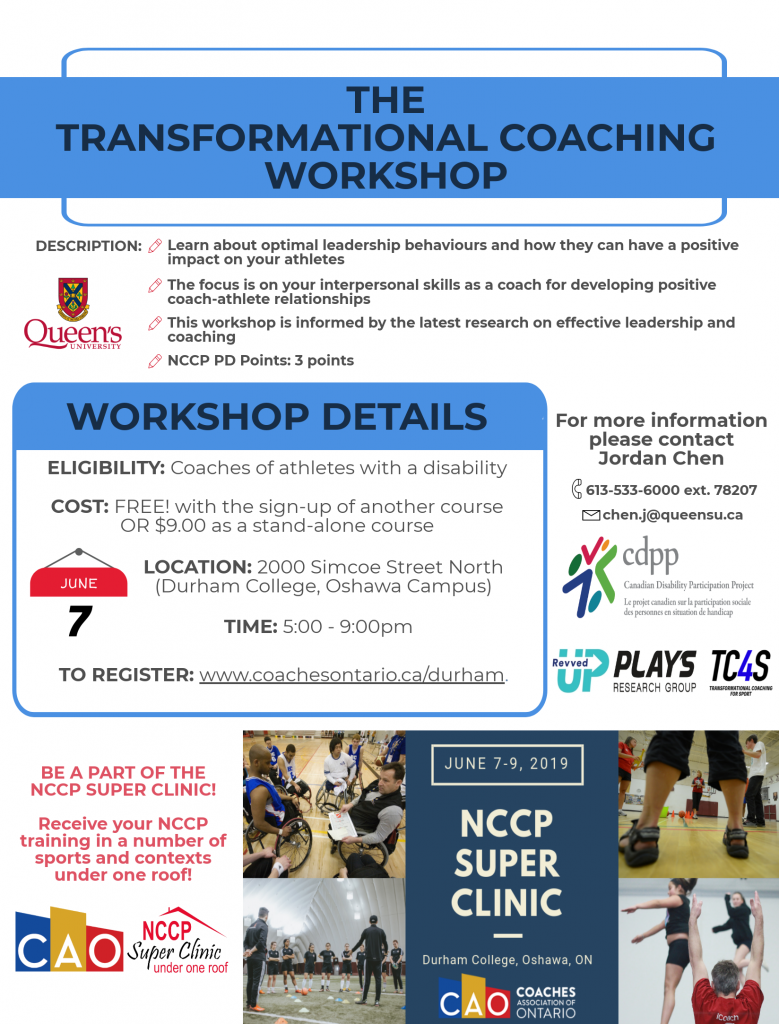 OSLER COACH, MARTIN LOCHRAN WINS GRASSROOTS COACH OF THE YEAR
Alpine Canada to celebrate winners at 100th Anniversary galas in November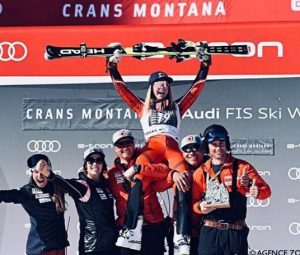 Calgary, Alta. (May 13, 2019) – Canada's ski community had their say, with thousands submitting nominations and recording their votes for the Audi 2019 Canadian Ski Racing Awards presented by Helly Hansen, which closed on April 15.
The annual awards recognize the best in Canadian ski racing performances and contributions throughout the past season. All votes and nominations were tallied and reviewed by the Audi Canadian Ski Racing Awards' Selection Committee, and the recipients are:
Alpine Male Athlete of the Year: Benjamin Thomsen
Alpine Female Athlete of the Year: Roni Remme
Para-Alpine Male Athlete of the Year: Kurt Oatway
Para-Alpine Female Athlete of the Year: Frédérique Turgeon
Ski Cross Male Athlete of the Year: Brady Leman
Ski Cross Female Athlete of the Year: Marielle Thompson
Volunteer of the Year Award: Lloyd Steeves and Donna Briggs (honourable mention: Rob Osborne)
Builder Award: Fred Bosinger
Helly Hansen Resort of the Year: Station de ski Mont-Édouard
Club of the Year: Banff Alpine Racers (honourable mention: Big White Ski Club)
Coach of the Year (high-performance): Jay Keddy
Coach of the Year (grassroots): Martin Lochran (Osler Bluff Ski Club)
Minogue Award of Excellence: Riley Seger
Fan Favourite: Frédérique Turgeon
"Congratulations to all of the winners of the Audi 2019 Canadian Ski Racing Awards. Audi Canada is proud to celebrate and recognize those who embody our passion for performance, on and off the hill," said Gene Fong, Director of Marketing for Audi Canada. "Your dedication to top the podium, foster the ski community and advance ski racing makes us proud to support our national teams and alpine programs."
This year's Helly Hansen Resort of the Year honouree hosted the 2019 Canadian Alpine Championships in March.
"Congratulations, Mont-Édouard, on earning the Helly Hansen Resort of the Year," said Damien Etchaubard, Director of Marketing for Helly Hansen Canada. "Thank you for hosting the Canadian Alpine Championships, which is no small feat. With some of the best snow in the East and great off-piste terrain, I'm sure we will see you again soon."
The recipients of the Audi 2019 Canadian Ski Racing Awards presented by Helly Hansen will be part of Alpine Canada's official kick-off to its 100th Anniversary celebrations; awards will be presented at the 100th Anniversary galas in Toronto and Montreal November 6 and 7.
"The Audi Canadian Ski Racing Awards are all about celebrating the performances and contributions that have resonated with our ski community here in Canada, and this year's recipients have certainly made their mark," said Vania Grandi, president and CEO of Alpine Canada. "Thousands of Canadians took the time to nominate and vote, and that's a testament to the strength of our ski community. I am looking forward to recognizing these deserving winners in November as we launch our 100th Anniversary celebrations."
Calgary, Alta. (May 24, 2019) – Alpine Canada welcomes Peter-Paul E. Du Vernet, C.S., to its board of directors, effective April 15, 2019.
Peter-Paul is an active contributor to Canada's ski racing community, as a coach and as a director and past chair of the Alpine Ontario board of directors. A lawyer with Toronto-based boutique firm Glaholt LLP, Du Vernet was certified as a Specialist in Civil Litigation by the Law Society of Ontario in 1994, and he has successfully appeared before tribunals, commissions, boards of arbitration, trial, and appellate courts throughout the country, including the Supreme Court of Canada. A member of the Georgian Peaks Ski Club, the Advocates' Society, the Canadian Bar Association, the Royal Canadian Yacht Club, and the Royal Ontario Museum, Du Vernet has served as a director of private, public, and not-for-profit corporations.
"Peter-Paul brings a wealth of experience in governance and a tremendous passion for ski racing to our board," said Martha Hall Findlay, chair of Alpine Canada's board of directors. "He shares in our commitment to putting athletes first and creating a top ski racing nation that inspires the next generation of young Canadians to take up skiing. His understanding of the sport at the grassroots level will be an asset to us as we move our strategies forward."
Vania Grandi, president and CEO of Alpine Canada, added: "I want to welcome Peter-Paul to Alpine Canada and to our board of directors. His appreciation for and understanding of the current climate in Canadian sport, coupled with his passion for ski racing at every level, will be a great addition to the team. I also thank all of those involved with the recruitment process to fill this vacancy; the quality of candidates who came forward was impressive, and we are thankful for everyone's passion and dedication to Canadian ski racing."
(May 16th, 2019) –– SOD hosted its 2019 spring fitness testing last weekend and would like to thank you Platinum partner Sporting Life who provided prizes for age group winners plus $25 gift cards for each participant.  Also, thank you to John Peters, Alpine Indoor Ski and snowboard training centre (Canada's only indoor ski and snowboard training centre) www.alpineindoorski.com who provided one free training session at the centre to all the participants.
Thank you also to Stefan Overgaard, SXS Fitness and to our speakers Felix Umana PT, B.SC(KIN), MPT, CSCS Registered Physiotherapist – mitigating the risks of knee injuries and Dr Kaitlyn Szabo B.Sc, Kin., DC, CSCS who spoke on concussions. Lastly, thank you to the volunteer coaches and athletes for helping run the tests.
FULL TESTING RESULTS ARE ONLINE HERE>
Congrats to the age group winners in these two categories!
Box Jump
U12 Penelope Ho 64
U12 Liam Losty 63
U14 Elyse Saddington 69
U14 George Alexander Ing 73
U16 Gabby Wall 62
U16 Matthew Bassin 76
AIS Shuttle Run
U12 Lily Estoesta 8.0
U12 Liam Losty  10.9
U14 Aliya Adair   11.0
U14 George Alexander Ing  11.11
U16 Gabby Wall, Alpine /Sydney LePage 10.0
U16 Taiga Young 13.4
Long-term athlete development (LTAD) web site supports athletes, parents and coaches from grassroots to high-performance, and encourages sport for life.
Calgary, Alta. (May 15, 2019) – Alpine Canada has launched a new resource for current and prospective stakeholders within Canada's ski racing community from the grassroots level to high-performance and sport-for-life parents, coaches, athletes, volunteers, officials and administrators.
As part of the revisions to the organization's Long-Term Athlete Development Pathway, Alpine Canada has created a stand-alone LTAD web site that provides a one-stop resource for all aspects of athlete development – from recreational racers to those working towards national team goals.
"Alpine Canada's LTAD 3.0 provides all of our grassroots stakeholders a clear pathway for athlete development, supported by the latest in sport science," said Jenni Stielow, Senior Manager Coach Education and LTAD Project Lead. "The tool is aimed at everyone from parents, coaches, volunteers, officials and administrators at the club and provincial levels to prospective ski racing participants."
"The new ACA LTAD 3.0 takes into account the multiple pathways our athletes will follow during their career including the recreational and sport-for-life and the high-performance, national team streams," said Stielow. "We have leveraged input from experts in every field as well as real-life experiences of athletes and coaches from the national team to club and provincial ski racing."
The LTAD site is found at ltad.alpinecanada.org. The website includes distinct engagement points for athletes, parents and coaches while providing visually engaging resources for all key stakeholders. In addition to outlining on-snow guidelines for every stage of a ski racer's development, the site also offers essential off-snow training guidelines for every stage, and resources for balancing education and athletics, as well as nutrition and mental strategies.
"This isn't only about developing the next Erik Guay, Kelsey Serwa, or Lauren Woolstencroft. While the pathway to a national team berth is part of the LTAD, so is the pathway to recreational ski racing," said Vania Grandi, CEO Alpine Canada. "We want to develop life-long skiers who embrace a holistically healthy approach to the sport and become ambassadors for ski racing for the next generation of racers. The resources are there to support parents, athletes, and coaches every step of the way from those who want to become involved and need help finding a local ski club, to those who have aspirations of representing Canada in international ski racing."
Grandi also noted the new ACA LTAD 3.0 is not only an alpine ski racing resource. It includes specifications for ski cross and para-alpine racers throughout the development stages. "The new LTAD site was built to be inclusive of all three disciplines to create one Alpine Canada team and establish the foundation of the Alpine Canada Way."
The LTAD site will continue to evolve and be a long-term, ongoing resource for Canada's ski racing community moving forward. Visitors and stakeholders are encouraged to review the website and share their comments, suggestions, and questions via email to LTAD@alpinecanada.org.
ABOUT ALPINE CANADA
Alpine Canada is the governing body for alpine, para-alpine and ski cross racing in Canada, as well as for Canadian ski coaches, providing education, certification, insurance and compliance with the coaching code of conduct. With the support of valued corporate partners and donors, along with the Government of Canada, Own the Podium, the Canadian Olympic Committee and the Coaching Association of Canada, Alpine Canada develops Olympic, Paralympic, World Championship and World Cup athletes to stimulate visibility, inspiration and growth in the ski community. In 2020, Alpine Canada will celebrate 100 years of rich tradition in competitive skiing in Canada.
(May 9th, 2019) COLLINGWOOD, ON — Cam Stephen joins the Ontario Ski Team on June 1st, 2019 as the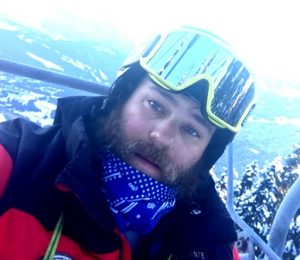 Women's Head Coach. Cam comes to Ontario with a very strong coaching resume, to say the least. He has worked on the FIS circuit for 12 years and has been coaching since 2000.
Cam led Alberta Alpine for several seasons as the Provincial Association's Athletic Director as well as a coach with the Alberta Women's Ski Team. He has experience as both a Head and Assistant FIS Coach and U16 Head Coach experience in both Alberta and British Columbia. He has spent considerable time as a dedicated dryland coach and spent three seasons in New Zealand coaching on the FIS & U16 circuits. He started his FIS coaching career as an intern with the National Ski Academy from 2003-4, and prior to that Coaching Nancy Greene Ski League and Mackenzie Ski League Teams at Snow Valley, Barrie. In addition to alpine coaching, Cam was in the Canadian Armed Forces and has his Bachelor of Physical Health and Education Honors from Laurentian University and his Masters of Education from the University of Victoria.
"Cam brings a broad range of experience and knowledge of the sport. He understands conditioning and ski racing and has proven himself with his impressive background. He will be a fantastic addition to our Team!"
Kip Harrington, AOA High-Performance Director
Cam grew up in a military family moving regularly and spending time in Petawawa, Europe, Ottawa, Toronto, Base Borden, and Barrie. He has been in Western Canada since 2005.
Credentials: Level III PL Coach (Performance Level), Level 3 Official, NCCP mentor, evaluator and course facilitator, Level I NCCP Olympic Weightlifting Coach, CPAFLA Fitness Consultant, SIRRUS Wilderness First Responder, Level 3 Wilderness Canoe Guide, Level 2 Canoe Guide Examiner.
(May 9th, 2019) — Alpine Ontario Alpin is currently accepting applications for two bursaries with a closing date
of Friday, May 31st. 
THE SKI CANADA MAGAZINE BURSARY is a long-standing $1,000 award for one or two athletes in these two age categories: U14 (2005/2006) & U16 (2003/2004).  Athletes that show promise of rising to the top ranks of ski racing in Canada and in need of financial assistance to help achieve their goals should apply.
Ski Canada Magazine is Canada's largest paid circulation ski magazine promoting alpine skiing and ski racing since 1972. All applications are forwarded to the Awards Committee for review and decisions. APPLY HERE>>
THE DAVE MURRAY SKI FOUNDATION is administrated by the PSO BC Alpine in honour of Crazy
Canuck, Dave Murray.  This bursary is for one athlete who has completed at least one year of FIS (2002 or older). The athlete will be awarded a bursary in the amount of $750.00. Applicants should be working towards becoming a member of the Canadian Alpine Ski Team. All applications are forwarded to the Awards and Scholarships Committee for review and decisions. APPLY HERE>>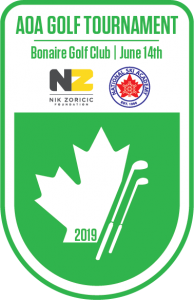 (Collingwood, ON) May 9th, 2019 –   On June 14th Alpine Ontario, the National Ski Academy and the Nik Zoricic Foundation (NZF) invite all AOA members, friends, family and corporate partners for a day of golf and fun at the Bonaire Golf Club. The 2019 tournament represents the first time the three organizations have worked together on a fundraiser in support of high-performance athletics and athlete safety.
Bill Reeves current Manager of Partnerships & Events and incoming Executive Director at Alpine Ontario comments. "Last year the tournament was a great success working with the Nik Zoricic Foundation and we're thrilled to welcome the NSA into the fold. In the past, all three organizations hosted their own tournaments which put pressure on our members – this way we can all go to the same event and have a stronger tournament."
A key part of the golf tournament will be the exciting conclusion to the 2019 Rossiter Raffle program that will include the classic Rossiter 17 Closed Deck Runabout Powerboat valued at over $48,894 (includes a 90HP Yamaha motor)  on-site at the clubhouse where the draw will take place. To date, just over 700 tickets have been sold which gives the golfers a very good chance at buying a last-minute ticket to win. These boats are Canadian made from their home base and production facility in Markdale, ON
 "The boat will be on site for golfers to enter the draw if they'd like" Said Rossiter Boat Company CEO & Owner Scott Hanson. "Of course, I'm very biased about how lovely this boat is! Our hope is for this program  to raise significant funds for a great cause including supporting athletes at the NSA and AOA and funds for Children's Mental Health Ontario (CMHO)." Get your tickets here>
-end
About the AOA Golf Tournament
The 2019 AOA Golf Tournament is to be hosted by the Bonaire Golf Club located 30 minutes north of Barrie in Coldwater, Ontario. AOA, the NZ Foundation and the National Ski Academy are all selling 35 foursomes with a fundraising goal of raising $40,000. These funds will be divided between AOA, the NSA & the NZF for athletic development purposes.  A single ticket is $225 or $250 with a Rossiter Raffle ticket; a foursome is $850 or $950 with 4 Rossiter tickets – one for each golfer. Purchase golf tickets here>>
Purchase Rossiter Raffle tickets here>

About the Nik Zoricic Foundation
The Nik Zoricic (NZ) Foundation strives to minimize constraints faced by skier athletes on their quest for success. It aims to minimize the risk of serious accidents and injury due to lack of safe training and unsafe conditions through safety equipment grants and net loan programs. To date over 18km of the yellow safety net has been funded with the Foundation through 22 grants to clubs in Ontario, Quebec, Alberta, and BC. Learn more at www.nzfoundation.ca

About the National Ski Academy
The National Ski Academy (NSA) is a non-profit registered charity established in 1986 to provide an environment for student-athletes to maximize individual potential through the pursuit of alpine ski racing excellence, academic achievement and personal growth. In 2010 the NSA became a Ministry of Education inspected private school, granting high school credits in Grades 9  to 12. Located in Collingwood, Ontario, Canada the NSA provides the facilities necessary for Canadian and international alpine athletes to pursue their ski racing dreams. Learn more at www.nsa.on.ca
For more information:
Bill Reeves
Manager Partnerships & Events
705-444-5111 x121