(COLLINGWOOD, ON) April 25th, 2019 — Today AOA and Windfall Mountain Homes announce a three-year partnership whereby Windfall Mountain Homes will join AOA as a platinum partner joining Rossiter Boat Company, Sporting Life and Raymond James. Windfall Mountain Homes are located in Collingwood, ON near the base of Blue Mountain.  Being next to Ontario's favourite four-season playground, there's a world of things to do.  From skiing to golfing, cycling to hiking – it's all within walking distance or a short scenic drive.  Windfall is the only official large-scale home builder in partnership with AOA and will be promoted as such at select AOA sanctioned events.
In exchange for branding placement on all AOA apparel and digital platforms, Windfall will have promotional access to AOA membership for its advanced home release news. AOA's Manager of Partnership and Events and incoming Executive Director Bill Reeves explains, "Windfall has made a significant contribution to AOA for the 2019-20 season and beyond and will be showcasing its real estate properties to the AOA membership via AOA's digital platforms. We recognize that our members are the ideal target market for Windfall's stunning properties, and it makes perfect sense for both companies to join together to help our athletes succeed."
Dave Bunston is the President of Windfall Mountain Homes and Mountain House Inc and a long time AOA member.  Bunston and his family are supporters of alpine ski racing from their home club of Devil's Glen Country Club. Dave and his wife Wendy are active officials and dedicated volunteers – their three children were all successful racers, including Brooke and Matt who both raced on the Ontario Ski Team. Joining Dave at Windfall is Leanne Mackle, Windfall Sales Manager and U10 supervisor at Osler Bluff Ski Club.
Mackle expands on the partnership agreement, "As an award-winning builder that creates communities focused on families with active lifestyles Windfall Mountain Homes is excited to be partnering with Alpine Ontario and to support the sport of ski racing at all levels. It makes sense to align ourselves with a sporting organization that, like Windfall Mountain Homes, is focused on excellence and delivering success."
Please stay tuned in the coming weeks for product placements from Windfall on AOA's social media. Visitors to the Collingwood/Blue Mountain area can find the Windfall sales centre near the base of Blue Mountain at 104 Yellow Birch Crescent, Blue Mountains, Ontario.
-end-
About Windfall Mountain Homes (a division of Georgian International)
Georgian International is a dynamic leader in the automotive retail and regional airline industries, and a prominent investor in real estate assets predominantly in the Simcoe County area. Georgian International's real estate division is represented by its wholly owned subsidiary, Georgian International Land Corp. (GILC), a private equity real estate investment company active in commercial and residential land development since 1985 and an active manager of real estate holdings for the core businesses of Georgian International.
For more information please visit Windfall Mountain Homes website at www.windfallatblue.com
About Alpine Ontario Alpin (AOA) AOA is the provincial governing body for the sport of alpine ski racing in Ontario. Alpine Ontario's newly refined mission is to provide leadership and structure for high quality, sustainable and affordable programming and to communicate the competitive, recreational and lifestyle benefits of ski racing to the community. AOA represents four divisions, 40 member clubs, and over 5,000 active athletes, coaches and officials (volunteers). AOA coordinates several successful programs across the province and continues to foster the development of "state of the art" ski-racing programs from the grassroots level to the elite level.
For more information:
Kristin Ellis
Communications Manager
Alpine Ontario Alpin
705-444-5111×132
communications@alpineontario.ca
Leanne Mackle
Site Sales Manager
Windfall Mountain Homes
104 Yellow Birch Crescent, Blue Mountains, Ontario
705-293-0954
sales@windfallatblue.com
Sales center hours: Monday to Sunday 12:00pm – 5:00pm
TES Hynes, SOD Program Director — "On behalf of Alpine Ontario Alpin (AOA) and the Southern Ontario Division (SOD), I am extremely pleased to announce the coaching line up for the 2019-2020 Southern Ontario Division Ski Team (SODST) and beyond. Please join me in welcoming Jacques Reid as the Head Coach, Jenn Warren as the Women's head coach, and Bebe Zoricic as the Men's Head Coach. It is anticipated that an additional assistant coach or coaches may be hired once we review the final numbers of the team.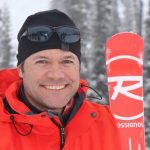 Jacques has been coaching for over 20 years at all levels including at the FIS level with the NCO FIS Program in Ottawa and with the Ontario Ski Team from 2003 to 2006. Jacques joins the SODST after working at Craigleith for the past six years, most recently as the U14-16 Extended Program Head Coach. Jacques is also one of only four coaches in Ontario with his Performance Level Facilitator credentials.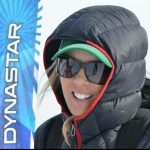 Jenn is originally from Montreal and is a member of the Craigleith Ski Club where she has been coaching with the OCUP/Extended program athletes for 12 years. For the past two years, Jenn has worked on special projects with the SODST. Jenn was awarded the Alpine Canada Alpin coach of the year in 2018 and is well regarded by athletes throughout the Escarpment as their most loved coach.  Jenn has two kids who have moved through the alpine ski racing system and are now at Queen's University.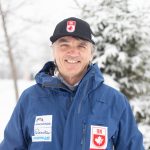 Bebe has worked with the SODST for the past two seasons. He is originally from Sarajevo (where he raced nationally) and has been coaching since 1988 at the U14, U16 and FIS level. Bebe is a graduate of the National Coaching Institute program with his Level 4 credentials. Bebe, of course, is best known as the founder of the Nik Zoricic Foundation and is responsible for the Thursday night NZ training along with safety netting seen throughout Canada keeping alpine racers safe. Bebe and his wife and grown daughter are based in Toronto and Collingwood.
Jacques comments, "I know I speak for Jenn and Bebe when I say this is so exciting for all of us! We've all worked together before and have a great deal of respect for each other and our respective coaching styles. I consider Bebe one of the best in in the business in terms of getting to know an athlete and figuring out how to motivate them to work harder. I also think Jenn is one of the best in terms of holistic coaching – she understands the athlete-coach relationship and how to develop self-confidence in the athletes. They are both such talented coaches and aligned with the Ontario Ski Team we are confident we can give these athletes the best possible program and have a ton of fun along the way."
In addition to today's coaching news, the SODST is excited to announce a structural shift in the alignment between the women's program and the Ontario Ski Team. This will take place both in the preparation period and in the winter months as well (race schedule depending). We feel that an enhanced collaborative approach is required which will provide a more dynamic and positive athlete-centric environment for all the athletes.
In hiring these three coaches AOA and the SOD are confident that a strong team is in place to ensure the SODST meets its long-term goal to increase Southern Ontario Division's (SOD) presence on the Provincial and National Ski Teams. Along with this goal, the coaches will be focused on preparing these athletes for potential athletic scholarships.
Congratulations to these three outstanding coaches and welcome to the Team!  ~ TES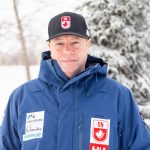 TES Hynes,
SOD Program Director
tes@alpineontario.ca
Learn more: www.sodskiteam.ca
Please join us tonight for a night of cheer and celebration to recognize the leaders of our sport, on and off the slopes! CAST Alumni Mike Janyk along with AOA Executive Director Scott Barrett will be leading the presentations for the 10 Ontario Ski Racing Awards including Mackenzie Investments Athlete of the Year (male & female), Rossiter Para Athlete of the Year, Sporting Life Ski Cross Athlete of the Year, Helly Hansen Coach of the Year, Raymond James Club of the Year, Volunteer of the Year, Spirit Award, Best Event of the Year and Builder of the Year.
AOA will also have a silent auction (view items here) and AOA SWAG for sale. All proceeds support AOA athletics including the U16HPP, U19HPP and the Ontario Ski Team.
Date & Time: Thursday, April 18 from 6:30-10:00pm
Location: The Steam Whistle Roundhouse, 255 Bremmer Blvd., Toronto (downtown)
Tickets at the door: $75.00
Food & Drink: Open bar (wine & beer) with appetizers.
Canada & Ontario Dominate at 2019 Whistler Cup!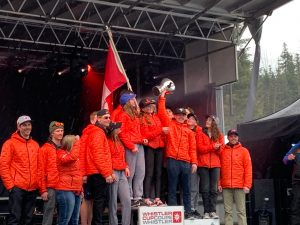 (April 15th, 2019) — For the first time since 2013 Team Canada's U16 team won the Whistler Cup! This is in part due to the outstanding results of Georgian Peaks racer, Aleksas Valadka who won bronze medals in both SuperG and GS and was crowned as the overall top Canadian male athlete winning the Dave Murray Trophy!!
Alongside Valadka only one female racer qualified at the Canada Winter Games to represent Ontario, Penny Robinson. Penny is from TBFAST ski club based in the Thunder Bay area and placed 20th in the SuperG, 11th in the GS and 7th in Slalom.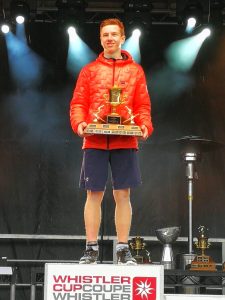 The Whistler Cup at the U16 level is Alpine Canada's pinnacle event. In order to qualify an athlete must first qualify for the National Championships (in this case the 2019 Canada Winter Games) where they must place in the top 6 overall. Over 20 nations compete in the Whistler Cup and at the U16 level, it is the only designated FIS Event.
For more on Team Canada's historic win visit this article published by the local Whistler paper.
---
At the U14 Festival Event, Ontario dominated. Not only did Craigleith Ski Club's Madison Donnelly win the ladies slalom she was also crowned as the top overall Canadian female winning the Nancy Greene Trophy! Donnelly was 11 in the GS. The overall U14 Festival cup was won by the United States, however, Ontario won both the men and ladies Team events and consistently placed athletes in the top 10. Congratulations to the following performances and the members of the winning teams!
Ladies GS:
5th Elli Clark, TSC
9th Emma Gatcliffe, GPeaks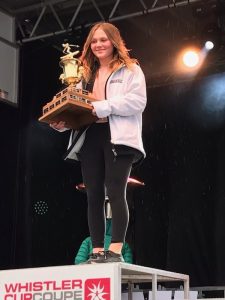 10th Lauren Wayland, Jozo Weider
Men's GS:
6th Duncan Armstrong, GPeaks
7th Jack Hunter, GPeaks
Ladies SL:
1st Madison Donnelly, Craigleith
4th Lauren Wayland, Jozo Weider
5th Elli Clark, TSC
7th Emma Gatcliffe, GPeaks
Men's SL:
5th Jack Hunter, GPeaks
6th Matia Veljovic, Craigleith
Please visit the Whistler Cup Facebook page here for Team Event results.
Please visit WhistlerCup.com for live timing links, results & more!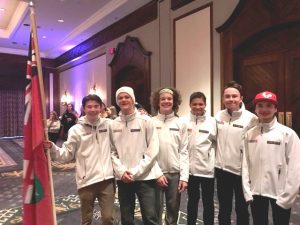 as posted on ACA…..
Calgary, Alta. (March 11, 2019) – Alpine Canada has named the 12 alpine racers selected to represent the nation at the 27th edition of the Whistler Cup, fielding two teams at the annual juvenile ski racing event at Whistler-Blackcomb April 11-14 in Whistler, B.C.
The six female and six male racers will make up two mixed teams and were selected based on Alpine Canada's previously published selection criteria:
Alexis Barabe (Ste-Agathe-des-Monts, Que./Club de ski Saint-Sauveur)
Aleksas Valadka (Oakville, Ont./Georgian Peaks Ski Club)
Arianne Forget (Saint Jérôme, Que./Club de competition Belle Neige-S1 Racing)
Britt Richardson (Canmore, Alta./Calgary Alpine Racing Club)
Cydnie Timmermann (Calgary/Banff Alpine Racers)
Hemming Sola (Summerland, B.C./Apex Ski Club)
Hugo Culver (Westmount, Que./Club de ski Tremblant)
Marie-Pier Brunet (Bromont, Que./ Club de competition Belle Neige-S1 Racing)
Makenna Lebsack (Calgary/Panorama Ski Team)
Mathis Lafond (Bois-des-Fillions, Que./EDLS-Chantecler)
Penny Robinson (Thunder Bay, Ont./Thunder Bay Franco Alpine Ski Team)
Ryley Fergusson (Edmonton/Sunshine Alpine Racers)
"These 12 racers distinguished themselves through their performances at the Canada Games last month, where they represented their provinces with pride," said Brien Perry, Director of Domestic Sport for Alpine Canada. "We are excited to now have them part of Team Canada where they can compete against their age group internationally at the Whistler Cup. More than a ski race, the Whistler Cup has become a true ski racing festival for the country's – and the world's – upcoming generation of top-performing ski racers."
Among the multi-medallists from Canada Games selected to the Whistler Cup team are Forget (gold in giant slalom and super-G), Lebsack (silver in super-G, bronze in giant slalom), Richardson (silver in giant slalom, bronze in super-G), and Valadka (bronze in slalom and giant slalom, silver in super-G).
As part of the event, the Whistler Cup is awarded to the top-performing nation in both the U14 and U16 age categories based on overall points earned during the week's race action. In addition, the Nancy Greene Award is presented for the top U14 and U16 performances by a Canadian female, and the Dave Murray award for the top performance by a Canadian male in the U14 and U16 age categories.
Ski fans and racers' family and friends are also welcome to attend the parade of nations and opening ceremonies on Thursday, April 11, and the awards and closing ceremonies on Sunday, April 14 at the main stage at Skiers' Plaza.
The race schedule includes men's and ladies' U16 super-G racing on April 11, followed by the technical events for both the U14 and U16s April 12-14. Please visit http://www.whistlercup.com/
AOA Congratulations Eight Successful Coaches on Passing their Performance Level (PL) Course!
AOA Welcomes Four PL Evaluators to Ontario!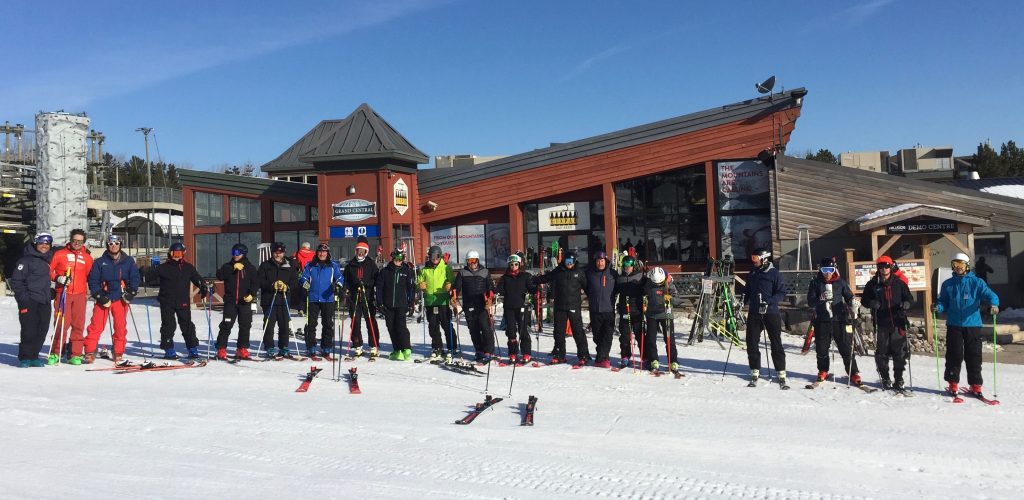 COLLINGWOOD, ON (April 11th, 2019) — Last week 17 candidates gathered over 5 days at the Craigleith Ski Club for a Performance Level (PL) course facilitated by AOA coaches Rick Cook, Dave Campbell, and Jacques Reid. This was the first PL course (formerly the CSCF Level 3) held in Ontario since 2017. It was also a new format whereby ski racers from the U16- U19 levels were brought in to work with the coaches over the 4 days on snow portion. The coaches were evaluated on their ability to analyze and correct the performance of the athletes as well as setting a conducive environment for learning.
This was also the first time that Alpine Ontario assumed the responsibility to run the PL course under the guidance of Alpine Canada's coach education program. In order to do so, the facilitators needed to do a 2-day update in Montreal with ACA's Jenni Stielow and Greg Frechette alongside other facilitators from Quebec.
Alpine Ontario took the leadership by sending four facilitators to Montreal with the goal that Ontario be able to do more PL courses in Ontario in the future. Dave Campbell, Rick Cook, Jacques Reid, and Jeff Jones are now qualified to facilitate PL courses. Craigleith Ski Club took the leadership to host this first PL course, going as far as opening up the hill exclusively on a Friday for the course (in April none the less). A big thanks to Craigleith's GM Jeff Courtemanche for being supportive of coach education at this time of year.
AOA would like to recognize these coaches for achieving  "Performance Level Trained status":
Chris Tepera, Craigleith Ski Club
Michael Wilkins, Osler Bluff Ski Club
John Eastmure, Craigleith Ski Club
Taylor Poast, Brimacombe Ski Club
Thomas Trusler, Osler Bluff Ski Club
Andrew Mercer, Brimacombe Ski Club
Victoria Fenninger, Fenninger Racing Club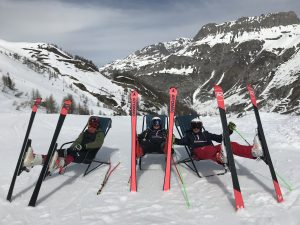 (APRIL 8TH, 2019) – It was a week to remember! This weekend two AOA coaches, Melody Courville (nee McCague) of Craigleith and Shawn Banfield from Camp Fortune, and six of our best U16 OCUP athletes – Tessa Foote/NSA, Emma Gosselin/Osler, first-year Andreea Nicollici/CFSC, Ben Neyland/NSA, Kyle Blandford/GPeaks, Duncan Waugh/BValley returned home from an  amazing week in Val D'isere, France.
They arrived in Val D'Isere to sunny skies and incredible freeskiing and spent the first two days getting to know the mountain. The second day the group free skied the SG track on a slope that offered a bit of everything with steeps, rolls, flats, fallaways and bends.  The track was in great shape and had been injected many times throughout the season. During the third and fourth day before the race, the athletes trained SL with Holland, Polland, and Finland.  This was a great experience and opportunity for the athletes to meet new people and to get a sense of what the competition was like.
In total 34 nations competed in the 39th annual La Scara event which attracts many of the top racers across Europe and the world. This race had some incredible depth with regards to the skill of the athletes including Val d'Isere's own Victor Muffat-Jeandet as the forerunner. It's not every day you get to ski the same track as a top WC skier!!   Team Ontario hit the top 20 twice – 16th in Super G for Waugh and 17th in SL for Blandford with Osler's Gosselin close behind with a 22nd in SL.  This was a  huge accomplishment for these athletes.
A huge thank you to Russell and Sarah Goodman – parents of CAST Alumni Anna Goodman of Mont Tremblant who annually travel to this area to cheer on the next generation of Canadians. Russell slipped the course before each of our athletes and helped where ever he could. Sarah was in the finish with the Canadian flag cheering everyone on as they came across the line.
In addition to training and racing in a world-class event, the group was able to visit the Rossignol Factory located in Grenoble France.  Thank you to Ontario Rossignol rep. Mario Guertin for organizing this wonderful opportunity.
Thank you also to the Goodman family for sharing their photos here.
Ministry of Tourism,   Culture and Sport

Minister

9th Floor, Hearst Block
900 Bay StreetToronto, ON  M7A 2E1
Tel:  416 326-9326

Ministère du Tourisme,
de la Culture et du Sport
Ministre

9e étage, édifice Hearst
900, rue Bay
Toronto (Ontario) M7A 2E1
Tél. :   416 326-9326
April 2, 2019
Dear Partners,
On September 26th, 2018, we achieved a milestone in Ontario. We commemorated the first annual Rowan's Law Day, proclaimed under Rowan's Law (Concussion Safety), 2018 ("Rowan's Law").
I am writing to you with information about the next steps on Rowan's Law as we seek your feedback on the draft regulation to support the implementation of the legislation.
We welcome and encourage your feedback on the proposed draft regulation through the consultation paper on Ontario's Regulatory Registry. I also encourage you to share the link broadly within your organization and with other sport partners, noting that feedback will be accepted until April 18, 2019.
To support implementation, we are working on developing evidence-based and accessible concussion awareness resources, sample code of conduct template as well as removal-from-sport/return-to-sport protocol templates. These resources will be made available for adaptation by sport organizations and other sector partners prior to the legislation and regulation coming into effect.
Rowan's Law will result in increased concussion safety in amateur competitive sport so that our amateur athletes can have fun and be safe. We look forward to working with all our partners to ensure a smooth and successful implementation.
For additional information, please visit the ministry's website.
Sincerely,
(original signed by)
Michael Tibollo
Minister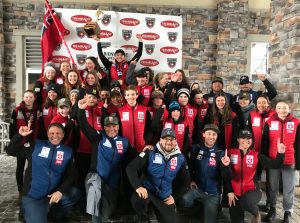 Submitted by U14 CanAm Head Coach Jacques Reid…."We all love to win but this 2019 CanAm event was about more than winning. In all of my duties as Head Coach, this event stands apart thanks to the coaches working as a united front, working seamlessly for the good of each athlete. I truly believe the athletes responded to this and acted like a true team that deserved to hold our Ontario flag high! Well done everyone!
Now for the results. The last time AOA won a gold medal at the U14 CanAms was 2016. I congratulate our two gold medal winners (pictured here): Elli Clark of Toronto Ski Club in the GS and Colton Bartholomew of Craigleith for his Slalom win. Colton also earned the honour of holding the historic Taschereau Cup up over his head as many legends have done before him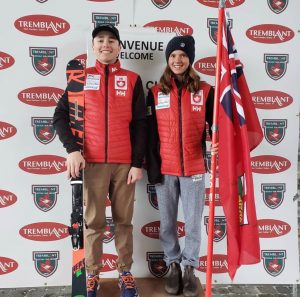 including, Erik Guay and Nancy Greene Raine. A shout out also to our top 10 finalists: Duncan Armstrong/GPeaks 5th in SG & 8th in SL – Natasha Olsen 8th in GS – Matthew Bassin/Craigleith 6th in GS. FULL RESULTS HERE>
I'd like to thank the team of coaches: Brian McGregor/TSC, Nicole Burgess/GP, Nick Bubella/ GP, Chris Tepera/Craigleith, Mike Schneider/Caledon, Brayden McEwen/Fortune and Yoshi Watanabe/Alpine. I know I speak for all of us when I say we're proud of all of these kids – keep doing what you are doing, work hard & have fun on the slopes! ~ Jski
Submitted by OPAST Head Coach, Gwen Binsfeld….The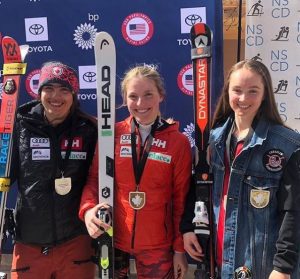 Canadian  & US Para-Alpine Nationals took place at Winterpark, Colorado this past week, with four entries from the Ontario Para-Alpine Ski Team. Results were impressive for Ontario considering  Alpine Canada's CPAST athletes competed alongside the provincial/state team members.
Congratulations to Sarah Gillies for earning four medals!!
US Giant Slalom: 
2nd –  Sarah Gillies
12th – Abbey VanDuzer
10th – Ben Harris (his first National appearance)
GS Nationals:
3rd – Sarah Gillies
9th –  Abbey VanDuzer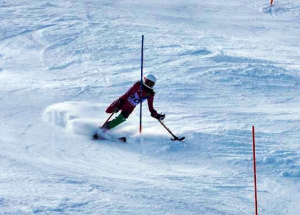 10th – Ben Harris
US Super G:
2nd – Sarah Gillies (this was her first outing in a para speed event where she outperformed CPAST members who had been to Paralympics!)
US Slalom: 
4th – Sarah Gillies
7th – Abbey VanDuzer
10th – Ben Harris
Canadian SL:
3rd – Sarah Gillies
9th – Rebecca Mideros
10th – Ben Harris
13th – Abbey VanDuzer
Team members Alexandra Marta, and sit skier, Brian Rowland are recovering from injuries and were not able to participate.
Congrats to all!