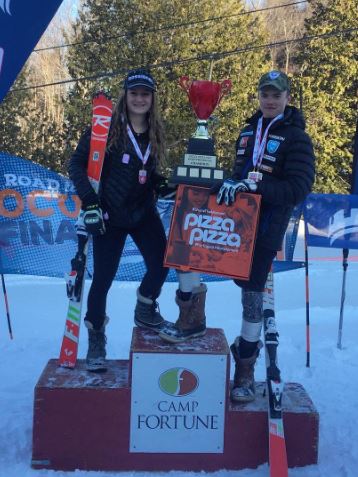 Written by AOA Executive Director Scott Barrett. 
We've enjoyed working with new sponsor Pizza Pizza and I thought the late afternoon delivery of 50 XL pizzas was a nice cap to the week. We served up slice after slice to all the racers after their 2nd runs and I'm sure the coaches & crew were happy for a late day snack before tear down.
Along with great sponsors Mackenzie Investments, Sporting Life, Karbon and the NZ Foundation I tip my hat to Andrea Holland, ROC Chair and the whole club for doing a great job at the finish with hay bales around a fire pit, the outdoor bar & BBQ, the warming tents with heaters and of course allowing us to park the Pizza Pizza RV on the side of the hill.
Bright blue skies oversaw our final day at the U14 Mackenzie Investments OCUP Finals and the nice warm temps in the afternoon made for a perfect Slalom finish. I again took up my post in the finish hut announcing the 2nd run and admit I love the Top 30 flip and the challenge of attempting to track 3 kids in one go – the first leaving the start, the next on the pitch and the 3rd approaching the finish. I do apologize if didn't quite get it right every time – it's not as easy as it might seem!
Congrats to the podium winners in Slalom:
1 Basil, Sydney – Alpine Ski Club/SOD 48.59 (1) 52.97 (1) 1:41.56
2 Finoro, Nikki – NSA/SOD 49.06 (3) 53.21 (2) 1:42.27
3 Robinson, Penny – TBFST/LSDA 49.66 (6) 53.98 (3) 1:43.64
1 Burnes, Christopher – Craigleith/SOD 45.61 (1) 45.92 (2) 1:31.53
2 Blandford, Kyle – TSC/SOD 47.06 (4) 45.84 (1) 1:32.90
3 Gatcliffe, James – Georgian Peaks/SOD 46.78 (3) 47.72 (7) 1:34.50
The overall Pizza Pizza OCUP FINALS winners were Sydney Basil of Alpine Ski Club & Kyle Blandford of the Toronto Ski Club. The overall Mackenzie Investments OCUP Series winners were Sydney Basil again and Chris Burnes of Craigleith Ski Club. Visit the U14 Racing page here to see overall and final OCUP Points & U14 OCUP Provincial Championships.
Results from the Mackenzie U14 Provincials will determine the U14 CanAm selections to be announced early this week. Congratulations and thank you to everyone who made for a a great 10 days of U16 & U14 OCUP FINALS!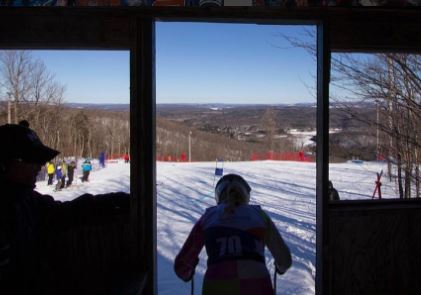 Written by AOA Executive Director Scott Barrett. 
Day 2 of racing and the perfect cold, icy, steep pitch looked perfect. After looking at the results there is no denying the boys were challenged with 26 athletes not making it through to the 2nd run. Many downhill skis took the brunt of a tricky red gate – we can't say it enough "get on that downhill ski and stay on it!" Again let's remember boys you were on a FIS homologated slope, recently used in the FIS Slalom for the Anne Heggtveit Cup!
Aside from amazing talent on the slopes and the excitement of the Top 30 flip I am happy we stuck to a format of letting the DNF and or DSQ racers get a second run. It allows these kids to race pressure-free and test their skill a second time. What amazes me still about racing are the wave of volunteers who follow the sport around – many on the hill were also with us in Searchmont including the Calabogie army! Program Director Pat Biggs had many of his Camp Fortune parents gate-keeping, CAST alumni/now Jozo Head Coach Rob Crossan was side slipping as a volunteer parent and many many more hard working individuals were there to ensure the day was a success.
While we wrapped up the GS by 4pm the day was again a long one as parents were treated to some National Capital Division hospitality with a parents social and athlete banquet complete with some St. Paddy's Day fun and award presentations for SuperG & GS.
Congrats to the following GS Podium winners:
WOMEN
1 Foote, Tessa – Devil's Glen/SOD 40.74 (1) 38.99 (1) 1:19.73
2 Kiss, Cadence – Alpine Ski Club/SOD 40.90 (3) 39.03 (2) 1:19.93
3 Basil, Sydney – Alpine Ski Club/SOD 41.01 (4) 39.68 (4) 1:20.69
MEN
1 Valadka, Aleksas – Georgian Peaks/SOD 39.11 (2) 36.93 (1) 1:16.04
2 Villeneuve, Kaiden – Camp Fortune/NCD 39.28 (3) 37.06 (2) 1:16.34
3 Nella, Aidan – Georgian Peaks/SOD 39.42 (4) 37.47 (5) 1:16.89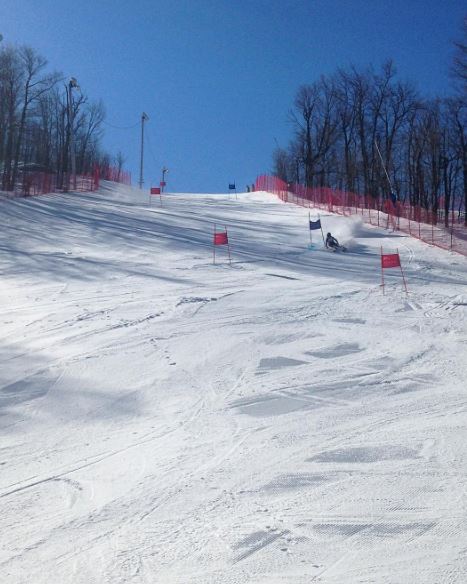 Written by AOA Executive Director Scott Barrett. 
After a tough first day at Camp Fortune with winds too high to allow for racing we returned to find bright blue skies, cold temps, less wind and a rock hard surface! Perfect racing conditions actually for mid-March in Ontario.
Tundra is a word a few of us used to describe what the 250 U14 athletes from all 4 AOA divisions encountered on the black diamond runs Canadian, The Chute and Swan Dive. For those of us standing hillside the 'chatter' and sheer ice showing through the snow reminded us of just how hard this course was for these youngsters. Add to this the dump of snow on Tuesday night and the kids were faced with terrain that moved from icy steeps to a bend of softer snow and back on to a 2nd steep pitch of ice.
It was a very long day – 250 kids will make it a long day – and I'm glad for daylight savings allowing us to continue well past 4pm! I hope racers and spectators appreciated the idea to run a training run – gate-free – prior to the actual race starting after lunch. Again big thanks to the many volunteers, jury, coaches who grabbed a rake/shovel and worked so hard keeping the track safe.
I emphasize again that the SuperG was not an easy race so all racers, regardless of their result, should be proud of facing this square on and not letting fear overtake (it's not easy I know!).
Congrats to podium winners Day 1 at the Mackenzie Investments U14 Provincials:
WOMEN
1 Stewart, Natalie – Craigleith/SOD 41.35
2 Eastwood, Gabby – Georgian Peaks/SOD 41.75
3 Kiss, Cadence – Alpine Ski Club/SOD 41.82
MEN
1 Blandford, Kyle – Toronto Ski Club/SOD 39.21
2 Keller, Maximus – Craigleith/SOD 40.27
3 Gatcliffe, James – Georgian Peaks/SOD 41.03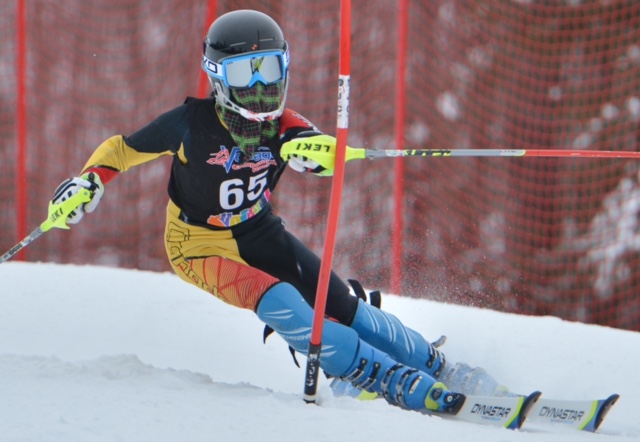 Written by AOA Executive Director Scott Barrett. 
As we continue travelling the province and meeting Alpine Ontario members, we narrow our focus today to a Volunteer Extraordinaire family in the National Capital Division. The Division suggested we reach out to the Alexander Family so here goes with a look into the life of another busy ski racing family lead by parents Jamie and Jill….
Q1: What club are you with? When did you join?
We are with the Calabogie Ski Racing Club (CSRC). We joined the Club in 2008 when the first of our three kids turned 8.
Q2: How many kids do you have in the program? What ages, teams, etc?
We have three kids in the race program; a 15 year old boy (Jack) and a 14 year old boy (Sam) who are both racing in the U16 program and a 12 year old girl (Carly) who is in her first year of U14.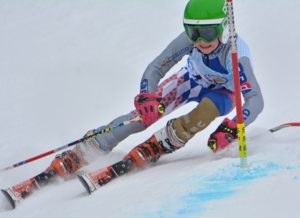 Q3: Do you volunteer or coach as well?
I am the President of our race club and also sit on the National Capital Division Board. I dedicate almost all of my time outside of work to volunteering. In addition to volunteering at all of the races our club hosts, I (and many other parents) regularly take on volunteer roles at other hills in our region. Volunteering is an important part of the culture in the National Capital Division and our athletes recognize and appreciate the effort we put into hosting our races. Parents who do not get involved (and there are very few at our club) are missing a tremendously rewarding part of the experience that leads to great relationships from hill to hill and region to region.
Q4: what do you for a living, where do you live?
I am an electrician and my wife is a lawyer. We live in the Village of Carp which is in the far west end of Ottawa and about an hour away from Calabogie.
Q5: what other sports do your kids do? How do these stack up next to ski racing?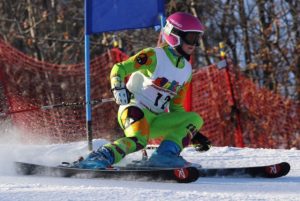 Skiing has been the primary competitive sport in which our kids have participated. Both of our boys enjoy golfing and windsurfing during the summer months where we spend most of our time at the cottage. Our oldest boy has played competitive soccer for a number of years.
Q6: How would you compare AOA/Ski Racing as a sport next to other PSOs (provincial sport organizations?) If applicable?
Because our kids got involved in ski racing at a young age, they haven't participated in many other organized competitive sports so we are not in a position to make a comparison. Having said that, we can't imagine an organized sport that would provide a better quality of life and environment for every member of the family. The collegiality among the ski parents is second to none and we get to enjoy skiing while the kids train.
Q7: Where is your favourite place to ski?
We enjoy skiing at all of our local hills. One of the most impressive hills we have skied at recreationally as a family is Le Massif in Quebec. The views are spectacular!
Q8: What sort of coaching do you like? Dislike?
We have only experienced the coaching at Calabogie. Our head coach, Bruce Monkman, is one of the most experienced and well respected coaches in our region. What we appreciate most about Bruce is the interest he takes in every single athlete in our club. Our club has produced an impressive number of very skilled racers and those racers have never been elevated above or favoured over the others. Bruce has never wavered in his focus which has always been athlete development.
Q9: How has AOA or the sport changed during your time involved?
As parents of kids who ski outside of the Southern Ontario Division (SOD), early on, it was our impression that the AOA and its decisions were largely influenced by the race clubs in the SOD. In recent years, AOA has been sending representatives to races in our region and should be commended for this effort. We very much appreciate being invited to provide input on issues that are important to the development of our athletes which should be a common goal of all clubs regardless of location.
Q10: What's your wish list for this sport?
The current programming appears designed (unintentionally) to phase kids out of ski racing following completion of the U16 program unless they are on track to become members of an elite or provincial team. Many of these kids have not reached their ultimate height or weight and it seems like an abrupt end to a sport that has provided so much personal and athletic development growth and enjoyment.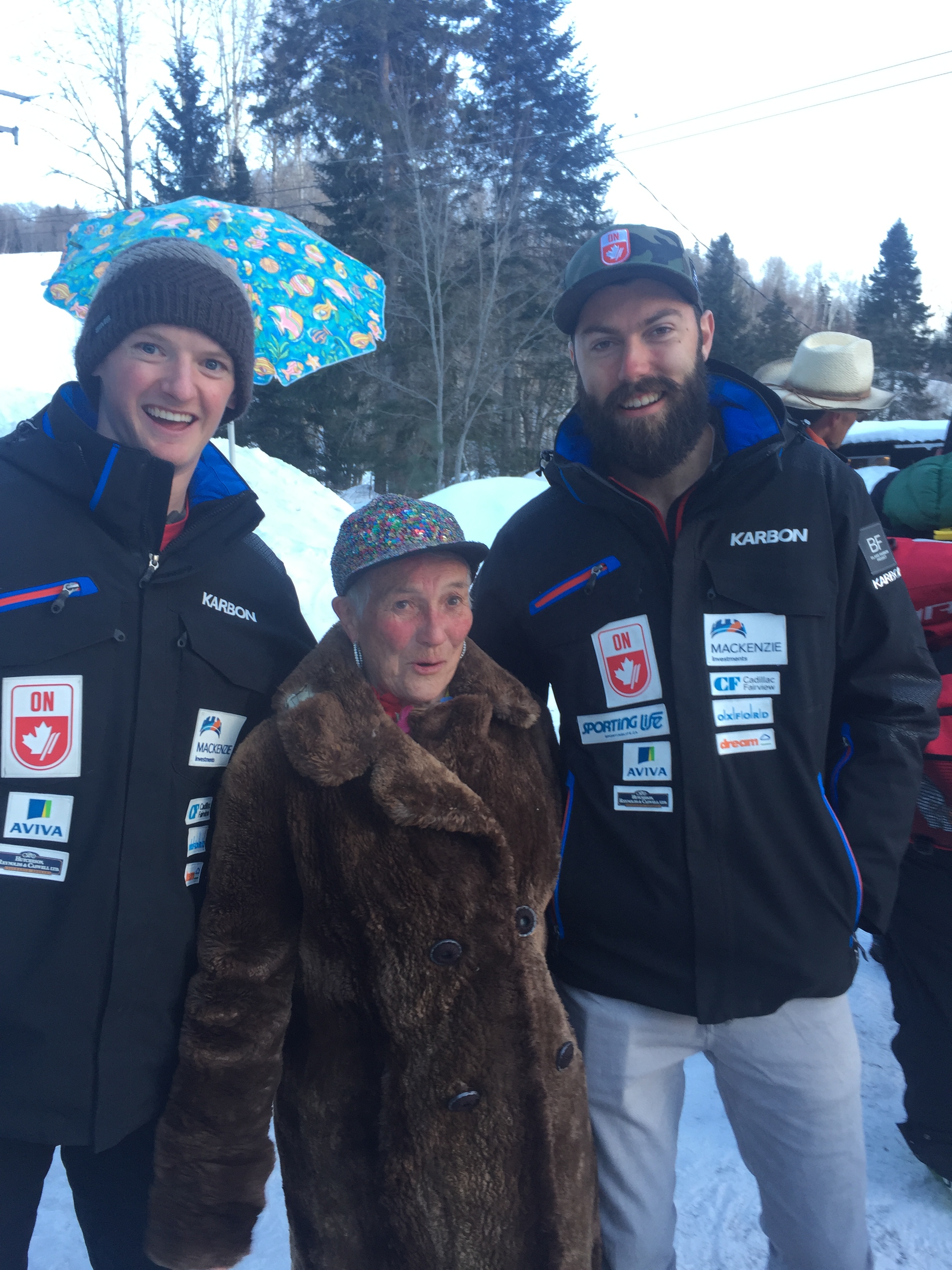 Written by AOA Executive Director Scott Barrett. 
Hello again from the Road to the OCUP Finals presented by Pizza Pizza. As I write this we're somewhere in-between the Soo & Camp Fortune after a bit of a slow start due to our drive shaft dropping out of the RV this morning at 630am while trying to leave Searchmont…
I failed to mention that back on day 2 our somewhat unreliable rig failed to start after a two hour dinner at the water
tower Inn with temperatures dipping well below negative 20. After a very experienced CAA mechanic couldn't figure out the problem we decided that hauling it back to our slope side position would be the best idea which the gentleman agreed to, reluctantly. Of course, nobody really knew what had happened except for our neighbours at the bottom of the slalom as well as some of the inner circles of the Race organizing committee. Realizing that we could perhaps be calling Searchmont home for the foreseeable future we asked a few casual questions to our trusty
neighbours from the NCD and the next thing you knew we had Jamie Alexander from Calabogie Peaks under the hood. Jamie had the thing fixed in about 2 hours and as Devyn, Marc and I suspected it was a blown fuse… So all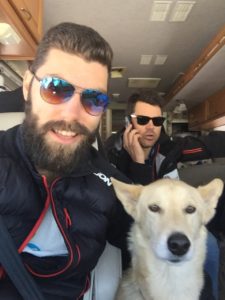 was well except little did we know that our trusty Friday evening tow had ended with the drive train being left unhooked. Well, all I can say is that when she was put into gear this morning we probably woke up the entire resort!
After finally getting on the road we couldn't help but feel a little bluesy leaving Searchmont. Hats off again to the ROC with Mike Schikofsky, aka, 'Shicker' and his fearless team for putting on a great show while always making his guests from other parts of the province feel more than welcome. Heck, we even found time on Monday night to have a visit with local legend Boots who's 84 and skis everyday of the Winter. And what would a trip to the Soo be without running into Gord Acton and his wife who will forever be ingrained in Canadian ski racing folklore.
Even our dog Nuk looked a little down today as he quickly became a hit with other residents like Corine, our amazing race secretary!
Until next time Searchmont.. Thanks for a fun week.
Nuk, Devyn, Marc and Scott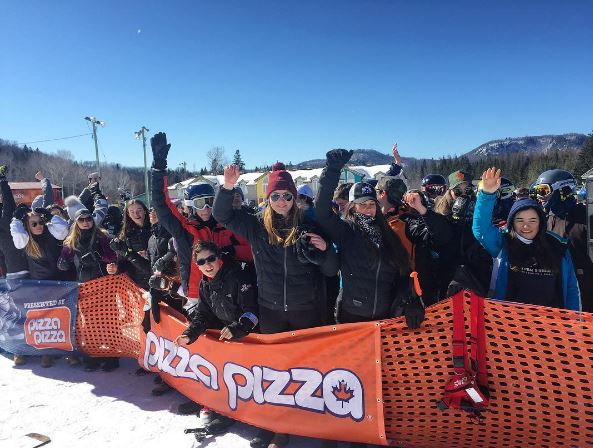 Written by AOA Executive Director Scott Barrett. 
Today I had the pleasure of running commentary for the Dual Slalom event which saw the best 14 and 15 year old athletes in the province racing head to head in a dazzling display of what this sport is all about. The knockout style event whittled down a field of 101 boys and 75 girls to a round of final eight.. then to a round of four and eventually to just two athletes battling to cross the finish line first.  In the end two National Capital Division racers from Camp Fortune Ski Club clinched the top spot, Kobe Villeneuve and Keirsten Harvey.
The nonstop action didn't let up with the end of the race. With this being the final day of the event it was time to hand out some hardware!! It is my pleasure to present you with the inaugural winners of the Pizza Pizza Cup U16 OCUP Final Champions Daisy Taylor from the National Ski Academy and Ben Smegal from the Craigleith Ski Club. These two individuals racked up the highest combined point totals from this weeks Super G, Giant Slalom, and Slalom event.
The Awards Ceremony this afternoon also included the trophy presentations for the OCUP Overall Series Champions, tabulated over the entire OCUP U16 Series with Alpine Ski Club's Elizabeth Sullivan winning for the women and Zachary Temertzoglou from Georgian Peaks for the men.
I cannot go on any further without extending a huge shout out to Northern Ontario Division Alpine, the Race Organizing Committee, the Searchmont Ski Runners, the volunteers, the parents, and of course the athletes for coming together to create such a successful finale to another exciting season of U16 ski racing in Ontario. You have once again made me proud and have cemented the idea that you don't need the biggest slopes to produce top notch athletes.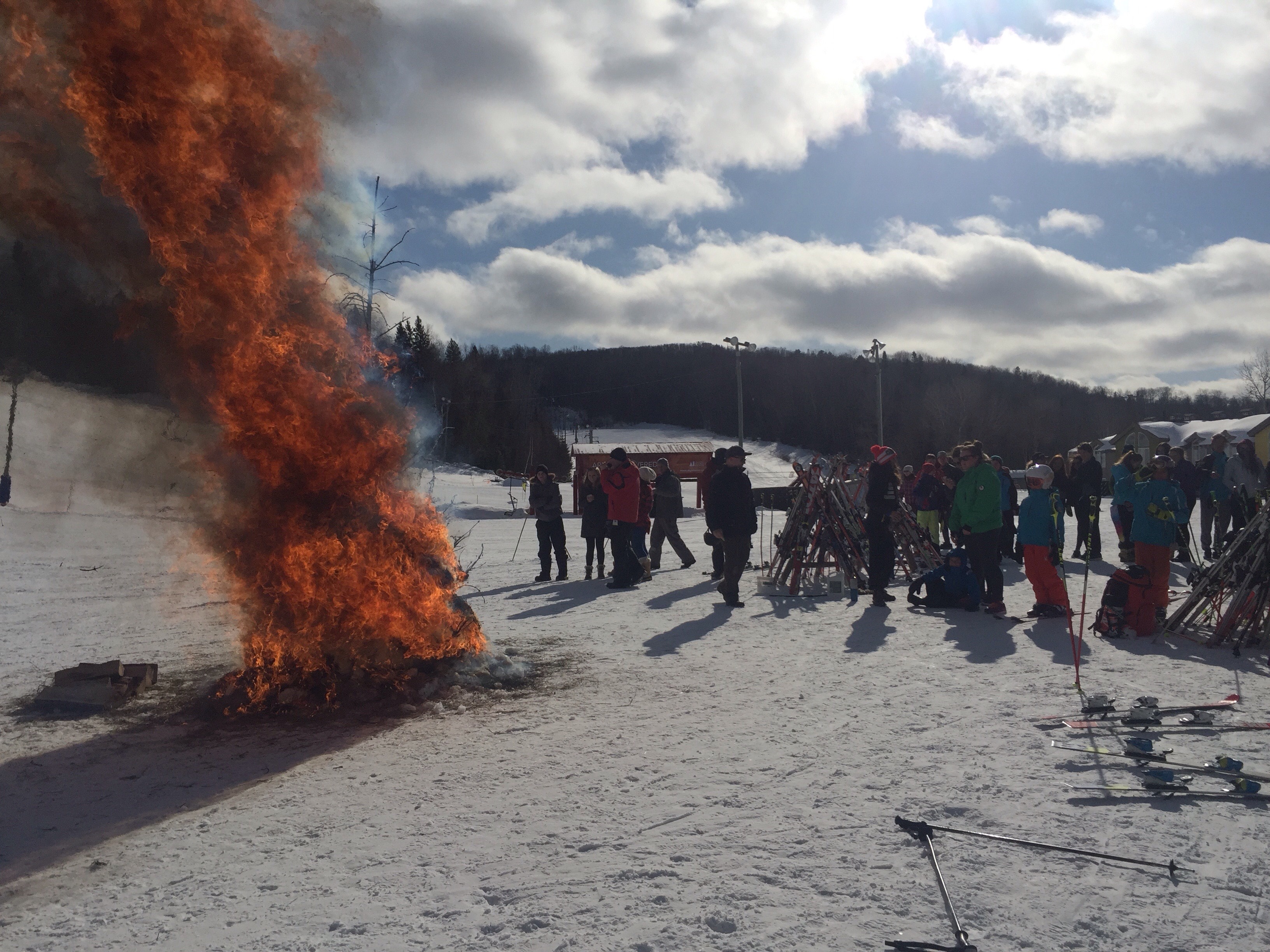 Written by AOA Executive Director Scott Barrett. 
I successfully made it north after the final Devil's Glen FIS races and woke up slope side in the Pizza Pizza RV to blue skies and bright sun!
Slalom was the name of the game today with a bullet proof track that almost felt like an injected slope but athletes punched through especially in the second run which saw some amazing skiing by many. The action on the hill was matched by the seasoned ski parent/coach/fans and the Pizza Pizza Patio set up at the bottom of the course. This area served as a quick pit stop to sit down, stretch the legs, and take in the view.
The bar has been set and this road trip crew can't wait to see what's in store for DAY 5 with the final Dual Slalom races of this series. I will be announcing these races while the rest of our crew man the Pizza Pizza RV Patio.
Pictured above is a shot from yesterday of the unique sight of a bonfire being lit by a flaming arrow after athletes were treated to a true display of Northern hospitality in the form of a free BBQ courtesy of Searchmont Resort.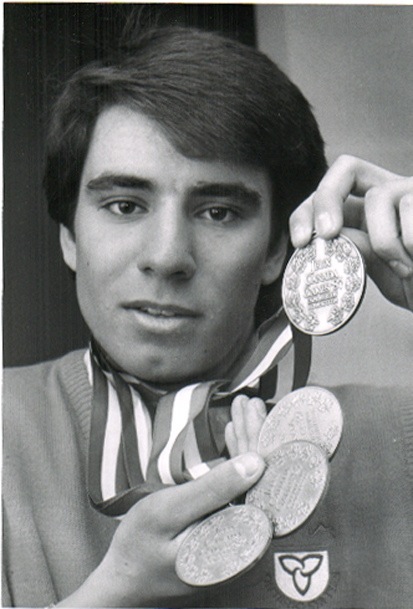 This sport is steep in history in all four of the AOA Divisions and we really should talk about these legends more.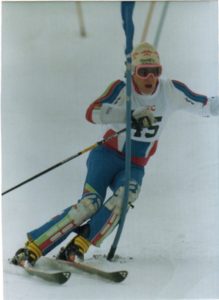 When we decided to feature a legendary family in the Soo two  families immediately came to mind – The Mealey Family and the Real Brothers. Both are still heavily involved in the Searchmont Ski Runners which is amazing. We're sorry we only caught up with 2 of the 3 brothers but the amazing photos make up for it! A walk down memory lane with Bill & Bob Real.
Q1: Where did you grow up? What ski club? What age did you start ski racing? (that's Bob on the right in the gates)
BILL: We grew up in Sault Ste. Marie and started skiing/racing with the Searchmont Ski Runners when I was 4.
BOB: Same but I was 5.
Q2: What level did you get to in ski racing? Biggest event, best result, discipline, etc?
BILL: I raced on the NOD team, attended the Canadian Championships then made it to the Nor-Am Circuit.
BOB: I raced in the World Junior Championships and was 11th GS, then on to the Europa cup circuit with a 12th
finish in the DH Innsbruck, Austria. Canadian Champs Junior-1st GS. 1st SL and Canada Winter Games-SL 1st, GS 1st, SG 2nd (photo:Bob at the CanWinter games)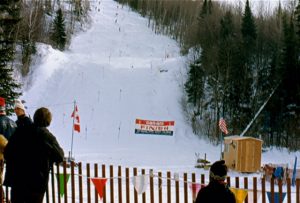 Q3: Did you coach? What level, etc…
BILL: I coached for a total of 18 years including at our club, with the SOD team, Ontario Ski Team, LSDA Team and eventually with the Canadian team
BOB: Coaching currently. Entry level.
(photo: Gord Acton and Jeff Armstrong in this race) .
Q4: What do you do for a living now? Where do you live?
BILL: I live outside of SSM and work in television production covering
live TV i.e. sports, concerts
BOB: Same.
Q5: I'm told you are back in the sport with young kids….
BILL: Yes 2 young boys 5 yr old (Bobby) 8 yr old (Brady) and yes they too love to ski.
BOB: 3 young kids. Ski racers. 8, 4, 1.
Q6: Are you involved in the ski club at Searchmont? If so how?
BILL: I'm a volunteer coach, on the SSR and on the NOD board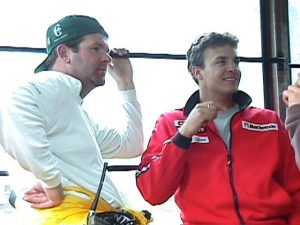 BOB: Yes. On the board of directors. Volunteer coach.
Q7: How would you say Canada is doing today compared with your time racing developing athletes, promoting the sport, etc?
BILL: Canada does not have the same athlete base as we did before and you need the base to push up the top level. The fact that ski racing is not on tv as it was is an issue.
BOB: Canada always has a group in the top 15, men and women. The skier cross team is extremely good, Canada has done a great job getting to the top of a new event.
Q8: Ski racing in Ontario is SOD focused based on population. Is it harder for smaller regions to produce an elite athlete? What are the challenges you club faces?
BILL: No it is not harder to produce an elite athlete in NOD but we don't have the numbers to race with so we have to leave NOD to find athletes (races) to compete with. We're big fans of more races with all division at all levels….. OCUP!
BOB: SOD has the population base and the financial support. They just use the tools they have. More racers, more volunteers, more races, more competition, bigger programs.  We don't have the population base to have a large program. There are small groups and travel to races is far in the North. We lose kids earlier because of our location and the cost.
Q9: Who is the best racer you've ever seen over the years and why?
BILL: Alberto Tomba, Bode Miller. They were exciting racers with big personalities so even people who didn't watch races wanted to know about them.
BOB: Bode Miller for his athleticism. Permin Zurbriggen-he was very focused and always rose to the occasion.
Q10: Whose is the best ski coach in your mind and why?
BILL: The same two coaches I had myself – Brian Mealey and Ulic Longford, who are still in my life.
BOB: Brian Mealey for hisgreat passion for the sport, Jim Pollock for hiscalm presence that can elevate athletes at big events and Ulic Longford who identifies and connects with the athlete and can get an athlete to perform above expectation.
This photo taken in 1972.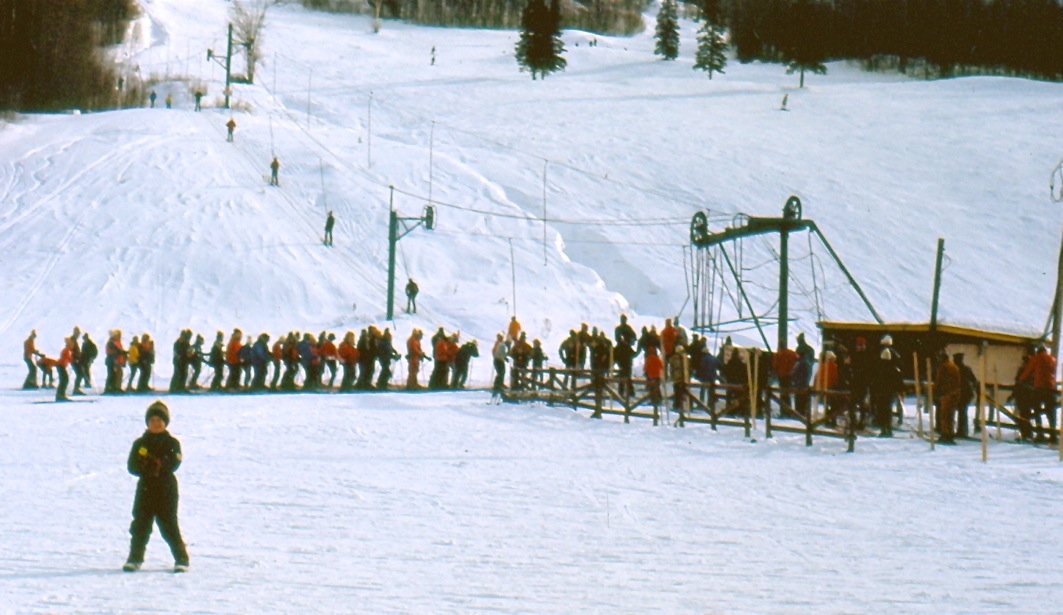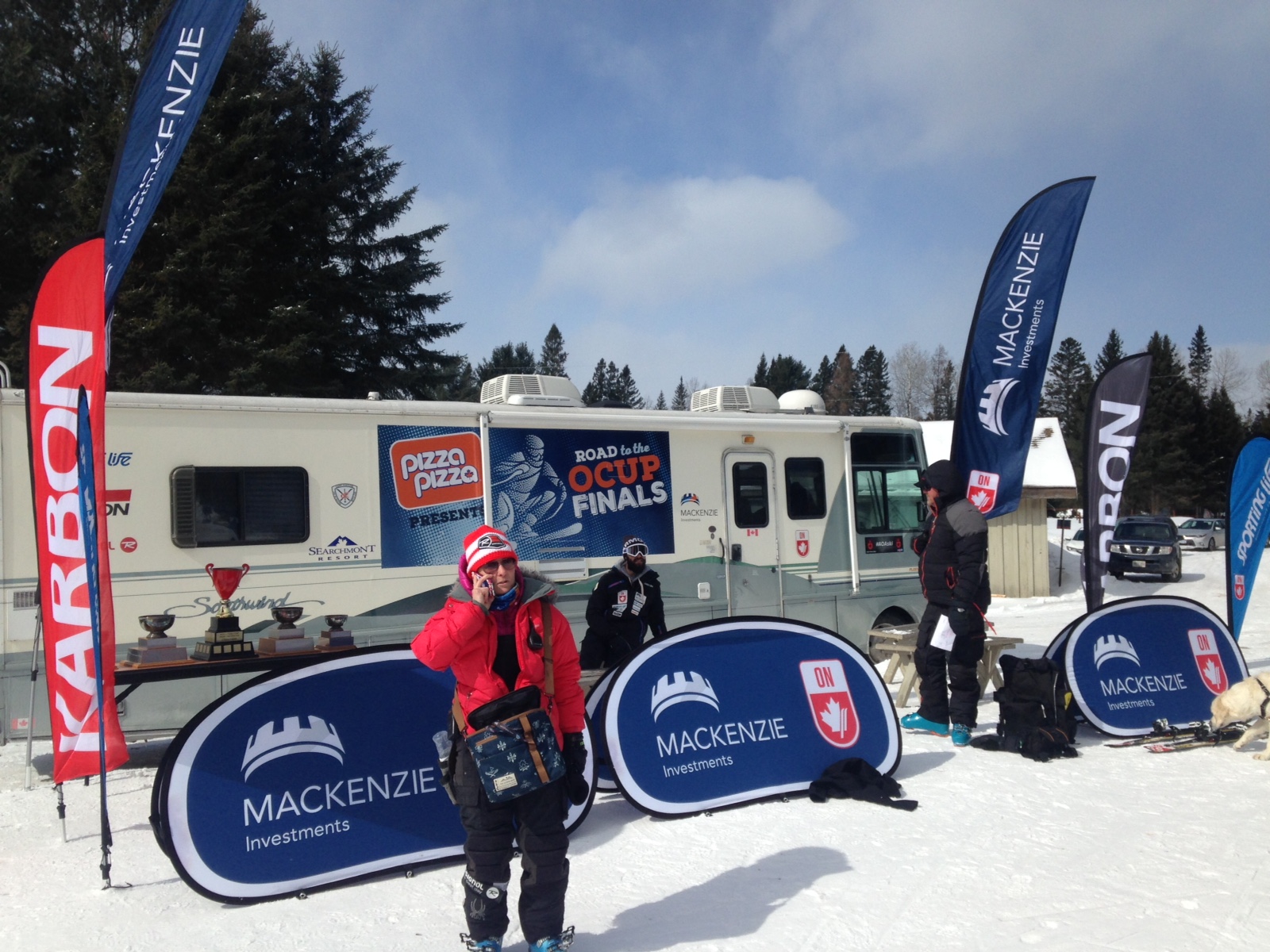 Written by AOA Executive Director Scott Barrett. 
Before we get to an update on the whereabouts of the Pizza Pizza RV I'd like to acknowledge the 5 year anniversary of Nik Zoricic's fatal crash during a World Cup ski cross in Grindelwald Switzerland.
I was fortunate enough to grow up ski racing with Nik and subsequently got to know Bebe, Silvia and Kat. With today's Jr. Challenge being sold out with over 200 kids (many in their jeans as Nik used to wear) I hope the family can take some comfort in knowing that his legacy lives on. Nik was a big figure in all our lives. His big heart and passion for this sport was hard to match. Unfortunately I will have to miss Saturday's After-party at Craigleith but shall raise a glass to my old friend from the RV at the side of a ski hill, which is something I know Nik would have loved.
Well the Pizza Pizza RV survived its journey north with Devyn and Marc at the helm and made it safely to Searchmont. Our mobile home has been given prime real-estate! (see photo below) close to the finish line at the bottom of the Slalom piste. Sunny skies greeted the women today for the opening Super G but the me had to navigate their way down through snow which proved to be a nonissue for the eventual winner…
Before I head north myself I've enjoyed the action at my home club, Osler Bluff , at the 2nd of 6 straight FIS OCUP races that will hit Devil's Glen this weekend before concluding at Georgian Peaks on Monday and Tuesday. What a great race it was with an international field that included athletes from Boston College, St Lawrence, Green Mountain Valley School, Great Britain, Japan and of course our own provincial squads all in attendance with the National Ski Academy, National Captital Outaouis Team, Ontario Ski Team and the Southern Ontario Division Team all competing hard.
Tomorrow is Day 3 of our road trip and we're excited to announce it's also our ALUMNI spotlight with a feature interview with Real Brothers, legends and members of the Searchmont Ski Runners Club – our hosts while in the Soo.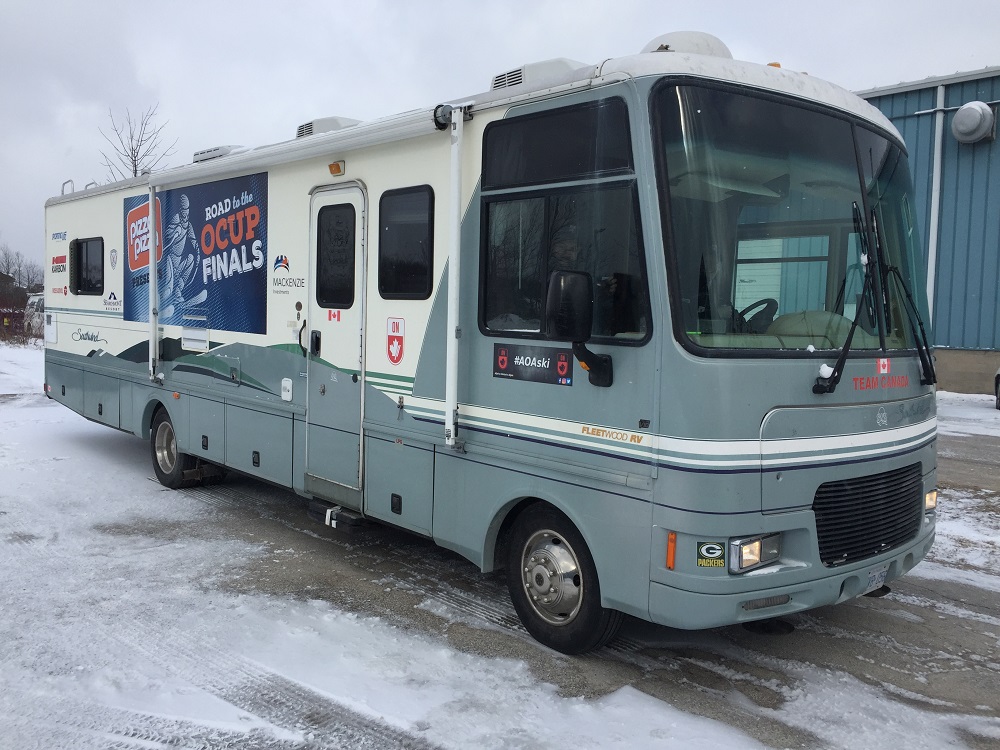 Written by AOA Executive Director Scott Barrett. 
And "we" are off! The Road to the OCUP finals presented by Pizza Pizza has begun and Devyn (Social media guru) and Marc (Activation guru..he has the medals so he's important) just left AOA headquarters here at 39A Stewart Rd… Our moving office will cover over 2000km's during the next 10 days with Searchmont and Camp Fortune being the host clubs for our season ending OCUP finals events in both U14 and U16. I will be joining the motley duo tomorrow evening after the Cadillac Fairview, Oxford, Dream FIS OCUP at Osler Bluff Ski Club wraps up!
The folks up at Searchmont have already offered one of their hill side cabins for our steady ship to be anchored during the nights which is fantastic! The weather is looking like it will cooperate nicely with seasonal temperatures returning for the week and I know ROC chair Mike Schikofsky, aka, "Shicker" is keen to get the racing underway with tomorrow's OCUP Final Super G!
We look forward to bringing you all the action from the bog events including daily video's, pictures, and stories from our athletes, volunteers and alumni!
Lastly, thank you to our amazing sponsors who are making both this trip possible but also allow AOA to provide all the many services to our membership and funding to our athletes!
Trip Sponsors: PizzaPizza, Summer Water Sports, Rossignol/Dynastar, NZ Foundation, Sporting Life, Aviva Insurance, Hutcheson Caswell Reynolds
AOA Sponsor: Mackenzie Investments, Cadillac Fairview, Oxford, Dream