The Club Excellence (CE) Program focus for the 2017-18 season was Coach Development (CD)* and was led by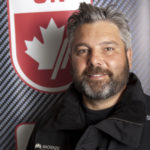 Jeff Jones the AOA Coach Education Consultant. Jeff is a CSCF Level 4 Program Director, NCCP Level 4 Coach, Graduate of the National Coaches Institute of Toronto (CIO), CSCF Course Facilitator, CSCF Coach Mentor, Level 3 ACA Official, USSA Level 300 Coach, CSIA Level 4, CSCF Ski Cross Trained and SOD Committee member.
*Specifically Entry & Development coach levels for 2017-18
Why Coach Development?
Not unlike most sports,  alpine skiing struggles with the retention of athletes at the U14 and U16 levels. While many factors are at play for why this happens, investing more funding into the development of our coaches is widely accepted as a strategy to help combat this trend.   Every athlete deserves a great coach and with more skilled and experienced coaches out on our hills, we hope that more positive and impactful experiences will be made with our young racers which will propel them to stay in this sport longer!
Every Athlete Deserves a Great Coach!!
"The numbers are staggering when you look at the dropout rate between players who are coached by a trained coach (5% dropout rate) and players who are not (26%). The numbers are also eye-opening when you compare the retention rate in youth soccer from age 9 to 14 (61%) as compared to USA Hockey (91%). USA Hockey clubs using their athlete development model and certifying all coaches retain nearly 50% more players than soccer clubs do!"
                                John O'Sullivan, Founder & Author of ChangingtheGame.com
How will Coach Development be funded?
Rossiter Boats has kindly donated a 2018 R17 to create the Rossiter Raffle.  The Raffle kicks off early winter after a club education process. The end goal of the raffle is generating funds for Club Coach Education initiatives. This is not a fundraiser for AOA specific programs but rather designed so the funds stay at the clubs. 
How does the raffle work?
Participating Clubs will support and promote the Rossiter Boat raffle. Tickets can be reserved online here at $20 per ticket. Clubs will automatically receive 50% of all ticket funds generated (so if you sell $2,000 worth of tickets your club will get $1,000 of this no questions asked). The remaining 50% of funds* club will also come back to your club once you sign up for the program with the Club Declaration and successfully complete the end of season Coach Education Report and met the Coach Development Goals. *less marketing fees to run the raffle. 
Why does AOA hold on to 50%?
In an effort to stimulate awareness and incentivize Ontario Ski clubs to invest in increased Coach Education efforts. Some funds will be used to cover expenses directly related to the program including the raffle license fees, marketing, coach development projects, and staffing. ALL Funds generated are used specifically to support Club level Coach Education, funds are not used for AOA financial purposes, this is a coach education fundraiser that will benefit participating clubs!  
How do clubs get the remaining 50% of funding from AOA?
After the ACA and AOA spring meetings in 2017, along with club and coach consultation, three 'domains' were established specifically to improving Coach Development within Ontario Ski Racing. Meeting criteria within each 'domain' will depend on individual club goals. Goals will be determined in a collaborative supportive environment with Jeff Jones, the AOA Coach Development Consultant, and the club. Once clubs have met their individual goals and have reported back to AOA remaining funds are released*.
(*approx. May 15th, 2018)
Three Coach Development Domains established specifically to improving Ontario Ski Racing: 
Internal Coach Development: Build Club capacity to develop Coaches. Each club will be asked to report on their capacity to develop coaches internally. How many Mentors/Evaluators are on staff? Clubs will track and report evaluations each Mentor/Evaluator completes at the club (EL or DL). AOA requires that clubs with no mentors or evaluators on staff recruit, retain services from, or develop in-house at least one Mentor/Evaluator prior to April 30th. Clubs must demonstrate improved mentorship capacity as compared to 2016/17*
External Coach Development: Every Athlete deserves a Great Coach. Each club must document external opportunities that move coaches along the development pathway.  Enrollment in EL, DL and PL courses, NCCP courses or other professional development. Clubs must report Coaches moving from Trained to Certified or Certified Advanced. Clubs must demonstrate improved movement of  coaches along the development pathway as compared to 2016/17*
Continuing Education and Development: Great Coaches are always learning. Clubs are required to report on any continuing education enrollment of Coaches. Coaches who may not be moving along the development pathway are still required to maintain certification through continued learning and professional development. Clubs must demonstrate improved participation in continuing education as compared to 2016/17*
 The CE Program steps are listed below and are intended to be simple but do require some time to complete. AOA will assist clubs with the completion of the steps where possible and collaborate on setting realistic and attainable coach development goals.
Club Excellence Program 7 STEPS
READ this CE Information package.
Participate in the Club Excellence SURVEY.
DECLARE the intent to enter the CE program by completing the CLUB DECLARATION FORM
Establish Program goals and ACTION PLAN in collaboration with Jeff Jones the AOA Coach Education Consultant
Promote the Raffle in your club and online through the AOA e-commerce platform ticket reservation and "in club" tickets. To promote it please download the poster here and put it up all over your club. You can also include this creative in your e-newsletters and social media to promote as well.
CLUB REPORT (to be presented mid-winter) by April 30th
Final EVALUATION and funding release back to clubs. (May 15, 2018)
For more information on Coach Development, in general, please contact:
Jeff Jones, AOA Coach Education Consultant
jeffmjones@live.com