Ontario Ski Racing Awards Finalists
CONGRATULATIONS TO OUR ONTARIO SKI RACING AWARD FINALISTS!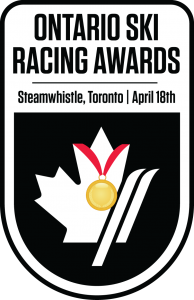 (April 1st, 2019) — Alpine Ontario received over 100 nominations for the 2019  Ontario Ski Racing Awards!! Thank you to everyone who participated and took the time to recognize the provinces most dedicated individuals of our sport! We would like to thank the Alpine Ontario Awards Committee, led by LSDA's Allan Mihalcin and his team of volunteers, for narrowing down the nominations to the finalists listed below.
To cast your vote click on the heading of each category or visit the Awards pages here. Only one email (per person) per category will be accepted but you may vote in more than one category. Voting will close on April 10th at 5 pm.
Please be sure to join us for the Awards presentations on April 18th at the Steam Whistle Brewery in Toronto. This will be a fun night and your opportunity to celebrate the 2018/19 ski season with us!  The evening will include a silent auction,  unlimited Steam Whistle and be hosted by CAST Alumni Mike Janykwho will be unveiling the winners!